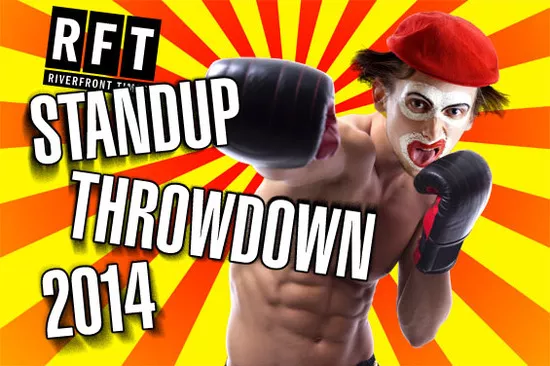 Congratulations to Brandon Judd, Emily Hickner, Bobby Jaycox and Kenny Kinds for making the cut and advancing the to the Final Round of the RFT's Standup Throwdown. The Final Four will now square off Tuesday April 4 at Blueberry Hill's Duck Room. The competition starts at 8 p.m. and seats are limited. And if the crowd at last week's Elite 8 event is telling of what to expect in the Duck Room, you'll want to arrive early to claim your spot.
Here's how it all goes down: Brandon Judd will square off against Bobby Jaycox and Emily Hickner against Kenny Kinds. Each will do a five-minute set and the two advancing comics will return to the stage after a headlining set by Jeremy Essig for the final competition. The two will have an additional five minutes a piece to win over both the judges and audience. So comics, once again -- assemble your crew!
See also: 2014 RFT Standup Throwdown Sweet 16
This year the judges panel includes; St. Louis funniest man on the internet; Chris Ward, touring comics Sally Brooks and Jeremy Essig and last year's Throwdown Champion Jon Venegoni.
See also: 2014 RFT Standup Throwdown Elite 8
The Standup Throwdown The Final Four goes down at Blueberry Hill's Duck Room at 8 p.m. on Tuesday, April 1. Doors open at 7:30 p.m. A $5 cover charge goes to pay the winner a monetary prize.
Brandon Judd VS. Bobby Jaycox
Kenny Kinds VS. Emily Hickner