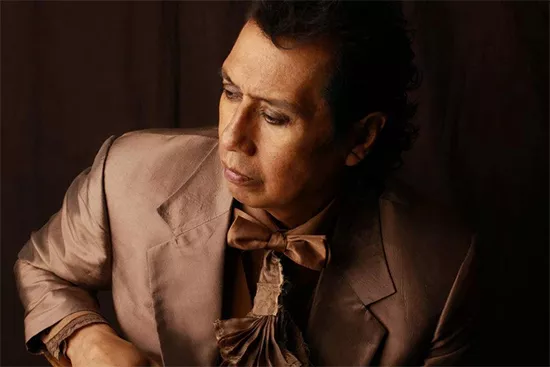 Alejandro Escovedo & the Sensitive Boys - Thursday, April 3 @ Old Rock House.
This week, the Ready Room makes its big debut in the Grove with Of Montreal. Meanwhile, plenty of other big names take over stages all across town. Check out Earth, Alejandro Escovedo, Oneohtrix Point Never, St. Paul and the Broken Bones and more this week. Get the info on these shows and more after the jump.
Earth Monday, March 31, 9 p.m. @ The Firebird - $15-$17 w/ Dibiase By Mabel Suen Formed in 1990, Seattle's Earth plays primarily instrumental songs said to pave the way for the genre of "drone doom." Minimal and repetitive in nature, Earth's creeping, languid tracks can find themselves at home in the heads of any metalheads -- particularly Melvins fans. Check them out for a heavy set of slow-tempo jams.
Decide Today Tuesday, April 1, 7 p.m. w/ Divtech, The Nightgrinder, Willis, Catholic Guilt @ Livery Company - $5 By Joseph Hess In an alternate future Decide Today is the direct result of punk rockers and poets surviving a '80s sci-fi nuclear holocaust. Beats come by way of dated drum machines and dented laptops. Realicide Youth Records founder Robert Inhuman spits the gospel of noise while digital hardcore warps through a pair of loudspeakers. While there's a discernible depth to the lyrics therein, you'll have a hard time hearing them -- but that's not necessarily a bad thing. Decide Today delivers an intensity that outweighs the pursuit of perfection, and uses the rough edges to create a distinct brand of electronica.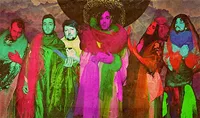 Of Montreal Wednesday, April 2, 8:30 p.m. w/ Ortolan, Middle Class Fashion @ The Ready Room - $18 By Tara Mahadevan Hailing from Athens, Georgia, Of Montreal's aesthetic embraces both American and British rock aesthetics -- a healthy mix of David Bowie glam-rock, the 1980s UK indie twee-pop movement and the psychedelic American awesomeness that was the '60s and '70s. Discovered by the famed Elephant 6 Recording Company -- which has spawned a few noteworthy indie bands, such as the Apples In Stereo, Neutral Milk Hotel and Beulah -- Of Montreal's sound spans a variety of genres, including funk-rock, glam-rock, art-pop, indie-pop, electronica and PBR&B, which is actually a thing now, believe it or not.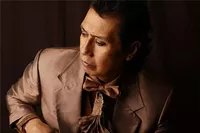 Alejandro Escovedo & the Sensitive Boys Thursday, April 3, 8 p.m. @ Old Rock House - $15 By Jaime Lees Though he's never quite reached mainstream success, Alejandro Escovedo has long been underground famous -- pleasing audiences across the planet with his unique sound. A shining soul with a punk rock past (via the Nuns), Escovedo now plays No Depression-approved, churning alt-country with a rock foundation and a chicano veneer. But it's not just his ability to incorporate different genres that makes him so well-loved: Escovedo also has charisma and stage-presence to spare. He's basically Bruce Springsteen, if the Boss was raised in Texas and had the advantage of some Southern charm. Escovedo is a tour-hound, seemingly addicted to the stage, and when he's at the microphone the room belongs to him. Witness it.
Oneohtrix Point Never Friday, April 4, 8 p.m. w/ Eric Hall @ Kranzberg Arts Center - $15-$25 By Christian Schaeffer Listen to Oneohtrix Point Never's latest album R Plus Seven to hear the wheel of synth-couture make a complete 360. Daniel Lopatin, the brains behind the operation, stacked his album full of tones that were the cutting edge of sound-sculpting in 1984, when Yamaha's DX7 synth launched a thousand glossy, plastic-y string patches, saxophones squawks and vocal coos. Lopatin arranges these sounds in two directions on his album: frenetic, serpentine arpeggios that ping and pong all over the landscape, and patient, warm meditations that show the rich texture of these long-forgotten sounds. St. Louis' own master sound manipulator Eric Hall will open the show with a mix of sampled sounds and mangled beats.
St. Paul and the Broken Bones Friday, April 4, 9 p.m. @ Off Broadway - $10-$13 By Roy Kasten In the annals of unlikely candidates for Vocal Performance of the Year comes Paul Janeway, the beefy, investment banker-looking Alabaman who leads St. Paul and the Broken Bones -- a soul revival outfit to end all soul-revival outfits. He and his band really are that good. Hallowed names like Bobby Womack and especially Otis Redding come to mind when Janeway cuts loose -- growling, whispering and speaking in soul-fire tongues -- on the debut album Half the City. The arrangements don't just seem modeled on the great recordings of Stax Volt; they seem to have grafted their DNA on to their horn charts and thrilling rhythmic changes. Miss this show at your peril.
Todd Rundgren Friday, April 4, 8 p.m. @ The Pageant - $25/$27.50 By Mike Appelstein By its very nature, a concert billed "The Unpredictable Todd Rundgren" is tough to preview -- it's meant to be an ever-changing setlist from throughout his career. We do know that when Rundgren first brought this show to St. Louis in 2012, he played his pop hits "I Saw The Light" and "Love is The Answer" while saving plenty of room for overlooked songs from mid-period solo albums like Faithful and Hermit of Mink Hollow. We also know that lately he's been throwing in covers of 1960s Bollywood hits, Daft Punk's "Get Lucky," and the Crazy World of Arthur Brown's "Fire." Mostly, though, the show consists of whatever the hell Rundgren wants to play -- a fitting format given the various detours this chameleonic musician has taken over the years.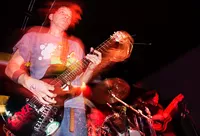 Yowie Saturday, April 5, 9 p.m. w/ Pat Sajak Assassins, Alan Smithee @ Schlafly Tap Room - free By Joseph Hess From the 2013 RFT Music Awards: The elusive, brain-bending Yowie hides away in St. Louis to build on singular forms of progressive music. Yowie plays a dense foreign language through two guitars which communicate in an angry, six-string banter through strictly scattered drums. This power trio speaks in alien code with founding member Defenestrator playing the part of percussive conductor. Each song comes densely packed with rare repetitions: a series of guitar riffs pass like clever one-liners with unbridled speed. The shred level of death metal blends with poly-rhythmic jazz in an oppressive mix of experimental rock.
G-Eazy Sunday, April 6, 7 p.m. w/ Rockie Fresh, Tory Lanez, Kurt Rockmore @ Pop's Nightclub - $16-$20 By Evan C. Jones From this 2013 interview: For most musicians, it can take a village to create everything that goes into a strong career, but most musicians aren't rapper G-Eazy. Early into his career, the young Bay Area native has criss-crossed the country on tour multiple times, shared the stage with such industry heavyweights as Drake and hit number three on the iTunes Hip-Hop Chart with his new release Must Be Nice... all as an independent artist. And he has no plans on slowing down now.
Note: Though we wish we could, we can't feature every great show happening in town in just one measly post. Look for plenty more recommendations this Friday in our weekend shows post, and peruse the St. Louis concert calendar for more ideas any time. Let everyone know what else you're looking forward to seeing this week in the comments below, and submit show info online any time to be considered for inclusion on these lists.
RFT MUSIC'S GREATEST HITS
Remembering STLPunk.com -- How to View the Site Today and Find Your Old Profile Page "Where Did My Dick Go?" The Gathering of the Juggalos' Best Overheard Quotations The Ten Best Dive Bars in St. Louis The 15 Most Ridiculous Band Promo Photos Ever
---