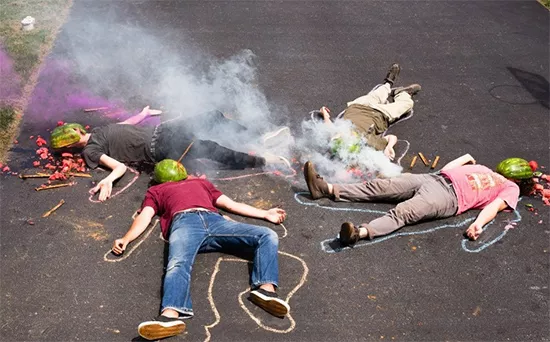 The Districts - Saturday, March 29 @ Off Broadway
This weekend marks the ten-year anniversary for Belleville's music-filled Herstory Weekend as well as local punk band Scene of Irony. St. Louis also gets two different tribute shows over the next couple of days: a Tribute to the Byrds at Off Broadway and a tribute to Shel Silverstein at the Gramophone. Read about all these shows and more in this week's top concert recommendations.
Friday (March 28):
10th Annual Herstory Weekend w/ Kim Massie & Solid Senders, Sarah Jane & the Blue Notes, The Oncomings, EarthSol, Bella & Lily, Phoebe Lieberman, Broken Cookie @ Governor French Academy 7 p.m. | $6/$8 This weekend festival in honor of Women's History Month takes place in Belleville, featuring a variety of music and live entertainment. Check out the full schedule and purchase tickets via the Tapestry of Community Offerings website. (MS)
Cabeza Twins w/ Animal Teeth, The Warden, Q @ Livery Company 9 p.m. | $5 This punk show in support of Cabeza Twins from Chicago also features two brand new bands: the Warden and Q. Bring earplugs. (MS)
Eight Miles High: A Tribute to the Byrds w/ The Aching Hearts, The Blu Skies, Brothers Lazaroff, Diesel Island, The Lettuceheads, The Love Experts, Magnolia Summer, Rogers & Nienhaus, Rough Shop, The Trio Project, The Trophy Mules @ Off Broadway 7 p.m. & 10 p.m. | $12-$28 You've been to a tribute show at Off Broadway before, right? So you know to expect top-notch local talent performing classic songs, surrounded by friends. Who couldn't love that? (DH)
Matt Wynn CD Release w/ Clockwork, Coyote Union @ Blueberry Hill 9 p.m. | $7 This guy made it to Hollywood on American Idol, but not much further. He has a great voice though -- pick up his debut album at this show. (DH)
Also on Friday night, consider heading over to the Demo to catch the unstoppable antics of Peelander-Z. For another option this evening, Apop Records hosts Okoiucho, the duo of Darin Gray and Chris Smentowski performing live improvisation to accompany Polish short films. Click the links for more info.
Saturday (March 29):
GBH w/ Scene of Irony, Opposites' Attack, The Red Handed Bandits, Echo Morse @ Fubar 6 p.m. | $10-$12 Great Big Haircuts! Also: Scene of Irony's tenth anniversary show. (DH)
The Freakers Ball: A Tribute to Shel Silverstein w/ The Jason Vargas Music Project, Cree Rider Family Band, Typewriter Tim, The Hobosexuals @ The Gramophone 9 p.m. | $7 This ode to the late, great poet features music, poetry, a costume contest and "other tomfoolery." We're not exactly sure what that entails, and there's only one way to find out: Head to Where the Sidewalk Ends. (MS)
Hush House CD Release w/ The Hot Liquors @ Blueberry Hill 7 p.m. | $10 Hush House is a four-piece rock band that's been jamming since 2004. For fans of Foo Fighters and Uncle Tupelo. (MS)
Also recommended by our critics for Saturday night: Drive-By Truckers at the Pageant and the Districts at Off Broadway. Click the links to read the previews.
Sunday (March 30):
Johnette Napolitano @ Blueberry Hill 9 p.m. | $22.50/$25 Johnette Napolitano is the singer for that old '90s band Concrete Blonde. She also used to have a side project called "Vowel Momement," which is both gross and awesome. (DH)
Secret Boyfriend w/ Lack, Doom Asylum @ Jade Room 10 p.m. | donations This trio of bands from Chapel Hill, North Carolina brings electronic dance-worthy jams to Barbarella, also known as Jade Room. Local artist Larva Lu plays tapes between sets to keep things moving all night. (MS)
Reckless Kelly also performs on Sunday night at the Pageant.
Note: Though we wish we could, we can't feature every great show happening in town in just one measly post. Peruse the St. Louis concert calendar for more ideas any time. Let everyone know what else you're looking forward to seeing this weekend in the comments below, and submit show info online any time to be considered for inclusion on these lists.
RFT MUSIC'S GREATEST HITS
Remembering STLPunk.com -- How to View the Site Today and Find Your Old Profile Page "Where Did My Dick Go?" The Gathering of the Juggalos' Best Overheard Quotations The Ten Best Dive Bars in St. Louis The 15 Most Ridiculous Band Promo Photos Ever
---