Kenny Williamson
Maroon 5
Earlier, you helped us select our ten favorite concert photographers in St. Louis. We got well over 100 nominations, after which our panel of judges narrowed the field to just ten folks. In the coming weeks, we'll be introducing you to each of the finalists and having them share some of their favorite concert photos while answering a few questions about their process and passion.
See also: The Ten Best Music Photographers in St. Louis: 2014 Nominees
Name: Kenny Williamson
How and when did you get involved with music photography?
In 2005, after the resident house photographer at Riverport Amphitheater [now Verizon Wireless Amphitheater] left, I was asked by someone that worked there that I knew if I would have any interest in shooting a show. I had no real photographic experience, but I love music. I was hooked immediately, and by 2007, began shooting virtually every show there -- and have been ever since. I was 45 years old when I started this adventure, purchased an entry-level digital SLR camera in 2007, and taught myself what I needed to know for this shooting environment. While this is a labor of love for me, I never take for granted that this is the best job in the world.
Kenny Williamson
P.O.D.
What are some highlights of your professional photography experience?
I've been contracted by television networks, filming, then broadcasting from the amphitheater, as well as licensing images to biographical program broadcasts featuring artists I've shot. Brooks & Dunn featured one of my live concert images on a tour T-shirt, which was the first time they offered something other than a studio portrait or graphic design. I spent my Christmas vacation touring with Martina McBride in 2012. In fall 2014 and into 2015, Elton John will have eight of my images of him in his concert tour program.
Where can people find your work (exhibits, album covers, publications, etc.)?
My basement is the closest thing to an exhibit I can offer. Other than that, my website is the go-to place to sample my work.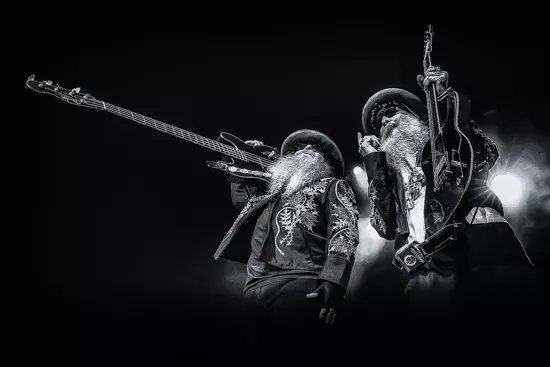 Kenny Williamson
ZZ Top
What is your favorite part of doing music photography?
The challenge of trying to produce something different, and capturing that one shot that meets my expectations.
Continue to page two.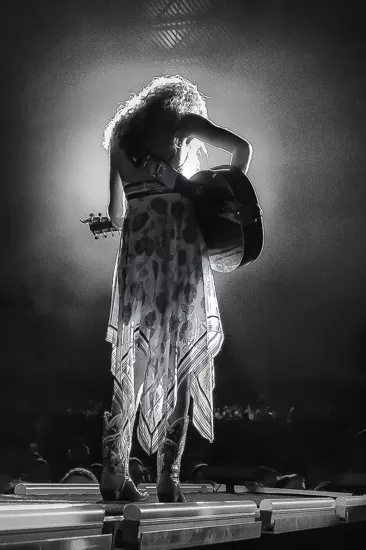 Kenny Williamson
Taylor Swift
What dos/don'ts do you have for young photographers who would like to pursue this type of work?
Do keep the copyright to all of your images. Do get to know the other photographers at the venue. Do not piss off the security guards. Do not piss off the people in the front row. Do not bring a 40-pound backpack into a three-foot-wide photo pit. And do not do this thinking you'll make a lot of money and quit your day job. Do this because you undeniably love it.
Kenny Williamson
Elton John
Pick one of the photos you've submitted and tell us a little about it: Where was it shot, who is featured and, most importantly, how did you capture it? We'd love to hear logistical description or technical breakdowns or whatever else you want to tell us.
I've always been a fan of Elton John but have never seen him in concert, until November 2013. The photographers were told in advance we would shoot only the first two songs, from the soundboard. Just before the show, we received good news that song one would be from the pit. We were escorted to the stage and positioned directly in front of Elton John's grand piano. The first song of the show was "Funeral for a Friend/Love Lies Bleeding," which lasted beyond ten minutes -- which is an eternity in music-photography years. I was able to use multiple lenses and get a set of images I was pleased with, including the one I featured here. This took several attempts with a fish eye lens, holding the camera level so as not to distort the subject too much, and trying to get the reflection of Elton on the floor.
See also: Todd Morgan: Meet the 2014 Best Music Photographers in St. Louis Abby Gillardi: Meet the 2014 Best Music Photographers in St. Louis
RFT MUSIC'S GREATEST HITS
The 15 Most Ridiculous Band Promo Photos Ever This Incredible Make-A-Wish Teenager Went to the Gathering of the Juggalos, Got a Lap Dance (NSFW) Crotching Whiskey at the Justin Bieber Concert and Getting Thrown Out: A Review The Top Ten Ways to Piss Off Your Bartender at a Music Venue
---