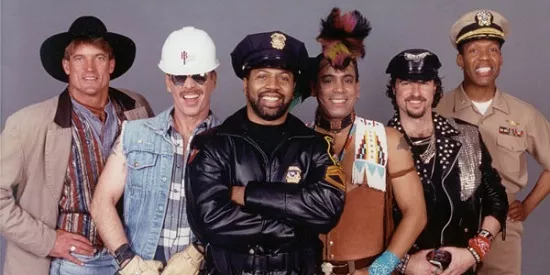 Press Photo
L to R: Permissible, banned, permissible, banned, banned, permissible.
Ballpark Village's newly announced dress code has hit the Village People community especially hard, leaving half of the band barred altogether from the premises each night after 9 p.m.
The Native American Village Person, whose trademark outfit includes both a forbidden bandana and an unacceptable lack of sleeves, was particularly incensed. "It's deplorable," he told us between reps at his local Christian youth-oriented gym. "Me and my friends -- the Construction Worker and the Biker Guy -- we are hard-working people, who deserve to be able to relax and enjoy the new entertainment district just like everyone else, without having to worry about being judged for our appearances."
"These unfair rules and regulations are discriminatory against portions of the population," he continued.
When reached for comment, the Police Officer Village Person just kind of shrugged.
More on this story as it develops.
RFT MUSIC'S GREATEST HITS
The 15 Most Ridiculous Band Promo Photos Ever This Incredible Make-A-Wish Teenager Went to the Gathering of the Juggalos, Got a Lap Dance (NSFW) Crotching Whiskey at the Justin Bieber Concert and Getting Thrown Out: A Review The Top Ten Ways to Piss Off Your Bartender at a Music Venue
---