[image-11]
This week, choose from a variety of touring bands to check out all over town: Nervosas performs at Melt, Low takes the stage at Off Broadway, Peelander-Z invades the Demo and more. Note: Though not in our critics' picks this week, Three 6 Mafia also performs in St. Louis this week. More info on this show in our list of the best hip-hop shows in St. Louis this month.
Miniature Tigers Monday, March 24, 8 p.m. w/ Total Slacker, Flashlights @ The Firebird - $10-$12 By Christian Schaeffer From this 2011 show preview: Having survived a mid-'00s barrage of blog-buzz hosannas and an estimable amount of MySpace clicks, Miniature Tigers deserves some kind of endurance prize for coming through smelling rosy. Charlie Brand's kaleidoscopic pop songs tend to suffer from borderline personality disorder, but he shows a Shins-like delicacy in unpacking life's miniscule moments of elation and confusion.
DJ Mahf Tuesday, March 25, 10 p.m. @ Pin-Up Bowl - free By Blair Stiles From the 2013 RFT Music awards: DJ Mahf works from some place in his brain that pumps out enough enthusiasm to make his work look easy. Performing with a chilled zeal, the Indyground DJ interplays dense minutes of thumping samples with crackling movie clips and fine-tuned, one-and-two-handed scratches. He has already banged around Kansas City's spirited Middle of the Map Festival with labelmate Brett Gretzky, crossed the northern American border and cut and pasted for Red Bull's Thre3style competition this year. Whether live or replayed through Indyground's streaming footage, Mahf exudes the enjoyment he feels: In tempo he bobs at the waist, moving faster in the moments when he is inundated with the floor's energy, always looking pleased. It is Mahf's obvious enjoyment of his craft that puts his sets so squarely in the spotlight.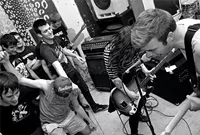 Doom Town Wednesday, March 26, 8 p.m. w/ Nervosas, Staring Problem @ Melt - $7 By Jimmy Eberle This is going to be Doom Town's last show ever, so put on your fanciest burial clothes/accessories and see what happens when you get funeral-drunk at a place that serves booze and waffles. Prepare to be sucked into a vortex of insanely catchy gloom-punk as you participate in the send-off for one of the only St. Louis punk bands who've made it to Europe. Also, breakfast food, plus alcohol, plus slam-dancing? A winning combination, to be sure. Can't imagine anything that could go wrong. This will also be the final stop of Columbus, Ohio post-punk band Nervosas current tour. Let's make sure it is one they don't soon forget.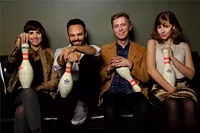 Lake Street Dive Wednesday, March 26, 8 p.m. w/ Ages and Ages @ Old Rock House - $15 By Roy Kasten Any hope that humanity will soon put the nauseating trend of the selfie behind us is a pipe dream, but that doesn't mean bad self portraits couldn't be the subject of a good song -- in popular music, after all, anything can. Brooklyn, New York's Lake Street Dive gets it. Its new, aptly titled album Bad Self Portraits turns narcissism into country blues courtesy of singer Rachael Price, whose weathered sensuality bears more than passing resemblance to Bonnie Raitt, and whose band makes a virtue of sonic modesty. Piano, horns, organ and call-and-response vocals rise and fall like dust in sunbeams, even when breaking into full-on Exile on Main St. decadence.
Low Thursday, March 27, 8 p.m. @ Off Broadway - $15-$18 By Mike Appelstein Twenty years is a long time for a band or a marriage to stay vital, but Low's Alan Sparhawk and Mimi Parker have managed both of these achievements. Over ten albums they've slowly broadened their band's stately, melodic approach even while branching out into such challenging side-projects as Black-Eyed Snakes and Retribution Gospel Choir. For its most recent album, The Invisible Way, Low has partnered for the first time with producer Jeff Tweedy of Wilco. Considerably more spare and acoustic than Low's other recent work (including 2011's excellent C'mon), The Invisible Way nonetheless never quite sounds comfortable or relaxed, hitting you with lyrics like "Now they make you piss in a plastic cup" just as you're feeling captured in the reverie.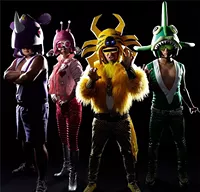 Peelander-Z Friday, March 28, 8:30 p.m. w/ Ded Bugs, DinoFight! @ The Demo - $12 By Jaime Lees From this 2012 show preview: Peelander-Z is like Gwar on ecstasy. From Japan (via New York City), the members' bright color-block costumes make them look like after-hours Power Rangers. Described as "Japan action comic punk," the band is loved almost exclusively by those intrigued by novelty: comic-book addicts, professional wresting devotees, anime enthusiasts and Juggalos, alike. Peelander-Z is a good time wrapped up in a j-punk box. With songs such as "Ninja-High Schooool," "Ice Cream!" and "Pun! Pun! Punkrock!," the band gets audiences bouncing like little kids on a sugar high. Come for the spectacle, stay for the smiles.
Okoiucho: Darin Gray and Chris Smentowski Friday, March 28, 8 p.m. @ Apop Records - $5 By Mabel Suen At this intimate experimental show, local music community veterans Darin Gray (of Chikamorachi, the Dazzling Killmen) and Chris Smentowski (of Brain Transplant, What We Won't See) perform live improvisation via manipulated electronics to accompany Polish short films and animations. The duo's name comes from a play on the Polish words for "eye and ear," implying that onlookers will have plenty to both hear and see during this early evening performance.
Drive-By Truckers Saturday, March 29, 8 p.m. w/ Blitzen Trapper @ The Pageant - $25-$29.50 By Roy Kasten Since the departure of songwriter, singer and guitarist Jason Isbell in 2007, the Drive-By Truckers has seemed like a band in search of a purpose. It's sound wasn't lost -- founders Patterson Hood and Mike Cooley have Southern rock deep in their blood -- but its creative tension, the drive in its name and in its songs, had seemed to slip away. On the recently released English Oceans, the band recaptures some of what it lost: Splitting songwriting evenly between its two frontmen, the DBTs barrel through a landscape of desperation, confusion, love and hate on the margins of the Southern lives no American band has better understood or rocked harder. Blitzen Trapper, indie rock's most prolific and unapologetic follower of the Grateful Dead, opens the evening. So if you're planning to light up, pace yourself.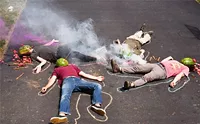 The Districts Saturday, March 29, 8 p.m. w/ Cold Hearted Strangers @ Off Broadway - $8-$10 By Christian Schaeffer Four high-school friends from Lancaster, Pennsylvania started a band, moved to Philly and channeled their youth into smart, propulsive rock & roll as the Districts. The young quartet self-released Telephone in 2012 and has re-cut a few of those tunes (and added some new material) for this year's self-titled EP, which came out on Fat Possum Records. Singer and guitarist Rob Grote has the rare ability to sing with nuance and precision in front of loud, dreamy, guitar-driven rock music, while still transmitting more hard-won wisdom than a twenty-something should be allowed.
Reckless Kelly Sunday, March 30, 8 p.m. w/ The Band of Heathens @ The Pageant - $17.50-$22 By Roy Kasten From this archived show preview: Like fellow Okies Cross Canadian Ragweed, Reckless Kelly plays a brash and overdriven style of country that kicks too much shit for heavy radio rotation and calls too much bullshit on naïve notions of tradition for Americana. Led by brothers Willy and Cody Braun, the band has found a home at the neverending fraternal keggers of Austin.... With electric guitars, mandolin and biting fiddle lines, the band hauls ass across a crumbling Western landscape, laying bare all manner of false hopes, from jingoistic politics to Christian delusions. For Reckless Kelly the twang-rock road may go on forever, but the party always has an ear-ringing end.
Note: Though we wish we could, we can't feature every great show happening in town in just one measly post. Look for plenty more recommendations this Friday in our weekend shows post, and peruse the St. Louis concert calendar for more ideas any time. Let everyone know what else you're looking forward to seeing this week in the comments below, and submit show info online any time to be considered for inclusion on these lists.
RFT MUSIC'S GREATEST HITS
Remembering STLPunk.com -- How to View the Site Today and Find Your Old Profile Page "Where Did My Dick Go?" The Gathering of the Juggalos' Best Overheard Quotations The Ten Best Dive Bars in St. Louis The 15 Most Ridiculous Band Promo Photos Ever
---