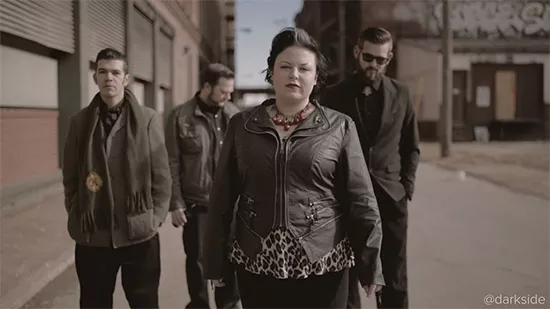 Bible Belt Sinners CD Release - Saturday, March 22 @ Blueberry Hill
This weekend, Bible Belt Sinners puts out a new CD, Googolplexia and Dubb Nubb team up for a split EP, and several touring acts grace stages allover St. Louis, including the Mowgli's, DeRobert and the Half-Truths, K. Michelle, Native and Useless Eaters. Get the info on these shows and more in our concert recommendations.
Friday (March 21):
The Mowgli's w/ MisterWives, Blackwell @ The Firebird 7:30 p.m. | $15 Did you know that this band is named after one of its members' dogs? I mean, obviously the dog was named after the Jungle Book character, but still. I dunno, I thought that was neat; leave me alone. (DH)
Wet Nurse w/ Bruiser Queen, Little Big Bangs @ The Heavy Anchor 9 p.m. | $5 Sisters Nina and Susana Chaplin front Wet Nurse, a '60s-pop-influenced garage-rock outfit from Orlando with infectiously catchy riffs and sweet yet solid-edged singing. Hear 'em on Bandcamp. (MS)
Also on Friday, check out Jandek at the Billiken Club, Mykki Blanco as part of KWUR Week and Young the Giant at the Pageant. Just click on the links to learn more via detailed show previews.
Saturday (March 22):
Bible Belt Sinners CD Release w/ Motorpanties @ Blueberry Hill 9 p.m. | $7 Bible Belt Sinners plays blues-and-country-inspired rock & roll and throw a party to celebrate the release of its second studio album, Sunday Best. Motorpanties, an all-girl rock outfit from Springfield opens. (MS)
DeRobert and the Half-Truths w/ The Grips, DJ Hal Greens @ The Demo 11:30 pm. | $10-$15 Have you got soul? Get out on the dance floor and prove it, because this show has soul to spare. Bring your dancing shoes. (DH)
K. Michelle @ Ambassador 7 p.m. | $35-$45 See her in person before you see her even MORE on the silver screen. K. Michelle just announced a couple of weeks ago that she will be starring in her own TV show, a spinoff of VH1's Love & Hip-Hop, on which she is already a cast member. (DH)
Continued on the next page.
Googolplexia and Dubb Nubb CD Release w/ Mt. Thelonius, The Thin Dimes, The Barn Mice @ Livery Company 9 p.m. | $5 This rootsy folk lineup supports a split release on Pancake Productions as well as the featured artists' tour kickoff: Dubb Nubb plays delightful songs written by sisters and Googolplexia performs some of the funnest and funniest accordion and ukulele-driven numbers you'll ever hear. (MS)
Native w/ Brighter Arrows, Mariner @ Lemp Arts Center 8 p.m. | $5 Lemp Arts Center welcomes Native, a post-hardcore outfit based out of Indiana as part of its twentieth anniversary festivities. (MS)
Trapstep City 7 w/ Goon Bags, Blaze Luminous, Baytron, Nick Costa, Combustibles, Ben Jvhman vs Vybz Codey @ 2720 Cherokee 8 p.m. | $5/$8 A mere $8 for all the bass and Day-Glo clothing your eyes and ears can handle. A steal! (DH)
Useless Eaters w/ Ski Mask, The Brainstems, Bad Dates @ Melt 9 p.m. | $6 Useless Eaters comes all the way from San Francisco to play its tripped-out garage punk. Check out this music video to get a taste. Also from out-of-town are Ski Mask, an aggressive punk band out of Columbia. (MS)
A couple more options for Saturday night include the final day of Blank Space's Two-Year Anniversary weekend-long celebration, Yonder Mountain String Band at the Pageant and Karmageddon with Middle Class Fashion and more at Off Broadway.
Sunday (March 23):
Empires w/ Tidal Volume, Clockwork @ The Demo 9 p.m. | $10 Catchy indie rock from Illinois, with some pretty obvious Robert Smith worship going on in the vocal department. Don't hold it against them, though. (DH)
RFT Music also recommends Ume for your Sunday evening.
Note: Though we wish we could, we can't feature every great show happening in town in just one measly post. Peruse the St. Louis concert calendar for more ideas any time. Let everyone know what else you're looking forward to seeing this weekend in the comments below, and submit show info online any time to be considered for inclusion on these lists.
RFT MUSIC'S GREATEST HITS
Remembering STLPunk.com -- How to View the Site Today and Find Your Old Profile Page "Where Did My Dick Go?" The Gathering of the Juggalos' Best Overheard Quotations The Ten Best Dive Bars in St. Louis The 15 Most Ridiculous Band Promo Photos Ever
---