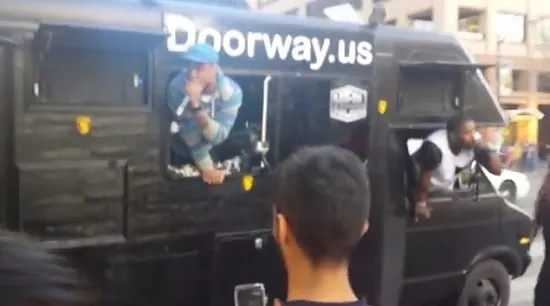 Screenshot from the video.
Doorway, hustling on wheels.
St. Louis hip-hop group Doorway, winner of 2013's RFT Music Award for best hip-hop group, has seemingly never-ending hustle. Its members can be found at events all over town, handing out CDs and performing, and generally taking any opportunity possible to get their names out there into the world. So it should be no surprise that the go-gettin' hip-hop collective made its way down to SXSW this year with a stack of demo CDs.
The group's approach, however, was special enough to turn some heads.
Watch this video of the group driving in a giant van/RV, covered in Doorway logos and hashtags, performing live through the vehicle's stereo system:
You can see people line up immediately to grab CDs. The approach is clearly an attention-getter. Bands, artists and self-promoters of the world, take note! This is how it is done.
RFT MUSIC'S GREATEST HITS
This Incredible Make-A-Wish Teenager Went to the Gathering of the Juggalos, Got a Lap Dance (NSFW) Crotching Whiskey at the Justin Bieber Concert and Getting Thrown Out: A Review The 15 Most Ridiculous Band Promo Photos Ever The Top Ten Ways to Piss Off Your Bartender at a Music Venue
---