John Pham/Flickr
Jandek
There are two distinct eras to Jandek, an experimental-music project revolving around a Houston, Texas, musician and songwriter who — though it has never been officially confirmed — most people generally agree is named Sterling Smith. The enigmatic performer arrives in St. Louis on Friday to play a gig with two local musicians who've never met him and have no idea what to expect.
The first era, beginning in 1978, was the reclusive era. During this time, Jandek released more than 70 albums on the Corwood Industries label. Each was packaged as simply as could be: a washed-out or blurry photograph on front, a track listing and mailing address on back. The songs were desolate, arid, often ramshackle. If you gathered a group of cave-dwellers who'd never heard modern music, vaguely described the blues to them and assigned them to make their own records, the results might resemble the most compelling Jandek offerings.
See also: Here's Why Jandek Coming to St. Louis is a Really, Really Big Deal
During this initial era, there were no live performances. There were only two or three documented interviews. Tracked down by Texas Monthly in 1999, the interviewee steadfastly denied being Jandek and ultimately asked to never be contacted again. It was nearly impossible to separate the mystique from the music. Nonetheless, in 2003 there was an entire documentary on the subject. Jandek on Corwood, directed by Chad Freidrichs, attempts to place the mystery in some kind of context. Though Jandek declined to participate, he sent a now-famous epigram: "You may not get all the answers you want. It's better that way."
Then came the most unexpected, left-field move to date: Jandek played a live show.
In October 2004 a man referred to only as "a representative from Corwood Industries" performed unannounced at a Glasgow, Scotland, experimental-music festival. Thin, gaunt and dressed in a black hat, the lead singer and guitarist was clearly an older version of the man from the album covers. By all accounts, both performer and audience enjoyed it.
So began the second era of Jandek, which continues through the present. There have been several dozen appearances since that initial Glasgow show. Rather than prepare a setlist, gather a band and mount a tour, Jandek has instead approached each show as a unique event. The artist has a loose group of regular collaborators, and he has played with the likes of Mike Watt (Minutemen), Thurston Moore (Sonic Youth) and John Darnielle (Mountain Goats). Frequently, however, performances draw on the destination's local, improvisationally minded players.
In that spirit, when Jandek plays the Billiken Club on Friday, March 21, the band will consist of two local musicians: Joseph Hess of Hot Salad on drums (Full disclosure, Hess is the editorial coordinator at Riverfront Times), and Matty Coonfield of Tone Rodent and Bug Chaser on electric bass. Neither Hess nor Coonfield has had any contact with Jandek. Neither has been given song titles, sheet music or any other indication of what to expect.
"I guess that's the beauty of it," Coonfield says. "Just going up there and doing it, anything can happen."
Continue to page two.
"Jandek specified that he is going to be performing an 'experimental blues-rock' set," says Alex Cunningham, who booked the show and generally refers to Jandek and/or Smith as "The Rep." "Like most of his performances, the music will be highly improvisational. Lyrical themes are usually prepared during the days before the performance. I'm guessing that will be the case for this show as well."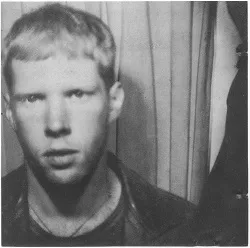 Cunningham, a Jandek fan since high school, says that the booking process was fairly straightforward. "Without going into too many specifics, I contacted Corwood over the summer about organizing a performance," he says. "We had our first conversation in June and have been in contact regularly since then. There really weren't too many odd requests to speak of, although all dealings have a certain surreal quality about them. This really only comes from the mystique associated with Jandek, rather than anything said in our correspondence."
Based on these initial contacts, Cunningham went about gathering a band. "It was a lengthy process," he recalls. "I was asked to find an 'experimental blues-rock' bass player and a drummer with improvisation experience. The only other specification was that the players should be local and that they had preferably never played with one another."
Cunningham first prepared a list of players in early January who had performed with some of Jandek's past live collaborators. "But this did not suffice, for reasons outside of my understanding," Cunningham says. "I was asked to provide extensive lists of players after this. One of my first lists was passed over, and I was asked to provide another list of musicians. His final choices were selected in late February."
"Alex said he had given Jandek a bunch of local bass players, and he chose me, which was pretty flattering," Coonfield adds. "I didn't know Joe was playing until after I said yes. I've known Joe awhile, and we have played shows with each other's bands for years. But we have never actually played together, so this should be fun."
What can Coonfield and Hess expect? A Texas musician who requested anonymity reflects on his own experiences playing with Jandek a few years ago:
Before the show, the musician says, Jandek held an extended soundcheck that functioned as the sole rehearsal. "The rehearsal was awkward, but fun," he says. "When there are no rules, you have to be open to anything. Jandek's reputation was the overarching unifier in the performance. Everyone was good at listening as well as playing. That helped a lot."
The musician describes Jandek's band-leading style as "very terse instruction by him, followed by comments and questions. The instruction was rather nonmusical, in the sense that there were none of the usual signifiers such as sheet music, tempo, key or usual arrangement terms such as verse and chorus. Because most of us had experience in experimental music, this was not necessarily a problem."
In Cunningham's eyes, Jandek is an entity disconnected from any idea of a "person." "He's definitely committed to upholding his mystique, and you have to respect that level of commitment after all these years."
"There has always been this notion among fans that Jandek is some sort of odd eccentric. This experience has extinguished that idea for me," Cunningham explains. "There have definitely been peculiar moments along the way, but I would never say that he's eccentric. He has an artistic vision in mind and knows exactly what he's doing. The way he operates is simply an extension of that vision."
RFT MUSIC'S GREATEST HITS
This Incredible Make-A-Wish Teenager Went to the Gathering of the Juggalos, Got a Lap Dance (NSFW) Crotching Whiskey at the Justin Bieber Concert and Getting Thrown Out: A Review The 15 Most Ridiculous Band Promo Photos Ever The Top Ten Ways to Piss Off Your Bartender at a Music Venue