KWUR, the student-run radio station out of Washinton University, dips its toes in live music from time to time. Outside of its diverse programming, KWUR has invited local and touring acts alike to perform live on the air, and once a year the station teams up with the Wash U Music Department to bring KWUR week to students and outsiders alike. This evening marks the first gig in a string of multi-genre shows happening over the next five days.
The first event takes place tonight on campus in the Ballroom Theater at the 560 Music Center. Dubbed "KWUR Does Klassical," the show features the music of Fauré and Mozart by St. Louis Symphony performers Cecilia Belcher (violin) and Patti Wolf (piano).
"The 560 Music Center is really beautiful, a great place to hear music. We also like to show that KWUR isn't just about garage rock, Pitchfork darlings or weird unsigned synth acts; we have a wide variety of DJs who have a wide variety of tastes. Classical music, both traditional and avant-garde, is played on KWUR more frequently than you might think," says Áine O'Connor, Head of Events at KWUR.
Last year KWUR week featured Metz and Roomrunner, two acts from out of town who blend rock sub-genres of grunge and punk. With this year's rock showcase on March 19, Tweens and local favorites Bug Chaser will continue where 2013's performers left off.
"Each band for the rock showcase was chosen primarily by the recommendation of our DJs. What we want most, especially for the rock showcase, is to find bands that really have a fun time performing live -- artists that can engage with the crowd and lead everyone to a good time," O'Connor says.
Wash U's resident venue, The Gargoyle, has been all but dark for the past year. Tweens and Bug Chaser are set to flip on the lights in a big way -- both bands bring songs of hypnotic repetition with enough force to peel the paint off the walls. Tweens has been buzzing about through regional fests in the past year, slinging a clever style of off-kilter garage rock. Bug Chaser is a relentless rock band dressed up in psychedelic armor, parading around the stage with a wild snarl.
"I saw Bug Chaser featured in Eleven Magazine, and one of our executive board members saw them play at a Lou Reed tribute and recommended them. Parisian was another effort to reach out to local artists. We're pumped to have a couple acts on board, even without a designated local showcase," says O'Connor.
While KWUR week typically sticks to one genre per night, Friday's gig features three performers who wouldn't otherwise share a stage: Parisian, Mykki Blanco and Pictureplane. Each act is a solo artist providing a different foray into the realm of rap and electronica.
Continue to page two.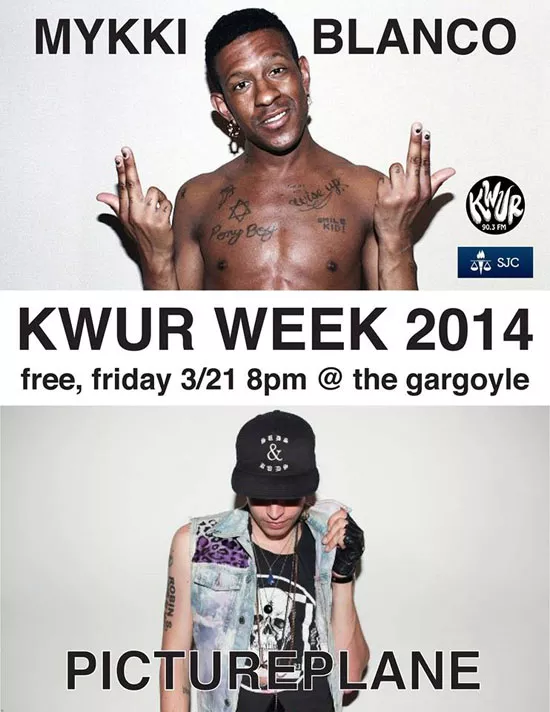 Rebecca Erde
Mykki Blanco and Pictureplane share a stage at The Gargoyle Friday night.
This show is co-sponsored by the Social Justice Center, as Mykki Blanco highlights gender roles, feminism and queer identity through a powerful stage persona. Blanco's presence turns the event into a chance to connect with deeper issues, but Pictureplane's whimsical beats give the crowd an opportunity to get wet -- metaphorically speaking, of course.
The Gargoyle doesn't serve alcohol, ensuring a different context than many might be used to when seeing rock or dance music. With the exclusion of liquor, KWUR week puts the focus where it belongs: the music. The concerts are curated by KWUR, but the committee takes suggestions from executive staff, DJs and directors for different genres within the station. The string of shows is a communal effort to highlight what's happening in and outside St. Louis.
All four concerts are open to the public, but only two are free. Both Klassical KWUR shows, on Tuesday and Sunday, take place at 560 Music Center and are free of charge. The rock and electronic showcases, however, cost $10 for the general public and are hosted by the Gargoyle. As always, anyone with a Wash U ID receives free admission to any event.
Read on for details on each concert and a digital flyer.
Áine O'Connor
KWUR Week is set to kick-off Tuesday, March 18.
TUESDAY (3/18): KWUR Does Klassical Cecilia Belcher (violin) and Patti Wolf (piano) 560 Music Center, 7:30 p.m.
WEDNESDAY (3/19): Rock Showcase Tweens and Bug Chaser The Gargoyle, 8 p.m. Tickets: FREE with WU ID or $10 at the door
FRIDAY (3/21): KWUR GETS DOWN Parisian, Mykki Blanco and Pictureplane The Gargoyle, 8 p.m. Tickets: FREE with WU ID or $10 at the door
SUNDAY (3/23): Klassic KWUR Shannon Wood (tympani) and Beat Therapy! 560 Music Center, 7:30 p.m.
RFT MUSIC'S GREATEST HITS
This Incredible Make-A-Wish Teenager Went to the Gathering of the Juggalos, Got a Lap Dance (NSFW) Crotching Whiskey at the Justin Bieber Concert and Getting Thrown Out: A Review The 15 Most Ridiculous Band Promo Photos Ever The Top Ten Ways to Piss Off Your Bartender at a Music Venue