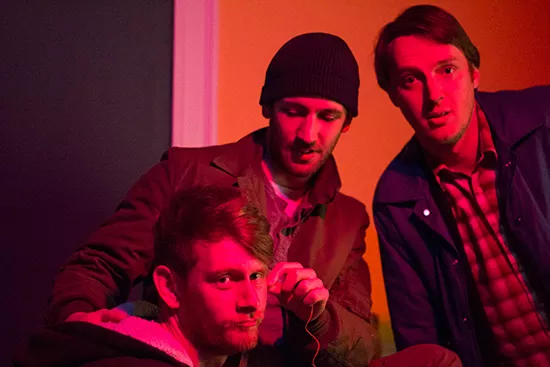 Photos by Mabel Suen
Britches is Andrew Carter, Bryant Hoban and Marty Reutter.
In this weekly column, RFT Music gets to know local creatives, musicians and their missions. Get a slice of the local scene, complete with a snippet of sound and info about upcoming releases and shows. Stick around to see what St. Louis artists have to say whenever they Fill in the Blank.
"It's kind of weird how we do things. Normally, you'd release an album and go tour on it. We've been on tour several times and now we're finally releasing a tape. And we're probably never going to play these songs ever again," says Andrew Carter, the drummer of Britches, regarding the trio's new album, Demolition. The cassette release is Britches' third set of recorded songs since its formation in 2009 and will be released tonight during a show with Boston's Guerilla Toss at Cafe Ventana (3919 West Pine Boulevard; 314-531-7500).
"The tape's more like a tombstone," adds Bryant Hoban.
After nearly five years of experimenting with the bounds of the traditional rock trio set-up, Britches will perform its set of dark and discordant, avant-garde rock one last time before embarking on a completely new concept: a "noise symphony."
Sitting in their Lemp Brewery practice space amid a sea of cables and effects pedals, empty beer cans and cigarette butts, the group squabbles about defining its newfound intent like salty siblings would. It's debates like these that evolved the band over time from a couple of ex-churchgoers and a Craigslist connection feeling out jangly indie into a stuffed-animal-head-wearing cadre of intense art rockers.
Each member of Britches relies on a revolving set of tools to lend tonal elements to the overall sound. The list of innumerable layers includes processed, purposely unintelligible vocal textures, a "noise log" set atop a walker that generates industrial noises via bowed scraps vibrating against a contact mic, and a sustainer pedal that connects to the guitar somewhat wildly, a contraption that controls feedback.
"It also makes him have more back problems and look even more terrible live," says Carter, referring to Reutter's electronic gadget. "We're trying to be as unattractive a band as possible. We pull it off. We know we do. No one likes us except for other bands and a selective minority of men."
At its core, Britches' spastic songs play out like a dark comedy, a self-deprecating soundtrack of inside jokes and experimental, visceral sounds with careful consideration to spacing and silence. The band's collective musical influences initially included This Heat, Liars and Birthday Party. Going forward, however, Britches will draw inspiration from some seemingly unlikely musicians: Pachelbel and Bach.
Instead of electronics, it will rely on unadulterated organic sounds including the incorporation of keyboard and cello. We're not sure what "getting to the roots of music" means for a band as eccentric as Britches, but only time will tell. Until then, hear a preview of Britches' latest, Demolition, below.
We invited Britches to fill in the blanks ahead of its album release show tonight. See what they had to say on the next page.
Outside of their practice space.
What we like most about St. Louis is... St. Louis is really a great place to live and make music, or art, or do anything that eats up a lot of your time and pays very little. The cost of living is low, there is decent public transit, there are disused buildings readily available to be converted into venues, galleries, practice spaces, sandwich shops, hair salons, Family Videos, H&R Blocks (during tax season), amateur dentistry academies, auto title loan tattoo parlors, non-profit dojos for the feeble... Arby's.
We make music because... if we didn't, our parent wouldn't love us anymore.
We're most inspired by... It changes over time. Right now we have made a concerted effort to listen to classical music. Saying that feels pretty douchey but none of us really have listened to it besides modern classical music. Thinking about this wealth of music that we've never been exposed to that could inspire us was intriguing. Intentionally exposing ourselves to music is important to us. If we were going to make a sitcom and only watched Who's The Boss, and based everything off that we would end up making a really bad version of Who's The Boss. We're not trying to make a bad version of Who's The Boss here.
The St. Louis music scene could use... more venues. There are places around St. Louis that we enjoy playing and others that we play at just because it's a place to play.
A look at the "noise log."
The best show we ever played was... Pig Slop 1989 with Ron Wax. We finally had four songs that sounded like Britches. So we get a spot on this show at Pig Slop, with about four other bands, one of them being Ron Wax. This show actually had people at it unlike most of our previous shows. Being new and whatnot we knew we were going to play last but we didn't care -- there were enough people that would hang around till then or so we thought. So the show starts and this guy from New Orleans with long hair, forget his name, plays some rockin' stuff on a ukulele. Then another band goes and then Ronny Wax. Ron is some mechanic from Nebraska who apparently doesn't drink much, at least according to him: He kept saying it all night while downing a bucket of margs.
It comes time for Ron to play and he was a mess, can't put his guitar on, stumbling around, knocking over his own weird amp. Needless to say, he can't play, at least in the traditional sense. This alone would have been fine. If he would have just stumbled around for awhile, then maybe eventually fallen over and called an ambulance, none of us would have cared, but that wasn't the case. As his set devolves, he starts shouting at the audience -- just obscenities, not even funny ones or ones that make sense. At one point he calls everyone a "Mississippi River cocksucker." This keeps going on and on -- him not being able to play, yelling incoherently. The novelty wore off and people started leaving. We are just standing to the side, glaring at him and shaking our heads as the crowd dwindles. After the fifty-third and last person walks out the door, he stops playing. We got Waxed. And in hindsight, "Mississippi River cocksucker" is a pretty funny insult.
Five current artists worth listening to are... This first one isn't an artist but the opera, "Nixon In China," by John Adams, The Haxan Cloak, Frankie Teardrop, Guerilla Toss, Hair Police.
The most difficult thing we've learned while playing music is... That Marty's body really isn't as sexy as he claims it to be.
See Britches' album release show info as well as a video performance on the next page.
Video by Graham Matthews
Britches Album Release Tuesday, March 18, 8 p.m. w/ Guerilla Toss, Ryan Power, Kisser @ Cafe Ventana - $5
Follow Britches via its Facebook page and Bandcamp.
Do you know a project or band that should be considered for this series? Drop a line to fillintheblank@riverfronttimes.com.
Previously from our Fill in the Blank series: - The Maness Brothers - Con Trails - This City of Takers - Syna So Pro - Eric Hall - Pink Sock - Scrub - Pet Rock the Musical - The Glass Cavalry - The Blu Skies - Animal Teeth - Popular Mechanics - Brotherfather - Bad Dates - Beauty Pageant - Pillow Talk - The Tennis Lesson - The Funs - Brothers Lazaroff - Quaere Verum - MME - Sarah Bollinger - Little Big Bangs - Everything Went Black - Lions Eat Grass - Kevin Harris - Laika - Heavy Horse - Barely Free Partial Prisoners - The Defeated County - Lizzie Weber - Kenshiro's - B.E.L.L.A. - Superfun Yeah Yeah Rocketship - Humdrum - The Blind Eyes
---