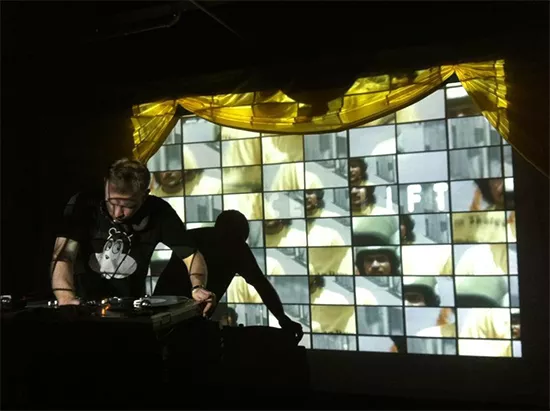 Paces Lift and Ben Bounce Vinyl Release - Friday, March 14 @ Blank Space
This weekend sees new releases from the Maness Brothers as well as Paces Lift and Ben Bounce. Besides these record-release parties, see the Blind Eyes one last time during Off Broadway's SXSCity weekend, get some shopping in at Plush's rummage sale of rock and check out a variety of other shows happening over the next few days. The forecast is a favorable one. Get out and enjoy it.
Friday (March 14):
Greensky Bluegrass w/ Wood & Wire @ Old Rock House 9 p.m. | $15/$18 The band's name tells you everything you need to know here. GB seems to have taken a shine to St. Louis; stops in town have been frequent in recent years. (DH)
Lifeless w/ Not 'Til Death, Dogfight, A Death and A Promise, Ally Ooop, Danny Greene @ Fubar 8 p.m. | $10 Notable is the inclusion of A Death and A Promise on this bill, one of St. Louis' best and longest-running hardcore acts. ADAAP doesn't play out as much nowadays, so don't miss it. (DH)
Paces Lift and Ben Bounce Vinyl Release w/ DJ Who, DJ MAKossa @ Blank Space 9 p.m. | free The sticker on the cover of the LP provides the most apt description: "A Brooding and funky, beat-driven, sample-based, lo-fi instrumental spaghetti Western adventure piece." Check it out for yourself. (DH)
Pearl & the Beard w/ Mt. Thelonius @ Old Rock House 9 p.m. | $10-$12 For fans of three-part vocal harmonies and skilled, varied instrumentation. Also, horn-rimmed glasses. (DH)
The Rummage Sale of Rock w/ Tok, Superfun Yeah Yeah Rocketship, Kenshiro's, The Man in Brown @ Plush 9 p.m. | $5 One-half rock show and one-half rummage sale, this fun-for-all event features a few great local acts as well as Conway Twitty records and Bon Jovi swag up for grabs. (MS)
Also on Friday, check out Afroman at Fubar and Bruxism. No. 2 at Apop Records. For more info, just click the links.
Saturday (March 15):
Kowabunga! Kid w/ The Vanilla Beans, Wild Hex, Dem Scientist @ Cafe Ventana 8 p.m. | $5 Kowabunga! Kid hails from Champaign, Illinois, and plays some punky pop jams. Hear 'em on Bandcamp. (MS)
Catholic Guilt w/ Crisp Money Legends, Frank Hurricane, Zak M @ Foam 9 p.m. | $5 We could try to write a description for this epic variety show, but whoever penned the Facebook invitation kicked ass at it: "Um, I know this is a 'coffee shop show,' but forget about that. Remember real parties? Remember abandon, oblivion, the yawning abyss -- when being around other people meant the welcome embrace of friendship and not just the threat of crowds?" (MS)
HEARding Cats Gelatinous Orchestra w/ Gino Robair @ William A. Kerr Foundation 8 p.m. | $10-$15 This 75-minute improvisation conversation featuring Gino Robair takes place between veteran experimental musicians. Participating local artist Tory Z Starbuck says, "I am thinking of bringing various species of chameleon lizards to this show and having them lurk around the room." Hmm... (MS)
The Maness Brothers 7" Release w/ Old Capital Square Dance Club, Oh Yeah Dakota!, Carriage House, Fred Friction, Miss Molly Simms, Guitardog Life @ Livery Company 7:30 p.m. | $5 Have you seen the cover art for the Maness Brothers' latest? Because it is awesome. (DH)
RFT Music also recommends checking out the Blind Eyes as they play their final show at Off Broadway as well as Kim Richey at Blueberry Hill. More info in the linked previews.
Sunday (March 16):
SXSCity w/ Bagheera, Jedi Nighties, Cree Rider Family Band, Karate Bikini, Tommy Halloran's Guerilla Swing @ Off Broadway 7:30 p.m. | $7 This weekend fest featuring local bands, beers, prints and more, wraps up on Sunday after two days of excitement and a fond farewell to the Blind Eyes. (MS)
For another option on Sunday night, check out Everything Went Black opening for hardcore legends Ringworm at the Demo.
Note: Though we wish we could, we can't feature every great show happening in town in just one measly post. Peruse the St. Louis concert calendar for more ideas any time. Let everyone know what else you're looking forward to seeing this weekend in the comments below, and submit show info online any time to be considered for inclusion on these lists.
RFT MUSIC'S GREATEST HITS
Remembering STLPunk.com -- How to View the Site Today and Find Your Old Profile Page "Where Did My Dick Go?" The Gathering of the Juggalos' Best Overheard Quotations The Ten Best Dive Bars in St. Louis The 15 Most Ridiculous Band Promo Photos Ever
---