The Hold Steady
Roy Kasten
Some facts as I know them at deadline: Two are dead and dozens are injured after a high speed chase along Red River Street. in downtown Austin, Texas last night. After being pulled over by police for a suspected DWI, the vehicle sped off against traffic, crashed through a barricade and plowed through dozens along Red River near and in front of the Mohawk night club during Wednesday night's SXSW Music showcase. The suspect is in custody.
[Update: Austin Police Chief Art Acevedo says the crash was "intentional," and that the car was reportedly stolen. The suspect's name is Rashad Charjuan Owens, 21. Two were killed, 23 were injured, eight were transported to the hospital and three people are still in serious condition in the ICU. "This is an individual who showed no regard for the human beings he plowed through," Acevedo said." The results of a BAC test have not yet been released. More info here.]
I was inside Mohawk last night, standing 30 feet away from the street. I did not hear or see the crime. 20 minutes earlier, I was standing in the line that was hit by the car. I had come to Mohawk to see LA punk band X, and the band played a full set. Tyler the Creator, who was to follow, did not.
See also: Two Dead, 23 Injured in Grisly SXSW Tragedy [Updated With Video]
Like hundreds of others, I left the club at 1 a.m. and walked to the west, away from the corner intersection where police and emergency crew did what they could. Everyone I passed and who passed me was stunned. Some were crying. We had to head back down towards Sixth Street, where the parties and music played on unknowing.
If you've never been to Austin during SXSW you should know that this part of town, just a few blocks west of Interstate 35 and just south of the Capitol building, is one of the most highly trafficked by both pedestrians and cars in the downtown area. In all the years I've come to SXSW (over a dozen but I've lost track) I've never reflected on how dangerous these streets could be.
It feels surreal writing this review now, on the morning after the worst catastrophe, surely, in the history of the South By Southwest event. In past years, I've tried to tell a story of my days and nights in Austin in the spring, and I try to do so with humor and irony. That's impossible this time.
Here instead, and at risk of callous brevity and in chronological order, is my consideration of the bands I saw on the first two days of SXSW 2014. I hope the next three days bring only music and community.
Tuesday, March 11
At Empire Control Room for Danny's free day party on my first afternoon in Austin, Marmalakes cut its trio semi-pop tendencies with proggy flourishes, getting louder somehow when the guitarist switched to acoustic. Any song with a joyous "Victoria!!!" chorus and a bit of noise-jamming in the place of solos will always move me.
But the band I had come to see, the Black and White Years (from Austin), was even better. Though reviews of Arcade Fire's recent exploits have rendered Roxy Music comparisons all but meaningless, that's the comparison that comes first to mind, with singer Scott Butler delivering a deliciously decadent and not-quite-but-nearly paranoid vocal quaver across the corkscrew synth lines. A band this pale shouldn't be having this much fun in the daylight.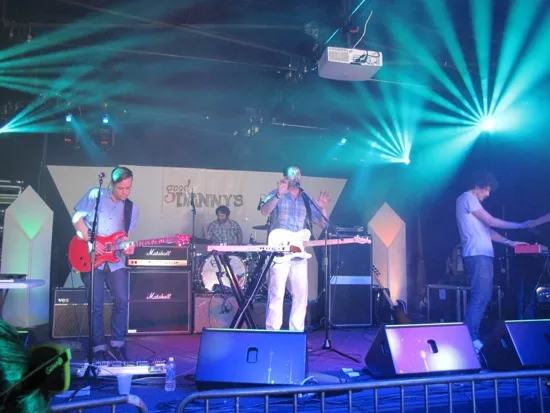 The Black and White Years
Dana Plonka
My Tuesday night showcases started late but memorably at 9:15 p.m. on Rainey Street for the Danish party and the band Mister and Mississippi, about whose name I had my doubts but about whose music I didn't. Like Mazzy Star cut with a bit of twang and glockenspiel, the band floated through a short set of dreamy songs you could still dance to, though the kids sat on the astroturfed patio instead. Maxime Barlag has a lovely, generous alto, and if its name doesn't hold them back, this Utrecht-formed band might have a future in the New World.
Dana Plonka
Mister and Mississippi
At Cheer Up Charlies, my first night continued with the Sour Notes, a psych-drone band from Austin with actual songs and a singer who can deliver a line with more tenderness than you'd expect from a neo-pedal pusher. The weed smelled fine around me and the light show, featuring disembodied floating cat heads (the band's cats, apparently) was a strange but sweet touch. It was a free show, so the band gave away cassettes after its set. Rock & roll youth should always be like this.
Midnight found me at the Intercontinental Hotel bar for Falls, a Sydney, Australia duo who will likely never outlive the Civil Wars comparisons. But they should. Backed by a string quartet, Melinda Kirwin and Simon Rudston-Brown performed exquisitely to a full room, seeming to savor each moment on stage. "Tell her I'm headed for forgiveness/I know it's rough some days" is a line I'll remember. Ditto for a good, harmonica-full cover of Neil Young's "Heart of Gold."
To close out my first night, I selected Sub Pop band Avi Buffalo. The band started late, and singer Avigdor Zahner-Isenberg seemed to have barely woken up after a long haul. "Your fly is open!!" called out a few members of the audience. "I know. I broke the button. But I have two pairs of underpants on, so it's OK." The set sounded so much better than it looked, especially with Zahner-Isenberg's voice, a high falsetto that may not be a falsetto at all, cutting across the Byrdsy groove and chime. Half the audience sang along with "What's It In For" and the other half loved it. Axiom: When you have songs and melodies you really don't need anything else, least of all a working zipper.
Continue to page two for more.
Wednesday, March 12
Dana Plonka
La Luz
At Waterloo Records I took in four female-fronted bands over four hours: La Luz, Ex Hex, Speedy Ortiz and Hospitality. The strong lineup for the free parking-lot party began with La Luz, a primitive surf-rock band that stressed Shana Cleveland's fleet leads and three-part harmonies on more "Oooo Oooos" than you ever imagined could fit in a single set. Even better was Ex Hex, led by Mary Timony (of the bands Helium and Wild Flag), a terrific proto-punk songwriter and singer, and underrated guitarist. Every song is like an homage to "Sweet Jane" and the Ramones -- and this is very good thing. Ex Hex is playing in St. Louis at the Firebird on March 17. Do not, I repeat, do not miss them.
Dana Plonka
Ex Hex
Speedy Ortiz lived up to its notices with a cascade of fuzz, furious drumming and tart songs that came and went before I had a chance to pinpoint just what I liked about them. Favorite moment: "This song is called 'Taylor Swift, Showcasing Artist,'" followed by a wall of sweet sludge. I contrast, what Merge Records band Hospitality lacks in charisma it compensates for in increasing instrumental expertise, rotating members across keys and guitar and drums. Still, somehow the band doesn't quite capture on stage what it has on record.
Dana Plonka
Speedy Ortiz
Dinner would have to wait (and never happen now that I think of it) as the Hold Steady was performing at sunset at the IFC Fairground stage. I've loved no rock band more in the last decade and here's why: Craig Finn and his band play every show, not quite like it's their last, but because it might be your first. Starting with "I Hope This Whole Thing Didn't Frighten You," from its new album Teeth Dreams, the band celebrated its third day in Austin and invited everyone to clap along. The new material has a darkness on the edge of the towns Finn revisits, and for all the joy the Hold Steady expresses, those songs really have been dark all along. But somehow the thrill of living and singing and raising one more beer to a great American band never fades, at least not for me, and I'm always transported at its shows, no matter where they take me.
One should always take musical chances at SXSW, so I did just that at bar called Rowdy's Saloon with an actual, operational mechanical bull (no riders though) and a band from New Orleans called Deslondes, featuring former members of Hurray for the Riff Raff. The hillbilly honky-tonk swing sounded just right, somehow. Danceable, lonesome music often does.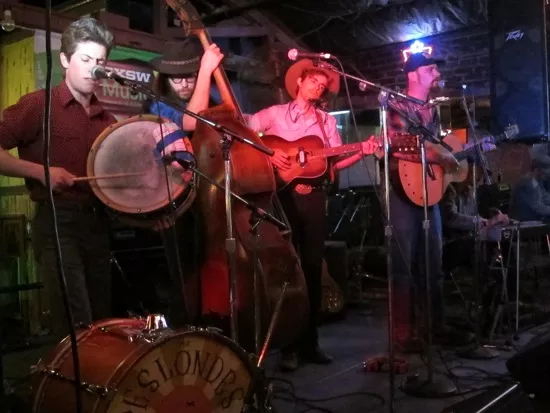 Roy Kasten
Deslondes
There are giant names at SXSW (Lady Gaga, Neil Young, and appearances by Kanye West and Jay-Z if you have the right kind of phone or know someone who does) and then there is Donnie Fritts -- a giant, if ever there was one, of the Muscle Shoals soul scene, a songwriter who worked with Arthur Alexander and Kris Kristofferson (to barely scratch the service) and new friend to fellow Alabama resident John Paul White of the Civil Wars. White joined Fritts on stage at the Market Tap Room, and the two played some of Fritts' best-known songs, including the gorgeous hit "We Had It All," as well as some new material from an album produced by White. Fritts was in great spirits and excellent voice, and I was lucky to have seen his set.
But one doesn't always have to chances at SXSW, and a sure thing like the Felice Brothers at the Cedar Creek patio was just that. Hitting on just few new songs the band focused on sing-alongs like "Run Chicken Run" and had a packed house twang-moshing along for the full set. I was struck by just how good the Brothers are as musicians -- and then they throw all their skill to wind and just play their hearts out.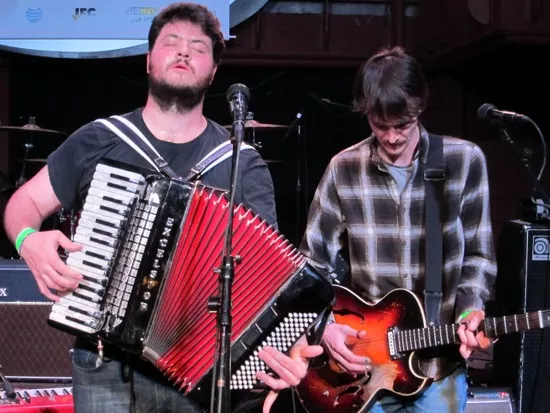 Roy Kasten
Felice Brothers
My first and surely best punk band of SXSW 2014 turned out to be New York's So So Glos at Karma, a club with a "dance floor" barely big enough for a mosh pit, but mosh we did. The lead singer nearly crippled a young woman in the front row with a shoulder hug before realizing she wasn't the close friend he thought she was. She didn't care and kept right on dancing.
Roy Kasten
So So Glos
Then, to end the night, it was X at Mohawk at the scene of the crime that I was lucky not to witness. Inside, John Doe, Billy Zoom, Exene Cervenka and D.J. Bonebrake blasted through a full set with everything and nothing to prove. There could be no better rock band in town this evening. From "White Girl" to "We're Desperate" to "Breathless" to a furious version of "Soul Kitchen," the band really did seem ageless. And Billy Zoom's guitar rig should be studied by every rocker in town; the tone and force of his riffs just roared and roared. People crowd surfed. Beer flew in the air. Only the crew backstage and the VIPs on the balcony knew what was happening out in the street.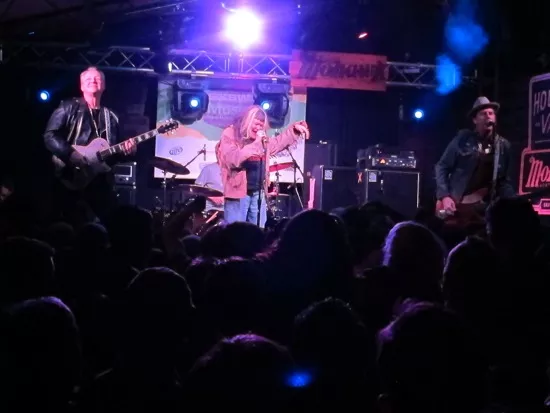 Roy Kasten
X
And so, as many have already said on this very sad day, my thoughts, while still filled with the power of music, are with those who might need such thoughts. Be safe tonight and tomorrow and all the tomorrows after.