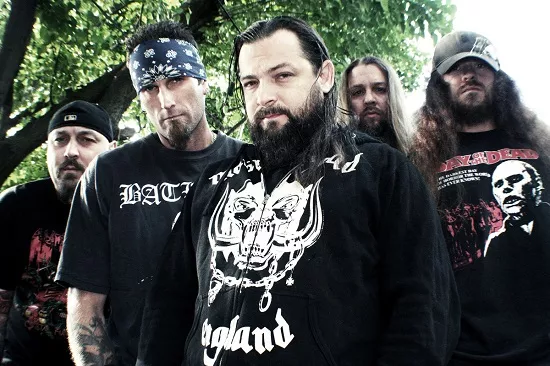 Press Photo
Ringworm
Are you sick of being responsible? Does it annoy you to have to follow rules or be pro-social? Do you like basements? Well, if you are a goofy, degenerate weirdo who doesn't quite fit in anywhere else, you might consider our city's hardcore/punk shows.Your underlying anger problems can be brought out to their fullest potential (in a positive way). These are my recommendations for great local and national bands that don't play five-minute (marathon!) songs or remind you about drink specials. General rule of thumb: If you have five bucks and can show up by 9 p.m., then it's go time in the pit. One, two, fuck you!
[Disclosure: The author of this article is in bands, some of which will be playing some the following shows. But the author of this article is in five local punk bands, so that is kind of an inevitability. It does not influence the choosing of these shows.]
Ringworm, Everything Went Black, Resolute, Cathedral Fever @ The Demo March 16 7 p.m. / $10-$13
New Ringworm
Cleveland, Ohio's angriest hardcore veterans are finally making a return stop to St. Louis. Fun facts: The singer of this band's name is Human Furnace, which, if you didn't know, is the best name, period. Also 3/16, the date of the show, is the almighty number of Stone Cold Steve Austin. Everyone should probably act like Stone Cold at this show (e.g. jorts, cussing, dumping beers mainly on your chest/only getting foam in your mouth, and STUNNERS!). This show is sure to be one of the more blasphemous shows in town on the Lord's day, if blasphemy is your thing.
Old Ringworm
American Hate, Shaved Women, Wild Hex @ The Livery Co. March 17 9 p.m. / $5
American Hate played its first show at one of Shaved Women's tour stops in Oklahoma City last year. Now the band has finally taken off the training wheels and is bringing its brand of slam to Cherokee street on St. Patrick's Day. This evening has the potential to become the good kind of dumb insanely fast. Will the bands be too drunk to talk/move limbs? Will the crowd turn into a sweaty pile of hamsters falling onto one another? Will Johnny B pinch you if you aren't wearing green? Yes, duh! Don't fuck around and show up two hours late because it was time to drink in the car and listen to old Journey tapes. Don't text/snapchat through this show. Sex/dogpile your way through it instead.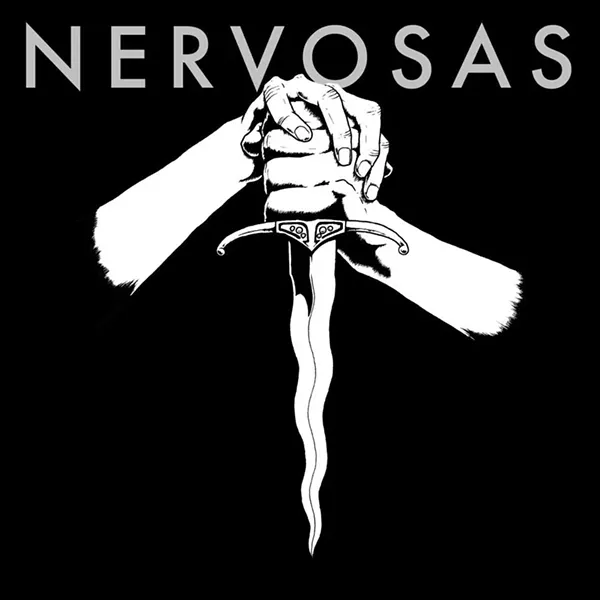 Nervosas, Doom Town, Staring Problem @ Melt March 26 7 p.m. / $7
This is going to be Doom Town's last show ever. Put on your fanciest burial clothes/accessories and see what happens when you get funeral drunk at a place that serves booze and waffles. For one thing, you'll be probably sucked into a vortex of all the insanely catchy gloom-punk that's going on and come out of the other side of Melt's front doors on fire, hair akimbo, all neon and stonewashed (I saw it in a movie once; it happens). Plus you'll be participating in the send-off for one of the only local punk bands who've made it to Europe!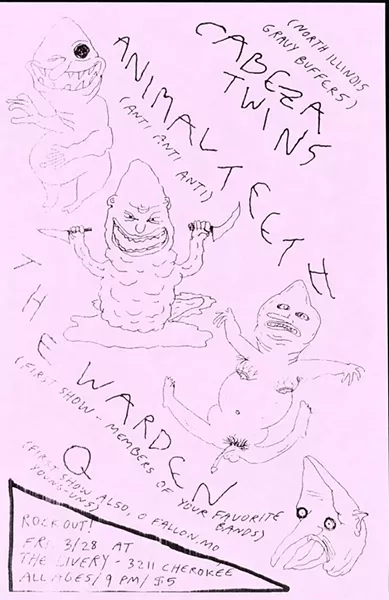 Cabeza Twins, Animal Teeth, Q @ The Livery Co. March 28 9 p.m. / $5
This show is going to be like a super-dangerous middle school talent show. Why? Well, it's the first show for two of the locals. Animal Teeth will probably have a bevy of new unicorn paintings and thrift store cassette tapes to wave in your general direction, too. This show could either be a total disaster or a magical representation of art from a bunch of anger-filled young(er) musicians. Or take columns A and B and just smash them together for the most likely scenario.
Burial Teens' Alive @ The Butchershop
Burial Teens, Trauma Harness, Self Help @ Ask A Punk March 30 9 p.m. / $5
Kansas City's Burial Teens is making the drive down highway 70 to come get nasty and dumb with all of us in a basement. The band has a catchy/creepy vibe akin to the Crucifucks or the Germs. If blowing out your ear drums and shoving your friend into a wall sounds appealing, you might have found a way to spend your Sunday evening.
RFT MUSIC'S GREATEST HITS
The 15 Most Ridiculous Band Promo Photos Ever "Where Did My Dick Go?" The Gathering of the Juggalos' Best Overheard Quotations I Pissed Off Megadeth This Week, My (Former) Favorite Band The Top Ten Ways to Piss Off Your Bartender at a Music Venue
---