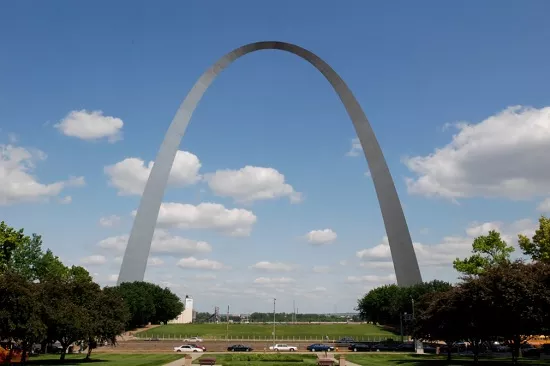 For seven days, St. Louis has been speculating about what Board Bill #328 could mean for downtown as a tourist destination and music haven. Multiple large-scale festivals? Ousted local events? Big music names? A burden on city resources?
But after an aldermanic hearing yesterday, we're only marginally closer to figuring out what twenty years of the proposed Summer Rocks festivals are and how they might affect the Gateway City.
See also: Bluesweek Moves to Chesterfield Due to Financial Woes - St. Louis City Committee Talks of New Major Downtown Music Festival - Summer Rocks Festival Proposal Scrutinized Over No-Compete Concerns
City leaders, Summer Rocks festival promoters ICM Partners and guests spoke during the public hearing, called primarily to address concerns about language in Bill #328. Both proponents and detractors of the bill questioned the proposed contract's duration, the non-compete clause, the city's gains and the effect on music festivals already in place. Here's what you need to know, from reporters who were on the scene during the meeting:
WHAT IS SUMMER ROCKS?
These will be multi-day, multi-stage festivals that feature major national acts in country and in rock music. Promoters drew comparisons to other well-known, large-scale festivals:
WHEN ARE THESE FESTIVALS SUPPOSED TO HAPPEN?
Summer Rocks festivals are proposed for Memorial Day and Labor Day weekends, beginning in 2015 for up to twenty years. They will be held in downtown St. Louis on the Gateway Mall along Market Street. See the map in our previous story.
WHAT'S IN THIS NON-COMPETE CLAUSE?
The original language for Board Bill #328 can be found here. The bill at yesterday's hearing presented was narrowed quite a bit, though. Scott Ogilvie, alderman of the 24th ward, tweeted the new language:
WHERE IS THE NON-COMPETE CLAUSE IN EFFECT?
Locally, there can be no competing festival in the Summer Rocks area downtown -- so roughly from Tucker west to about 20th Street. Nationally is a different story, though. Initially, the proposal said that the city would prohibit ICM Partners from staging similar Summer Rocks events within a 300-mile radius. But ICM now has agreed to expand the radius to 350 miles, meaning no Summer Rocks in Chicago, Cincinnati, and more:
City officials still would like to increase the radius even further:
WHEN IS THE NON-COMPETE CLAUSE IN EFFECT?
Previous, more nebulous language suggested that the city could not issue permits for similar events staged around the Summer Rocks festivals on Memorial Day and Labor Day weekends. However, new language has clarified and extended the non-compete quite a bit, between the two holidays instead of just around them:
So the non-compete would be in effect for the entire summer, essentially.
Continue to page two for more on the proposed festival.
WHAT CONSTITUTES A "SIMILAR EVENT?"
We're talking Lollapalooza-type events: for-profit, multiple days, multiple stages, budgets of $8 million or more and sales of at least 25,000 tickets per day. That won't affect arenas and concert clubs, though:
See RFT Music's complete LouFest coverage
HOW WILL THESE NEW FESTIVALS AFFECT BIG MUDDY BLUES FESTIVAL, LOUFEST, FAIR St. LOUIS AND OTHER ALREADY-SCHEDULED EVENTS?
Theoretically, they won't:
But honestly, that remains to be seen. Bill language stipulates that Big Muddy, LouFest, etc. will be grandfathered in and permitted to stage their festivals as planned. However, Big Muddy traditionally is held Labor Day weekend, while LouFest this year will be held September 6-7, just a few days after Labor Day. There is concern that tourists and residents will not enough spending dollars to attend Summer Rocks plus the locally produced events. In addition, LouFest attracts nationally known artists for its two-day festival, and some worry about competition from Summer Rocks for high-caliber talent.
Moreover, there's some question as to how Summer Rocks will affect future opportunities:
WHO'S PAYING FOR THIS THING?
Los Angeles-based ICM Partners will pay all taxes and festival reservation fees, in addition to forking over $400,000 a year for city services to put on Summer Rocks.
Local real estate developer Steve Stogel is on board for a contribution:
WILL LOCAL MUSICIANS BE INVOLVED WITH SUMMER ROCKS?
ICM Partners assured attendees that local musicians will be welcome, but their specific involvement remains to be seen:
WHEN WILL THIS BE SORTED OUT?
There will be another meeting:
But even if the committee approves the bill next week, the process still will take time:
DID THIS BILL PUSH BLUESWEEK TO CHESTERFIELD?
Last week, Bluesweek festival promoter Mike Kociela told RFT Music and other news outlets that the move was due to financial woes and the inability to secure festival sponsorships. During yesterday's hearing, however, Kociela -- whose Taste of St. Louis also is moving to Chesterfield -- confirmed that Bill #328 sent him packing:
Continue to page three for more on the proposed festival.
Other parties were concerned about the bigger picture, as well:
WHEN WOULD TICKETS GO ON SALE?
There's no ticket information yet because there's no signed contract. However, if you're getting the feeling that this bill moving quickly, you're not alone:
So if this bill goes through, ICM could bring a festival here in September.
See also: "Attention LouFest Organizers: Please Get OutKast, Thanks"
WHO WOULD PLAY SUMMER ROCKS?
Again, that information isn't available because no contract has been signed and no talent has been scheduled. However, we know what St. Louis is thinking about:
Awww, lay off Insane Clown Posse, though.
RFT MUSIC'S GREATEST HITS
The 15 Most Ridiculous Band Promo Photos Ever "Where Did My Dick Go?" The Gathering of the Juggalos' Best Overheard Quotations I Pissed Off Megadeth This Week, My (Former) Favorite Band The Top Ten Ways to Piss Off Your Bartender at a Music Venue
---