Mabel Suen
Con Trails is Kevin Guszkowski and Luke Sapa.
In this weekly column, RFT Music gets to know local creatives, musicians and their missions. Get a slice of the local scene, complete with a snippet of sound and info about upcoming releases and shows. Stick around to see what St. Louis artists have to say whenever they Fill in the Blank.
The term "shoegaze" typically manifests through its wearers in the form of a semi-detached disposition and row after row of effects pedals, but such is not the case with Con Trails. While the power duo's sound fits the introspective alt-rock profile, the live delivery comes off as fierce rather than lax and depends on a single tube amp for its warm, warbling reverb.
Inspired by early '90s alternative as well as contemporaries including WEED and Moldboy, Con Trails -- or "con trails," as the duo prefers -- carefully manipulates time and wide open space to create its own ode to the genre, complete with characteristic moody crooning from singer/guitarist Kevin Gurszkowski. Sounds of languidly bent guitar strings lead way for subtle dynamic shifts amid drummer Luke Sapa's succinct rhythmic hits, personifying impressionistic lyrics about transformation and reflection.
Guszkowski and Sapa became good friends while studying at Saint Louis University, and in the spring of 2013, started their band in a south-city apartment. Con Trails currently has three digital demos self-recorded with a single mic available online. One of its songs also appears on the local label Eat Tapes' recently released Meat Bundle #1 compilation. Check out Con Trail's latest tracks, under the heading Tunnel Prey, below.
We invited the members of Con Trails to fill in the blanks ahead of a show at Cafe Ventana this Saturday. See what they had to say on the next page.
What I like most about St. Louis is... Luke Sapa: I grew up in the one-and-only beautiful south city, so it's all home to me. Anyone who knows me knows I have a particular passion for St. Louis. The place just never fails to amaze me. I never get tired of it and all its little oddities. One of my all-time favorite pastimes is to drive around and take in all the old classic architecture in the different neighborhoods the city has to offer. It's also great to continue to see so much new interest in the city. We are really at a pretty exciting time in our history right now! But I love the network of small, personal businesses that are still able to survive and thrive in St. Louis (especially when it comes to getting your hands on a good deli sandwich). It's definitely part of what makes up the very dynamic culture here. I think we simply do a really good job of supporting each other -- whether that's a business, a project, music, art, sports, anything. There's just a good sense of community here, and that matters a lot.
Kevin Guszkowski: I grew up living in Milwaukee, so St. Louis has been a nice change for me the past few years. I'm happy to still be in a Midwestern city, but I think St. Louis is a pretty unique place. I like how spread out everything feels here compared to Milwaukee. The city has all these different neighborhoods that are distinctive in their own ways. You also can't beat how cheap this city is or how short the winters are compared to Wisconsin. And in terms of the music scene, I think St. Louis is a great place to be right now. There's plenty of weird, cool bands in this city, and there are shows happening all the time. I'm psyched to be a part of that.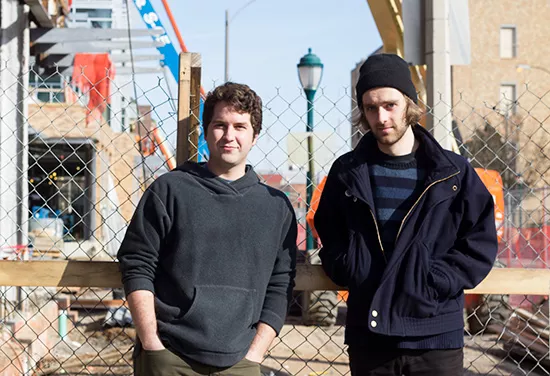 Our favorite aspect of being in a band is... It's a great way to spend time with your friends. We both enjoy music a lot, and being in a band lets us experience music together in a different, more active way. Being in a band is also something we've talked about and wanted to do for a long time, so it's exciting to actually be doing this and having the opportunities to share our stuff with other people.
We're most inspired by... going to shows, listening to new music and just seeing the kinds of cool things that other bands out there are doing. It's also pretty inspiring when we meet people that are into the stuff we're doing. That always feels reassuring. We have this one die-hard fan who we call Krevin, and he's always hanging around outside of Kevin's apartment where we practice. We often see him from across the street or right outside, and he'll just put his fists in the air or give us the ol' devil horns and yell, "METALLICA, AC/DC!" That's the kind of stuff we like to see.
The St. Louis music scene could use... The best thing for St. Louis to do is to keep doing what it's been doing. Don't lose the momentum. It seems like there's a lot of positive energy and good vibes going around right now, and a lot of new people seem to be getting interested in the music scene here. We've only been playing for about a year now and have been able to meet some great folks and play some really fun shows. We can't really ask for much more than that.
The best post-show food in St. Louis is... John's Donuts (and beer).
The most memorable show we've ever played... was a show in Milwaukee with Sat. Nite Duets for New Year's Eve. That was pretty damn cool. It wasn't part of a tour or anything, but traveling to play a show is a great time, and Milwaukee is a groovy town. Can't wait to travel some more..
Five current artists worth listening to are... Blonder, Mold Boy, Sat. Nite Duets, WEED, Grooms, Nothing, Ex-Cult, Milk Music, True Widow.
Check out the next page for Con Trails' upcoming show info.
Wei Zhongle Saturday, March 8, 8 p.m. w/ Con Trails, Eric Hall, Crucial @ Cafe Ventana - $5
Bad History Month Monday, March 17, 9 p.m. w/ Con Trails, Stonechat, Willis, Blank Stare @ Cafe Ventana - $5
Heavenly Beat Thursday, March 27, 9 p.m. w/ Con Trails, Jake Leech @ Plush - $10/$12
For more info on Con Trails, follow it on Facebook and Bandcamp.
Do you know a project or band that should be considered for this series? Drop a line to fillintheblank@riverfronttimes.com.
Previously from our Fill in the Blank series: - This City of Takers - Syna So Pro - Eric Hall - Pink Sock - Scrub - Pet Rock the Musical - The Glass Cavalry - The Blu Skies - Animal Teeth - Popular Mechanics - Brotherfather - Bad Dates - Beauty Pageant - Pillow Talk - The Tennis Lesson - The Funs - Brothers Lazaroff - Quaere Verum - MME - Sarah Bollinger - Little Big Bangs - Everything Went Black - Lions Eat Grass - Kevin Harris - Laika - Heavy Horse - Barely Free Partial Prisoners - The Defeated County - Lizzie Weber - Kenshiro's - B.E.L.L.A. - Superfun Yeah Yeah Rocketship - Humdrum - The Blind Eyes
---