Courtesy of Jerome Gaynor
Feeling nervous at nightclubs? Are you tired of standing around at shows with your hands in your pockets? In this week's music feature, "For Peat's Sake: St. Louis Rallies to Benefit a Friend," we talk at length about local punk and bike scene personality Peat Henry and the fundraiser show happening tonight to help recoup medical costs from a recent bone-shattering injury.
To get the kids' hearts pumping for the event, we asked all-around goofball Peat to send us some of his best tips for having fun at a show. The following guide features a procured list on to how to get down and dirty in the punk rock pit. "These are not my top five or even rules," he says. "Just a few tips to consider."
See also: For Peat's Sake: St. Louis Rallies to Benefit a Friend
1. Ride your bike to the show. Parking is usually better and it looks awesome to see a whole grip of bikes outside the venue. Also if you're supremely saturated with booze, both inside and out, then the bike ride home will help you dry out and avoid any unwanted encounters with the cop shop -- which can be a real buzz kill to a stellar night.
2. Be open to the moment and play by ear. Anything fun can happen at any moment, so let it happen and let it flourish. And if things don't go as planned, don't cry in your beer. Adapt and sally forth. Those are sometimes the best nights!
3. Cut a rug or cut a rug with a stranger. Dancing is hella fun and releases happy endorphins, and when you dance with a stranger you're sharing the wealth. Or at least getting them outta their shell!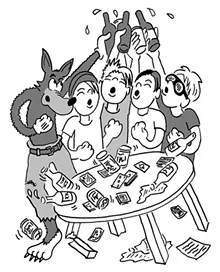 Jerome Gaynor
Peat partied hard fronting local punk group, the Pubes.
4. Spraying drinks, beer, etc.: Spraying, slinging, spitting, misting really helps set the mood or does its part to raise the excitement level. Don't be a jerk though. Throwing full cans o' beer or glass can have very negative consequences, and that kills fun.
5. Don't be a wet blanket. If you're a square then you may get your corners rounded by hangin' too close to the stage. And we wouldn't want that. The stage area is where the fun and mayhem happens, always has been and always will be. You will save yourself and the fun lovers much agony by steering clear of this vital real estate.
Show details on the following page.
See if you can spot Peat in the pit (hint: I ain't afraid of no ghost!).
Peat Henry Benefit Show Friday, March 7, 8 p.m. w/ Faultfinder, Shaved Women, Lumpy & the Dumpers, The Conformists, Life Like, The Funs, Catholic Guilt @ The Heavy Anchor 8 p.m. | $5
Pre-party info follows: