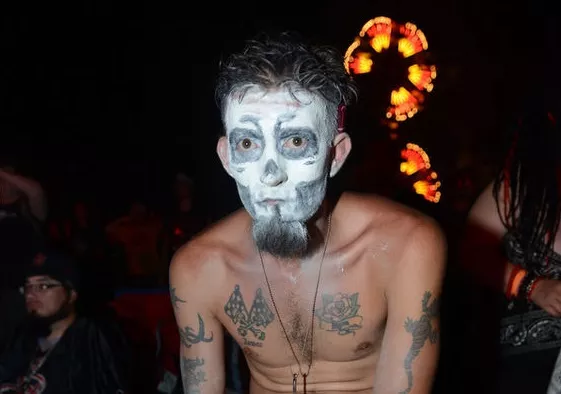 There's something to be said for non-conformity. We tend to think of non-conformist types as pioneers: free-thinkers, uninhibited by the expectations and opinions of others and unafraid to stand out in a crowd. We admire their courage and originality, and secretly wish we could be so brave. We've held many of these people up on a pedestal throughout human history, and as a society tend to think of their free-spirited nature as a virtue.
That is, unless those people are juggalos.
See also: Our complete Gathering of the Juggalos coverage
The word carries a near-exclusive negative connotation in non-juggalo circles. People deride the fans of the Insane Clown Posse and its related acts as unintelligent, white trash, criminals -- even as gang members, if you ask the United States government about it.
The last of those descriptions should be clearly seen, even by detractors, as completely ridiculous. To say that juggalos are a "gang" would imply that they are an organized criminal syndicate, complete with hierarchies and territories, constantly engaged in illicit activities. In reality, the group is largely a low-income bunch from rural communities across the Midwest (not exclusively, of course, but disproportionately so).
Many have struggled with an unstable home life and abuse -- ICP and other acts on the Psychopathic Records roster have openly discussed their own troubled childhoods, bringing birds of a similar feather into an ever-expanding flock. The label's latest signee, Big Hoodoo, is unafraid to discuss the molestation he suffered as a child. From his song "Never Had":
I was molested as a child, I never told my momma I thought it was my fault and didn't want the drama She would tell me "Boy, I really fuckin' hate you A curse on this world since the day I made you."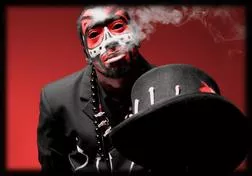 When I attended the Gathering of the Juggalos last year, I saw Big Hoodoo perform this song. He spoke of the abuse plainly beforehand, and the crowd of face-painted kids that were watching shouted their love and support. The fact that these artists, so beloved by their fans, also had a troublesome time growing up attracts kids with similar woes. The same could be said in regards to street-life rap and poor urban communities. Or, I don't know, yacht-rock music and comfortable-shoe enthusiasts. People are attracted to art that reflects the things that they know and see in their lives -- the things that are real to them.
In this way, the wanton bashing of juggalos by so-called "normal" people can be seen an example of classism. In no small way, you are making fun of lower-income folks who have already led rough lives. It is easy to do because they painted themselves up to look like clowns and wear great big pants. But did you not consider that they saw themselves in the mirror before they left the house?
What is more tongue-in-cheek, "wink-wink nudge-nudge" than deliberately painting one's own face to look like a clown? These kids know that there is humor in what they are doing. They are in on the joke -- it is just that the joke is often taken too far by malicious people who don't understand them.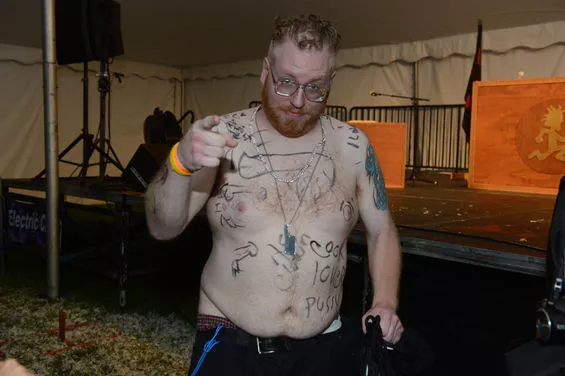 Most recently, Kaiser, Missouri, residents were up in arms -- some literally -- over the Gathering of the Juggalos moving to their town. There were protests and petitions and everything. And yet, Party Cove is located right in the area -- a hedonistic playground that has been featured on Playboy TV, A Current Affair and Sexcetera on account of its raucous activities. The New York Times has even dubbed it the "oldest established permanent floating bacchanal in the country," thanks to its nudity, public sex acts and drug use.
See also: Ozark Orgy: The naked truth about Missouri's backwater Sodom and Gomorrah
So how is the Gathering appreciably different? Party Cove enthusiasts can afford boats.
There are other reasons that people might cite for poking fun as well, but those reasons also amount to a lot of bullshit.
Continue to page two.
Maybe you don't like rap. But that's OK, because some people do. People's opinions differ.
Maybe you don't like it when white people rap. This is extra, extra dumb. It is strange how people who don't like rap as a whole like to go the extra mile to doubly hate on rap made by white folks. It's 2014, you guys.
Maybe you don't like clowns? I can't really come up with a good argument against that, I guess. You can win that one, but all you have thereby proven is that juggalos are scary in the same way that clowns are, which is less than compelling to much of the population (unless we're talking about the movie It).
The ridicule from the public at large doesn't help these situations at all; it exacerbates them. Consider these passages from Michael Azerrad's acclaimed Our Band Could Be Your Life: Scenes from the American Indie Underground, 1981-1991:
In early August '80 the Teen Idles, along with roadies Mark Sullivan and Henry Garfield, took a bus out to California to play some shows... When they arrived at the LA bus station, a cop, wary of violence-prone punks, hassled the Teen Idles, calling them "faggot" and "clown."
Ian MacKaye and the Teen Idles, who were based in D.C. but traveled to LA to play a show with the Dead Kennedys and the Circle Jerks, then met some of the more violent local punks, who had adopted more hands-on methods of dealing with the daily ridicule of the public. The D.C. punks were inspired:
"I don't know if you've ever experienced a carload of hillbillies going by and yelling, 'Faggot!' at you or getting beat up by Marines in Georgetown," says MacKaye, "but there's something so satisfying about someone yelling something at you as they go by and then racing after the car and dragging them out of the car at a red light. And seeing those guys do that stuff made us feel like we need to defend, we need to circle the wagons. We need to fight back."
So, Teen Idles, Dead Kennedys, Circle Jerks: gang members? Ian MacKaye: gang leader? Of course that is ridiculous, but here he is, openly advocating violence, a member of a misunderstood pseudo-gang of misfit kids. These bands are seen as legends and are near-universally revered in music circles.
When I was at the Gathering last year, there was a group of people from ReasonTV running around with a professional video camera throughout the week, collecting interviews with festival attendees. The video they put together was just put online yesterday:
Camille Dodero, formerly of the Village Voice and Gawker, presently a freelance writer, was also interviewed in the eight-minute clip. "They became juggalos because they were persecuted," she explains, "and now they are being persecuted for bonding together because they were being persecuted." This is as succinct an explanation for the cycle of ridicule juggalos are trapped in as one could find. The rest of the video is pretty good, too.
Then there is, of course, the other obvious parallel: Juggalos, like the punks of yesteryear, listen to music that most people don't listen to and dress in an ostentatious manner. Is the situation really that different? Punk music is widely accepted now; punk fashion is a part of mainstream culture. It seems unlikely that juggalo fashion will experience a similar crossover, but you should still be aware that you are essentially acting like your prude grandparents when you mindlessly hate on these kids for their clothes and music.
Next time you are about to make a hackneyed joke about how they should "drop a bomb on the Gathering" (the number of times I've seen that one on social media is uncountable), don't. You are displaying your ignorance, and your hyperbole makes you look like a fool. (And your joke sucks.)
Better to be a clown than a fool, I say. Whoop whoop.
Check out our complete coverage of the 2013 Gathering of the Juggalos below:
- "Where Did My Dick Go? The Gathering of the Juggalos' Best Overheard Quotations - This Incredible Make-A-Wish Teenager Went to the Gathering of the Juggalos, Got a Lap Dance (NSFW) - Here Are the Things That Happen After 5 a.m. at the Gathering of the Juggalos - Ten Must-Have Items When Camping with Juggalos - Gathering of the Juggalos: Misconceptions and First Impressions - Death Reported at Gathering of the Juggalos; Drug Bridge Closed - Ten Things You Do Not Need When Camping With Juggalos - Behold the Waking Nightmare of Juggalo Port-a-Potties - Death at the Gathering of the Juggalos: "Four Dudes That Had Been Sleeping With a Corpse." - Juggalo Eats and the Quest for the Mystical Burrito Man
RFT MUSIC'S GREATEST HITS
The 15 Most Ridiculous Band Promo Photos Ever "Where Did My Dick Go?" The Gathering of the Juggalos' Best Overheard Quotations I Pissed Off Megadeth This Week, My (Former) Favorite Band The Top Ten Ways to Piss Off Your Bartender at a Music Venue
---