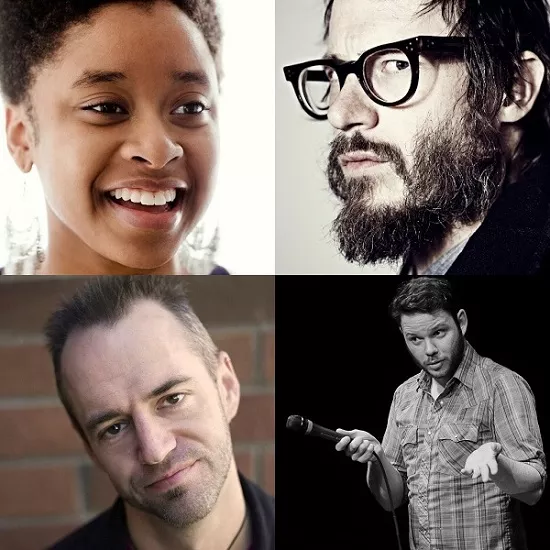 (Top Left) New York comedian Phoebe Robinson, (Top Right) New York comedian Ben Kronberg, (Bottom Left) New York and St. Louis comedian Jeremy Essig, (Bottom Right) Chicago Comedian Kevin White.
Your favorite comedian loves performing for you. What's better than traveling the country, getting onstage and connecting with people? It's a great job if you can get it. But like any job, there's a undercurrent of monotony in what people say or how they act around comedians.
It's not that people go out of their way to be annoying (most of the time), but after a while you start to notice that many people have similar misunderstandings about what comedians do and how their creative process works. It's not even a phenomenon unique to this particular art.
It's probable that in the four years Michelangelo painted the Sistine Chapel, his mother told her friends, "Oh, he's just hard at work on his drawings." When John Milton wrote Paradise Lost, it's very likely that someone approached him and said, "So, you write poems. Hey, recite me a poem."
We reached out to four amazing comedians to speak out about some of the misconceptions and petty annoyances that get to them when they're performing. Some of their answers are surprising.
Jeremy Essig is a veteran road comedian who tours just about everywhere. If you've seen Brian Posehn in the past three years, there's a good chance you've seen Jeremy. He splits his time between St. Louis and his new digs in Queens, New York.
Phoebe Robinson is a comic, writer and creator of the popular Blaria blog which led to a live show and podcast of the same name. You also might recognize her as the less-than-enthused office-supply store clerk on the pilot episode of the hit Comedy Central show Broad City. She's a fierce standup performer and someone you're going to hear a lot from in the coming years.
Ben Kronberg got his start in Denver and currently lives in NYC. He has performed in St. Louis in the past few years including shows at Brennans and Foam. You might recognize him from his recent half-hour standup special on Comedy Central. He's currently on tour.
Kevin White is the co-creator of the popular St. Louis standup and sketch show Bare Knuckle Comedy. He currently resides in Chicago, but you'll get a chance to reacquaint yourself with his absurdest brand of comedy when he performs with Kyle Ayers at the Firebird on March 22.
Jeremy Essig
1. The phrase "the circuit" as in, "Are you working the circuit?" I've been asked this question since I started and still really don't know what audience members mean when they ask, "Are you working the circuit?" after shows. I've never heard a comic use this word. Is there an agency called the Circuit? If so, I've never heard of it, which may explain the current state of my career.
2. Someone who's removed from the show only to find the comic after and complain about the door guy/waitress/manager who removed them. This is probably self-explanatory, but under what circumstances would you think I'd take your side in this dispute? The club staff who removed you is doing their job and taking the bullet for the comic by not making the comic ask you to leave and therefore alienating some portion of the crowd.
3. Yelling "That's wrong!" or making some other noise indicating disapproval at a racy or edgy bit. Laughter -- much like sneezing or coughing or breathing -- should be an un-thought-out response. Something strikes you funny and you laugh. Yelling "That's wrong!" (or some version thereof) is thought-out. It's telling the people around you, "Look at me, I'm better than that," and it messes up timing. That said...
4. Comics who use the First Amendment to as a blanket for misogynistic/bigoted/poorly thought-out jokes. Yes, you have a right to say whatever you want, but have you bothered to think about why you've said it? If the whole point is to make someone uncomfortable -- rather than, say, work on a joke -- it's silly to then get mad when someone is uncomfortable.
5. The comedy uniform everyone seems to be wearing. Comics, in their glasses/beard/hoodie get-up, seem to not see the parallel to the oft-mocked '80s look of sport coat/rolled-up sleeves/T-shirt. You've managed to perfectly ape a look that a few people did authentically. Well done, Candlebox.
Continue to page two for more pet peeves from the comedy professionals.
Phoebe Robinson
1. When I arrive at a show with a comic and someone there will assume I'm his girlfriend.
2. Waiters who take orders entirely too loudly during the show. Now, I understand that waiting tables is difficult and probably annoying due to some customers, but it just shows a lack of respect to the comics that some waiters are so loud that it's distracting and disrupting the show. If comics can be mindful of the wait staff during the show, then I think it's only fair that waiters/servers simply lean down closer to the customer, so they can hear the order as opposed to just yelling.
3. The politics of it all. I'm not a huge "hanger-outer." I've gotten better now because I'm no longer working three jobs to make this comedy thing happen. But during that time, some comics would chastise me for not hanging out and drinking after a show. I'm sorry, I have to work in the morning, and my idea of a good time is not getting wasted until 2, 3 a.m. I have a boyfriend. Or simply, I just want to go home and relax. I don't think the fact that I'm not much of a drinker should penalize me by meaning I don't get booked on certain shows, but it does, so what can you do?
4. When comics lie about credits. The thing is, when we all start out, we don't have much shit going on. That's just what it is. But some people will audition for something and list that as a credit. Are you kidding me? Do you see Halle Berry's IMDB page littered with all the roles didn't get? No. If you don't have credits, you don't have credits.
5. Comics focusing on everything but the main purpose: getting funnier. Whenever people ask me for advice, which is rarely, they don't want to real truth: that it took a lot of hard work and that I had to put my attention into getting funny. Example, someone will ask me, "How did you get your writing job at Glamour?" I'll tell them, "Well, I had my own blog that I wrote on for about a year, and I didn't make money off that blog and it turns out that someone at Glamour had been reading it and told their bosses to hire me." Yeah, the hiring process wasn't difficult, but when it's revealed that I wrote my own blog and didn't make money off it, some folks get disappointed. Well, no one said comedy, or anything difficult, is super glamorous -- no pun intended. It's just a lot of work.
Ben Kronberg
1. Not being able to smoke weed in the greenroom, like it implies.
2. The "laughs per minute rule." Comedy is more about listening than laughing. Quiet, non-responsive, listening.
3. "The light." Yes, I see the light, but I'm fucking crushing. You don't pull out of a girl that's moaning unless you're ready to finish.
4. Underminers trying to be cool. "Hey, what was that show you totally ate shit at the other night? That was hilarious."
5. Microphones that don't smell like spit. It's like putting on new jeans.
Kevin White
1. "Where do you perform?" This question always bugs me because it's usually from someone who has never been to a comedy show before and doesn't know that we as comics are always moving around to different rooms and different audiences. So now I have to explain to them that I don't really have a residency at one specific spot all the time, which in turn results in them giving me a look of doubt that I'm actually a working comedian. I guess I could just direct them to my website for dates, but honestly that has never occurred to me until right now as I was answering this. OK, I guess I'm the dick.
2. "You're going to use this in one of your jokes, aren't you?" No. I'm not.
3. "Skits." Stop calling it that. I don't know if you're referring to my jokes, my set, my act, but I assure you "skit" isn't the term for it. Maybe you're thinking of a "sketch," which is a short comedic scene, like you'd see on Saturday Night Live. A "sketch" is not a "skit." I'd go on, but you can just Google it.
4. Whatever new joke you're most excited about will always bomb, and whatever half-baked dumb aside you just scribbled down will always crush.
5. Ego. I'm not pointing fingers. This refers to everyone's ego, mine included. As people who get onstage for the acceptance of strangers and get rewarded with very little pay, you can imagine how after a while comedians tend to feel like they're "owed" something. This way of thinking is a trap. Don't worry about how your contemporaries are doing, just be happy that you get to do something so amazing with your time.
RFT MUSIC'S GREATEST HITS
The 15 Most Ridiculous Band Promo Photos Ever "Where Did My Dick Go?" The Gathering of the Juggalos' Best Overheard Quotations I Pissed Off Megadeth This Week, My (Former) Favorite Band The Top Ten Ways to Piss Off Your Bartender at a Music Venue
---