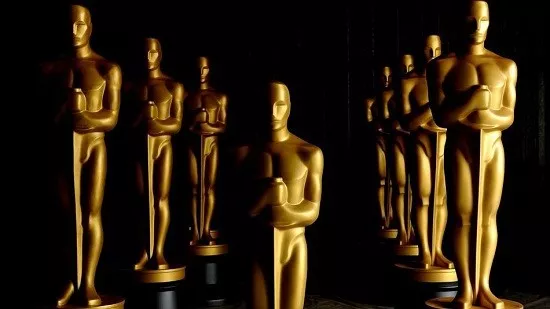 It's the Oscarszzzzzzzz! Ellen DeGeneres returned to host red-carpet season's most boring awards show last night with a little more bite than her goodie-goodie turn in 2007. The daytime talk show vet kicked off the ungodly-long telecast by making fun of actress Jennifer Lawrence's fall (this year's, not last year's) and calling actor and 30 Seconds to Mars vocalist Jared Leto "pretty," but she soon soothed her famous friends by having pizza delivered and taking selfies that break Twitter. For real, yo.
But honestly, we didn't give a shit about who won Oscars (Find out here.). The only reason we watched was to judge the telecast's musical moments. There were plenty of snoozers -- sorry, Karen O. and Idina Menzel -- but enough stars brought charm and joy that we didn't hate ourselves for watching this crap. Below, check out what we consider to be the telecast's musical highlights. Be sure to tell us your favorite moments in the comments!
See also: "Grammys Highlights: Daft Punk Wins, Pharrell's Hat, Taylor Swift Has Sex with a Piano"
PHARRELL MAKES MERYL STREEP HAPPY
Rapper/producer Pharrell traded his awkward red-carpet tuxedo shorts for shiny black jeans, a black track jacket and, hell yes, A NEW HAT when he took the stage to perform his Despicable Me hit "Happy," nominated for Best Original Song. A crowd of Glee-influenced dancers bounced around as Pharrell jumped down to the fancy folks in the audience, getting actresses Lupita Nyong, Amy Adams and Meryl Street to shake their, uh, maracas:
Bono and the Edge of U2 clearly approved, clapping and whistling through their fingers.
U2 SALUTES NELSON MANDELA
Sure, U2 is a ballsy band that's turned into a punch line for some folks (not us), but after nearly 40 years, these guys still can command an audience. For "Ordinary Love," nominated for Best Original Song for the movie Mandela: Long Walk to Freedom, the quartet skipped its usual theatrics and provided an acoustic performance on a darkened stage, lit only by orange globes that glowed like torches. Bono still Bono-ed things, though, with a crouch and crawl at the edge of the stage, but the Nelson Mandela tribute still brought about a standing ovation led by Jared Leto.
Continue for a spontaneous performance and a salute to the Emerald City.
DARLENE LOVE SINGS HER ACCEPTANCE
20 Feet From Stardom, a film about music's vital backup singers, won the Oscar for Best Documentary Feature, and legendary vocalist Darlene Love was thrilled. In what may go down as one of the best Oscar moments ever, Love, known for her work on countless '60s hits, decided to sing her acceptance speech. The spontaneous moment was a joy to watch and hear.
PINK TAKES US TO OZ
With the 75th anniversary of The Wizard of Oz at hand, Pink stepped out to pay tribute to the late Judy Garland and her children, including Liza Minnelli. With film scenes cascading behind her, Pink belted out the film's signature song "Over the Rainbow" with a voice as powerful as we've ever heard. The topper to this excellent performance: her sparkly gown that matched the beloved ruby-red slippers perfectly.
JENNIFER LAWRENCE LAUNCHES NEW GIFS
No, actress Jennifer Lawrence has nothing to do with music, but this was too awesome not to share:
As awkward, clumsy folks ourselves, we salute and love you, Jennifer.
RFT MUSIC'S GREATEST HITS
The 15 Most Ridiculous Band Promo Photos Ever "Where Did My Dick Go?" The Gathering of the Juggalos' Best Overheard Quotations I Pissed Off Megadeth This Week, My (Former) Favorite Band The Top Ten Ways to Piss Off Your Bartender at a Music Venue
---