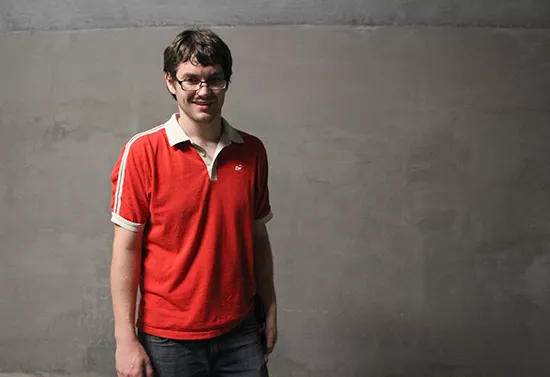 Mabel Suen
Ryan Wasoba.
It is difficult to begin writing about Ryan Wasoba. Where does his story begin?
Maybe with his last band.
Eleven years ago Wasoba, Aaron Stovall, Griffin Kay and Clayton "Norm" Kunstel recorded as the massively influential So Many Dynamos. Ask any musician around town -- they know So Many Dynamos. They have the records: When I Explode, Flashlights, Loud Wars. St. Louis grimaced when Wasoba left the band in 2009. Where was he going next?
He also wrote for us, the RFT. With his Better Living Through Music column, Wasoba pondered things like, "Why Do Musicians Bother Playing Music?" and what it means "When Music Doesn't Fit." His writing reflected how he explored the world off the clock and in the privacy of his brain.
Then, he left us to devote his time to Bird Cloud Recording. He produced Foxing's The Albatross. He and Bear Hive are close to the release of the All in Real Time LP.
Still a creator, Wasoba now curates the music of others, his own solo project having been released two years ago. In Bird Cloud Studios he is present, comfortable to be around, and never out of reach. Wasoba turns on the television and talks about his latest musical venture: DogTV.
Blair Stiles: Did you really find out about DogTV, a television channel for dogs, when you tried to cancel cable?
Ryan Wasoba: Actually, I was scanning through channels and there was a banner ad kind of thing near Animal Planet that said "DogTV." Channel 354. I think a long time ago there was a "This American Life" story about DogTV or something similar. I just checked it out. It is such an odd concept. Sort of bizarre. But then the music... I could tell the music in it, whoever was writing it... I could hear references to Brian Eno. You could tell whoever wrote the music has listened to Kid A a bunch.
Is there a particular program where that comes out the most?
It's almost like an MTV type format. The program, as it shows up on your guide, is in an hour block, or two hour block. Four minute segments.
Click through for page two of the interview.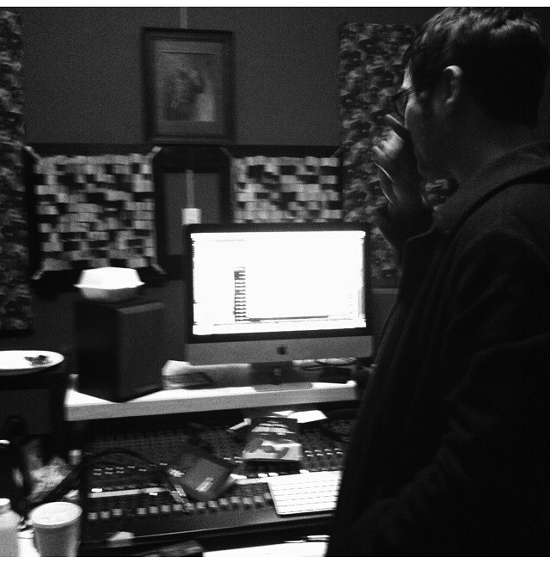 Blair Stiles
Ryan in the studio at Bird Cloud Recording.
Like MTV AM or MTV Jams, where you had that block of music videos? But here you have a theme.
Yeah, there is. There is Stimulation Music and Relaxation Music. There are programs called Exposure where there will be a vacuum cleaner, or footage of a car ride. Something a dog might be afraid of. It's sort of to get them acclimated.
Just kind of on a whim I emailed, because I was trying to find out who did the music. I had a feeling that someone who did the music was connected to somebody that I either know or like. Just had this feeling. I didn't really find that out. They had the form email thing, where you put in your information and you almost never get an email back. But Ron Levi, the Chief Content Officer, he got back to me because I had said I was a musician, music journalist, studio owner and I was trying to figure out who does the music...because I liked it. There are a couple songs on their Relaxation Program that are really beautiful.
Ron googled me and found the Music For No Reason record I did two years ago and he really liked it. He said it reminded him of Built to Spill and Pavement. I told him I would like to give it a shot, and he said, "Okay, sure. We're looking for meditative, zen kind of stuff."
What is the concept behind DogTV's music for dogs?
There is a lot of research that they did about certain frequencies, and tempos and textures and how they effect a dog's breathing and heart rate. It's intense. There was a minute when I thought it wasn't going to happen. I was sending stuff in and there were things that I didn't get about it. One of the things was I was coming at it in some way... like what really drew me to it in the first place was there is this really weird element of beating the system to it. I remember watching DogTV and thinking this is art on television. It's music and visuals. The loophole of making programming for another species in order to get art of television -- I was just fascinated with that.
It seems now the music programming for people is less about art and facilitating a need for music that some people have, and more about trying to satiate people by just putting an hour or two of music on the television and then pretending the channel is devoted to introducing people to music.
What's behind that is marketing; what is behind this is science. Anyone who has recorded with me knows there is some point where science becomes a verb. It's almost an aesthetic thing. I remember I really worked out this one song, and I sent it in, and I was really proud of it. I had a full band thing and I played drums on it. Levi was like, "This is really cool, I like it... Dogs don't know what drums are. And dogs don't know what cymbals are."
Continue to the next page of our interview to hear some dog music.
But they know how things make them feel. Does it become more like the atmosphere you create than the instruments behind it?
I think so. I'm really drawn to minimalism and I'm really drawn to ambient stuff. If you can tap into it right, the idea of something being visceral and something effecting you physically...why wouldn't that affect a dog?
It seems if it's effectively visceral it should affect a multitude of animals.
There was a book I read that in the beginning talked about music and the human ear, and the animal ear. The concept of hearing being different in the deciphering of information. If Olivia [Wasoba's furry friend] over there hears a drumbeat, she's not going to be hearing a beat, she's going to be hearing sounds spaced out. A lot of what Ron from DogTV encouraged me to do was to play organic sounds in the place of instruments.
What would be an example of organic sounds?
I built one song around water droplets. That was something that clicked later for me. Part of that "beating the system" mindset involved me not thinking "Well, dogs aren't going to figure out the approach."
Yeah, they may not get the approach, but they react to certain sounds for a reason. Was it hard to jettison that musician mindset?
Yeah, it was. What wound up happening was those limitations just opened up new things and I wound up being able to do the things I would not have been about to produce if I hadn't been writing music for dogs.
So you're taking the human element out of the sounds you create. Instead of thinking of a synth as an instrument that creates something that sounds like rain, you're using rain sounds to engage the dog with something it has experienced before.
The relaxation stuff is real ambient stuff, more of my comfort zone. The stimulation music that is supposed to excite the dogs is where I ran into trouble. Like, trying to not use drums.
Did you find organic sound samples?
I found some and I made some. I recorded stomps and claps. Olivia's best friend is a dog that lives caddy-corner from us, and that dog's human is this little girl who turns ten in March. She actually came to the studio and I recorded her talking to the dog. It was pretty adorable.
Dog music, man. It's such a weird thing but it so easily could be New Age. But, what's more avant garde than writing music for a dog?