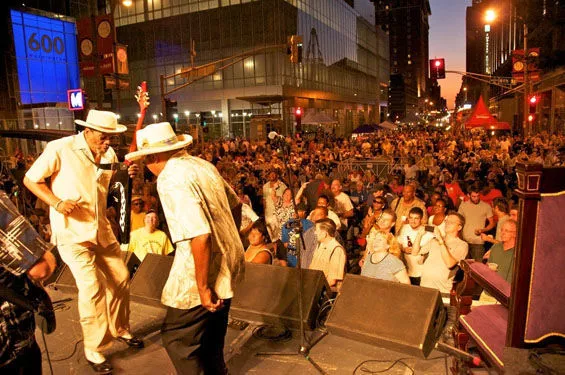 Mike Kociela
Bluesweek at a previous downtown location.
Financial woes and dwindling sponsorship have forced the relocation of the popular STL Bluesweek festival from downtown St. Louis to the Chesterfield Amphitheater, according to festival promoter Mike Kociela, who spoke to the RFT while on vacation in Key West, Florida.
"When you build a festival from the ground up, they're incredibly expensive," he said. "I didn't have the amount of time to raise all of the sponsorship dollars and it takes a couple hundred grand to pull off a free festival. So it really came down to the finances of it and this was the easiest and the best solution," he explains.
The long-time free festival at Soldiers' Memorial will now cost between $10 and $25 when it kicks off on May 25. The decision to move had nothing to do with the city or politics, Kociela says. The idea of continuing a free festival was unsustainable and charging admission at the Soldiers' Memorial presented a host of logistical issues. The move makes things easier since much of the infrastructure needed to pull off a festival of this magnitude already exists.
"If I wanted to charge some sort of ticket price, I'd have to put fencing up around the amphitheater there," he explains. "After you erect the fence, you have to hire guards and it becomes more expensive to keep people out than I would make charging people to get in."
The Chesterfield Amphitheater has a capacity of about 4,000 and also plays host to the annual Chesterfield Wine and Jazz Festival. Kociela expects good attendance, but acknowledges that it's foolish to think the festival will draw the same sized audience it did while located in the city.
"I've been doing this for twenty years, hard-core," he says. "I need to make this a little easier to give myself a break. I'm fine with it being smaller this year. I'm happy doing what we can do."
The festival will offer some free options outside the amphitheater for people who don't want to pay admission. This includes smaller stages with lesser-known acts.
Continue to page two for more on the move.
Jeremiah Johnson at St Louis Bluesweek 2013.
Bluesweek will also partner with the Wildwood BBQ Bash for what will be known as the Bluesweek BBQ Blast. The 40-team barbecue competition will end with one skilled pitmaster winning a $10,000 prize. Only the Saturday headliner -- Devon Allman's Royal Southern Brotherhood -- has been announced.
While leaving the city wasn't the ideal choice, one side effect might be that bands and artists who rarely venture out of the city limits will get exposed to a different audience.
"It will be interesting to see what happens," say Kociela. "Our goal is to make this a more regional festival.
RFT MUSIC'S GREATEST HITS
The 15 Most Ridiculous Band Promo Photos Ever "Where Did My Dick Go?" The Gathering of the Juggalos' Best Overheard Quotations I Pissed Off Megadeth This Week, My (Former) Favorite Band The Top Ten Ways to Piss Off Your Bartender at a Music Venue
---