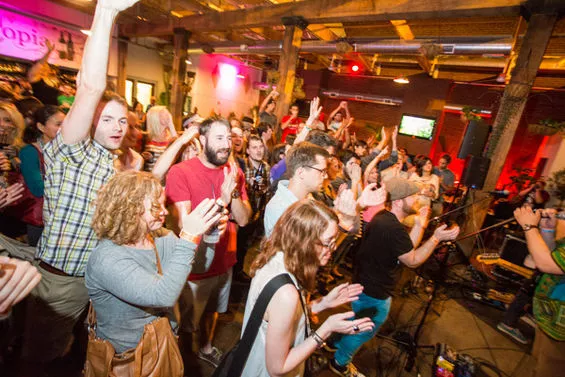 Theo Welling
The crowd for Dots Not Feathers at last year's music showcase.
Surely you know the drill by now: Each year, RFT Music recognizes the hard work and exceptional talent of St. Louis' local musicians with the RFT Music Awards. In addition, our summer awards showcase, to be held this year for the first time in the Grove, provides local music lovers an opportunity to see dozens of these bands and musicians in action, with sponsorship by loads of local businesses.
So, it is that time again! We are enlisting your help in choosing the best bands in the city. It is our goal to provide a definitive list of the most talented acts in town, but we can't do it alone. Who are your favorites? Who in St. Louis do you think deserves more recognition? Post your picks in the comments below. (Please be sure to only pick from the acts in the St. Louis region.)
The official ballot will be constructed by a panel of experts, but in the meantime we need to make sure that all possibilities are considered. Note that this is not a popularity contest, and attempting to "stuff the ballot" at this stage in the game by getting all of your friends to comment with your band's name isn't going to do any good -- we watch for that stuff throughout all phases of this process.
If you would like to be considered as part of our expert panel, please let us know! If your suggestions are especially thoughtful or demonstrate a strong perspective on some genre or scene, we'd be happy to make you an official part of the nominating committee. Please include your e-mail address in your comment if you'd like to be considered.
If you need a little help getting started, have a look at last year's winners on the next page:
The 2013 RFT Music Award Winners
Americana Pretty Little Empire
Blues The Bottoms Up Blues Gang
Chamber Pop Rats & People Motion Picture Orchestra
Country Prairie Rehab
Cover Band Superjam
DJ DJ Mahf
Electronic/Dance Nee
Experimental Ou Où
Folk Dots Not Feathers
Hard Rock LucaBrasi
Hardcore Pink Sock
Hip-hop (Group) Doorway
Hip-hop (Solo) Tef Poe
Indie Rock Sleepy Kitty
Jazz Lamar Harris
Metal Lions's Daughter
New Band Rat Heart
Noise Ghost Ice
Pop The Blind Eyes
Post Hardcore Trauma Harness
Psych Magic City
Punk Black Panties
R&B Theresa Payne
Rock Kentucky Knife Fight
Singer Songwriter Fred Friction
Soul/Funk Funky Butt Brass Band
The 2013 RFT Music Hall Of Fame Inductees Jia Davis Rockwell Knuckles Son Volt Tim Rakel Tom Hall
RFT MUSIC'S GREATEST HITS
The 15 Most Ridiculous Band Promo Photos Ever "Where Did My Dick Go?" The Gathering of the Juggalos' Best Overheard Quotations I Pissed Off Megadeth This Week, My (Former) Favorite Band The Top Ten Ways to Piss Off Your Bartender at a Music Venue
---