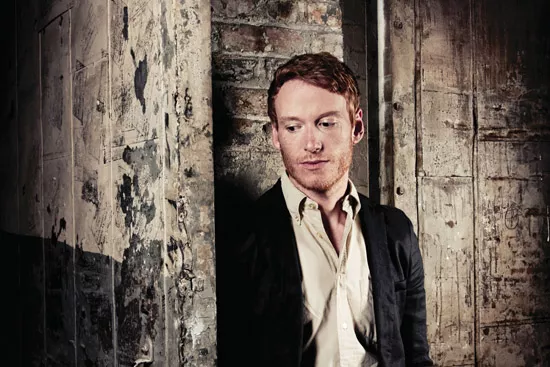 Well into the second decade of his career as a songwriter, singer and producer, Teddy Thompson has managed, if not the impossible, surely the improbable feat of creating his own musical identity while still connecting deeply and meaningfully with the music of two formidable musician parents. Together, his parents Richard and Linda Thompson were the gold standard for British folk-influenced rock, and their first child, Teddy, was born just as the two were making some of their finest music and grew up just as the pair's marriage and collaboration would collapse.
No one would have blamed the young musician if he'd fled all of that history, and while his music is distinctly indebted to country and pop forms -- the lush arrangements of his most recent album, Bella, being the must striking case in point -- Teddy Thompson knows how good family-fueled music can be, how it really sounds and feels like nothing else. At the age of 38, he's truly made the most of his inheritance.
Teddy Thompson begins a winter tour with his father this Wednesday night at the Pageant (the first show on the tour, in fact). I caught up with him by phone in Los Angeles, where he was in the studio working on the first true Thompson family album.
Roy Kasten: I hope I'm not interrupting the perfect take.
Teddy Thompson: We're mixing, so there's no such thing as the perfect take. The problem with mixing is that it all starts to sound too real. You start to hear all the mistakes. It's tricky.
What are you working on?
We made a family record. I'm mixing that in LA this week. The record is me, my mom and my dad and my sister and my nephew and a bunch of other family members. It's a new project.
This isn't hush-hush, is it?
It's not hush-hush, but we're just finishing it, so there hasn't been much to talk about. It won't be out for a while.
You've all played on each other's records in the past, so was the concept to get everybody in the room at the same time and make an album?
The concept was actually the opposite of that. It was my idea. I am producing it, so the buck stops here. The idea originally was, because everyone lives in different places, that we'd do it as a game of telephone. We would each write and record two songs, and then send them to me, and then I would send them around to various other family members, and we'd do overdubs. I did a couple of sessions in London, with my mom and sister and her husband. And I did a day with my dad, where he played on my sister's songs, and then my nephew played guitar on my dad's song. The idea was to mix it up. So, for example, on my dad's two songs he's not playing electric guitar; it's my nephew or brother-in-law. On my mom's songs there are a lot of other people singing. The idea was to have other people doing other things on other people's songs.
I'm wondering if you think the importance of family to your music was the work of destiny or was it something you actively embraced?
It goes back and forth. It's a microcosm of everybody's life. Being a musician puts that under the microscope. Growing up, you are formed by your parents, and then when you get to be eighteen or nineteen and you get out of the house, you want to distance yourself from your parents. That's natural. That was the case for me musically. I wanted to get away from them. Then you realize you can't because that's who you are. So you come around again. From a musical point of view, I went through that, and now I've come to the realization that I'll never get away, so why try?
But I've always been aware that music, especially country music and traditional music, is all about families and blood singing and all that stuff, and that's a really good thing, musically. I've never shied away from it entirely. I like having my dad play on my records, and I like singing with my mom. But right now I'm really embracing it. But who knows what's next? Maybe I'll run away from it again.
The cliché of parents pushing their kids into music, that's sort of turned around with you. You led your mom back into doing music.
I wouldn't put it like that. She became interested in doing music again because I was starting to do music. When I was making my first record, and she had been silent for a while, it just became interesting to her again. It was good timing more than anything else. She was just ready to do something again, and I was an active musician, and that was an exciting time. I didn't do that much work on her record. I was just there at the right time to be supportive.
Continue to page two for more of our interview.
Your last album, Bella, came out in 2011. That's been a little while, but you've been pretty busy and taken part in quite a few tribute projects since then. The Nick Drake tribute, the Kate McGarrigle tribute and you had a cut on the Paul McCartney Americana tribute album. Can you tell me about getting involved in all that, especially the Nick Drake tribute?
It was fun. I'd love to tell you that it's all about the art and the music and doing something you care deeply about. But there's also something to be said, especially these days, for having something to do between records. The Nick Drake show came around when I had the time to do it. It was nice to be doing something musical that wasn't me, and I love all those Nick Drake records. It was interesting music, and it was good to do something different for a couple of months to stay busy, to keep working. You know, to do a Paul McCartney song for a day, that's fun.
So it's not a way to put off your own recordings?
You do have to watch it a little bit. You can turn around and then three years have passed and you haven't put out a record. And, hah, that's where I'm at! [Laughs] I'm not someone who works too much. I can be a bit lazy, a bit apathetic about things. So for me it's useful to have any kind of project that keeps me thinking about music, otherwise I might put the guitars away and start watching TV. For the most part it helps with your own music when you get back to it.
Is touring with your dad work or is it a time to bond and do father-son things? You know, go fishing with Dad.
Yeah, metaphorical fishing. It's both. Having a family playing songs together is special. From an audience perspective it's interesting for them to see. I don't think it's gratuitous for us to be doing it. Aside from that it is nice. Anyone who came from a divorced family, and whose father left, you get to see him on weekends maybe, and you grow up and then don't get to see your dad very much. And all kids grow up and don't get to see their parents as much if they don't live near by. So it's nice that you get to spend time with your dad as an adult because he just doesn't come up very often.
When you see your dad play are there things that still surprise you?
He always plays something that's surprising. That's something special about him -- and not very many other people. He's always doing something new, even if you don't register it. Even on a minute level he's always trying to get better at something. That's a mark of a really good musician. I'm not surprised by that; I would be surprised if for once he was resting on his laurels, but nope! He's remarkable in that sense. I expect that. He's always been very driven. And he just gets better and better.
---