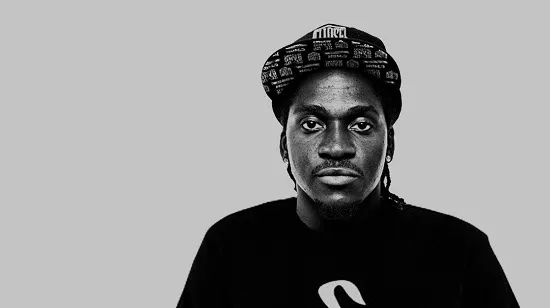 Press Photo
Pusha T
This February -- known as "Dilla month" by hip-hop heads -- is celebrating J Dilla in a big way, with many of St. Louis' most notable acts coming together to celebrate the renowned producer. While this month is on a very local tip, national act 2 Chainz will make an appearance at the end, which, knowing 2 Chainz, will be an experience all on its own.
For The Love of Dilla: A Tribute to James Dewitt Yancey at Blank Space February 14 9 p.m. / $5
St. Louis' first Dilla tribute show features sets by DJ Kase One and Black Spade. Proclaimed beat digger, record connoisseur and hip-hop expert Kase will hold you down with some fly tunes until special guest Black Spade takes the stage. And Spade? He needs no introduction. As a major staple of the St. Louis hip-hop community, he's worked with both national and local artists; his diverse beats and sounds will surely honor Dilla's memory. Hosts Thelonius Kryptonite and Fallout Morris, and Strange Donuts' "Dilla Dones" are just icing on the... well, donut. All proceeds go to the J Dilla Foundation.
Futuristic with DJ Kode Break & Devvon Terrell and Demrick & Denzil Porter at The Mad Magician February 20 7 p.m. / $10-$15
Futuristic is a semi-local guy who grew up in Bloomington, Illinois, now based out of Tempe, Arizona. In his early twenties, his storytelling abilities and humorous flow have already gained him a loyal following. Armed with the phrase "I had to do it", and with two tours under his belt, Futuristic makes a stop in St. Louis on his No Time For Bulls#!t Tour.
3rd Annual J Dilla Tribute Concert at the Gramophone February 21 9 p.m. / $10-$13
St. Louis' second Dilla tribute of the month is at the Gramophone, and what this show lacks in donuts it more than makes up for in music. The 3rd Annual J Dilla Tribute Concert's killer lineup includes DJ Needles and Soulition, Downstereo, Nato Caliph, Legend Camp, Jia Davis, and a few more. And don't forget the Bare Knuckles Music Beat Battle at the very beginning. If you're looking for a show with awesome variety and a terrifyingly awesome lineup, look no further.
2 Chainz with Pusha T at Chaifetz Arena February 28 8 p.m. / $38-$128
2 Chainz performs dirty south rap at its finest. Hailing from Georgia, 2 Chainz came on to the scene as part of the duo Playaz Circle, rising to prominence as a solo artist with the release of his 2011 mixtape T.R.U. REALigion. Since then he has found success as both a lead and featuring artist, working with Kanye, Big Sean and Gucci Mane, just to name a few.
Pusha T-- or "King Push" as many affectionately call him -- was born in the Bronx but reps Virginia as his home. Though he's been rapping since 1992, his debut solo album My Name Is My Name only dropped in 2013. Another cohort of Kanye, Push signed to 'Ye's GOOD Music label in 2010. Even though he's been around for so long, Push proves with his lyrical flow that he's still relevant.
RFT MUSIC'S GREATEST HITS
The 15 Most Ridiculous Band Promo Photos Ever "Where Did My Dick Go?" The Gathering of the Juggalos' Best Overheard Quotations I Pissed Off Megadeth This Week, My (Former) Favorite Band The Top Ten Ways to Piss Off Your Bartender at a Music Venue
---