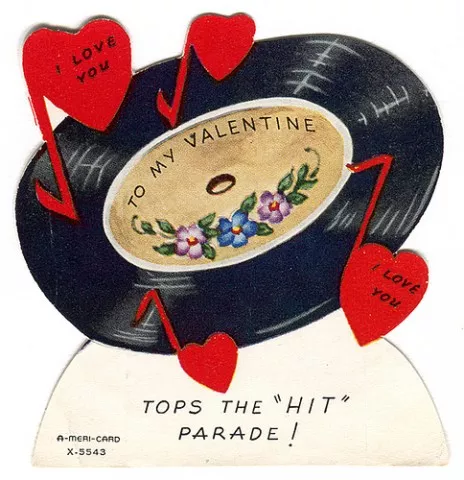 It's Valentine week, and l'amour is in the air. No matter if we love or loathe this Hallmark holiday of chocolates, teddy bears and extra-special sex, we all can agree that local music makes our heart sing. But for some St. Louis couples, there's no line between the romance and music. By writing, recording and performing together, these couples bring an additional level of trust and communication to the stage.
See also: St. Louis' musical couples share their secrets on making art together
For this week's print edition, we spoke with six St. Louis-based couples about the ups and downs of sharing band life, but our interviewees had plenty more to say than could fit into the article. So below, learn even more about how love, life and lyrics come together for the couples in CaveofswordS, Cree Rider Family Band, Letter to Memphis, Beth Bombara, Ragged Blade Band and Scarlet Tanager.
Courtesy of CaveofswordS
Sunyatta and Kevin McDermott of Caveofswords
CAVEOFSWORDS
Couple: Sunyatta and Kevin McDermott Romance cred: Married for nearly four years Sunyatta's role in the band: Bass, vocals, bells (studio) and bass, keys, guitar, vocals (live) Kevin's role in the band: Beats, keys, bass, guitar, everything (studio) and guitar, keys (live)
Best part about working together Sunyatta: The best part about working with Kevin is that he's a genius. He is amazingly talented and has a wonderful ear. He comes from a really different music background from me, but in the last five or so years, our tastes merged, so we bring different skills and talents to the band. He is patient and kind. Most of all, it is really fun and inspiring to have shared goals with your partner. Kevin: Being in a band with my best friend who is ridiculously talented and also happens to be smoking hot. Sunyatta has made the dream of playing and performing my own music happen and continually surprises me by getting better all the time.
Worst part about working together Sunyatta: The worst part is...there is no bad part. He is a joy. And so is being in a band with him. Kevin: We don't actually know how to talk about music and can occasionally get frustrated with each other over stupid things.
A funny thing about performing together is... Sunyatta: The same story everyone in any band has -- our first show, and he smacks me really hard across the face with the headstock of his guitar. Oops! Kevin: On our first "gig" as a band, I was so nervous I accidentally smoked Sunyatta in the head with the headstock of my guitar, and she didn't divorce me or even really get mad! We have also kissed onstage and in the studio on multiple occasions and shocked the hell out of each other because we were both holding our guitars that were plugged into different amps.
Advice to other lovebirds starting a band together Kevin: Do it! If you love music and the person you're writing/playing with, it is the greatest feeling in the world when it all goes right. Just don't let the bad nights or setbacks musically get confused with your romantic relationship. Both kinds of relationships take work and upkeep to stay strong, and understanding that simple fact will help them both immensely.
CaveofswordS on Facebook: https://www.facebook.com/caveofswords
Continue for more lovebirds.
Peter Scheffler
Cheryl Wilson and Cree Rider of Cree Rider Family Band
CREE RIDER FAMILY BAND
Couple: Cree Rider and Cheryl Wilson Romance cred: Engaged for more than two years, together for five years Rider's role in the band: Guitar, vocals Wilson's role in the band: Vocals
Best part about working together Rider: Sharing something we are deeply passionate about together, working together to create something that is bigger than either of us. Writing and performing music in itself is a calling, and one which can be as frustrating and stressful as any other artistic endeavor. But to have someone you love at your side working with you and pushing you along is extremely rewarding. I would recommend to any other couples out there, find something you are both passionate about and work on it together. It may be difficult at times, but ultimately it will be one of the most rewarding things you can do together. Wilson: When we are really tuned in while harmonizing onstage with our band thrumming behind us, I feel like our voices just... meld. I love looking over at him and seeing that calm, smiling strength in his eyes, feeling so in sync, like we are riding into battle together -- like we are Valkyries. Haha! Does that make sense?
Worst part about working together Rider: Well, everyone who has been in a band knows that it is like being in a relationship with each band member. [Now] add that you actually are in a relationship with one of the other band members. It is an easy way to test the strength of your relationship. In the end, you have to be able to separate the band business from the personal stuff, and understanding and compromise are huge parts of that. I find in our case it works like this: I am in charge of the band stuff, and Cheryl is in charge of everything else in our life. And I am cool with that. Wilson: Oh my, it's like musical polygamy! But seriously, yes, it does take a special balance to navigate the waters. Cree and I have a very strong foundation and communicate really well, so that is a HUGE plus. Be kind. Be patient. Be professional. Be clear on the difference between what's personal and what's business. Know when to compromise and when to just be quiet and have a whiskey. Super key.
A funny thing about performing together is... Rider: All I know is that when we tour, our bandmates tell us, "It's so cute/funny when you guys fight."I don't notice it, really, but apparently it is true. Other than that, yes, we get mad at each other about this and that at gigs and on the road, but in the morning we are over it. I've written songs about it. Then there are the times I yell at Cheryl to help me load out the gear already. I can be a real grouch sometimes. Wilson: We usually fight about driving directions and routes. I have my way and he has his! Grrr! But, really, the storm clouds usually pass in less than five minutes, and we always get to our destination anyway. (My way WAS more scenic.)
Advice to other lovebirds starting a band together Rider: Prepare to put your love to the test. Sometimes I think of telling people, "Don't try this at home, we are trained professionals." Truly, I have seen so many bands and friends in bands break up because a couple bandmates were in a relationship and things went sour. I guess in the end, I'd say it is not a good idea. We have been lucky and navigated it successfully thus far. But, hey, it isn't always sunshine and roses. Wilson: Are you sure? Which is more important, your love or your band? Both? Well, ok. It's not gonna be easy. You're probably gonna fight. But it will be awesome, too! You can take roadtrips and write songs and put on fancy clothes and entertain folks! You'll probably be broke too. Still ok? Well, alright! What are you saving your broken hearts for anyway? Go get it!
Cree Rider Family Band on Facebook: https://www.facebook.com/creeriderfamilyband
Continue for more couples in love.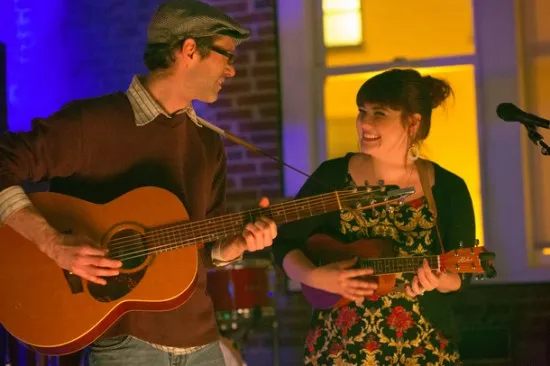 Allan Crain
Gene Starks and Devon Cahill of Letter to Memphis
LETTER TO MEMPHIS
Couple: Devon Cahill and Gene Starks Romance cred: Engaged, together for four years Cahill's role in the band: vocals, ukulele Starks' role in the band: guitar, vocals
Best part about working together Cahill: Being in a romantic partnership takes a lot of work: working to pay the bills, to communicate, to build trust and commitment. For me, music is kind of like the opposite of work. It provides some of the most beautiful moments I have the pleasure of having and the best escape from the trials and tribulations of everyday life I've experienced. When Gene and I are performing the songs we wrote together, I feel supercharged being on stage next to him. The creativity and connection we share makes all the everyday work seem trivial, and I feel fortunate to get to share those moments with the person I love, work hardest with, and who knows me best in life.
Worst part about working/performing together Starks: If one or both of us is stressed out or having a bad day, we could be bickering with each other all the way up to the venue door. Usually though, once we get started and the first chord strikes, it sort of melts away. We have yet to come out of a show like that still fighting at the end.
A funny thing about performing together is... Cahill: Really early in our career, we were playing a gig and we were short a vocal mic so we had to share. Right in the middle of a lovely rendition of the Mamas & the Papas' "Dedicated to the One I Love," Gene leaned into the mic to sing his backing vocals and I just started laughing. Why? I have no idea. Even worse, I couldn't stop after I saw my mom in the audience cracking up, too. Trying to sing Mama Cass vocals through that was quite a challenge!
Advice to other lovebirds starting a band together Starks: Learn to balance the integration with the separation of the musical aspect with the non-musical aspects. Let your life guide your art together, but don't let your life together overwhelm your art.
Letter to Memphis on Facebook: https://www.facebook.com/lettertomemphis
Continue for more Valentine couples.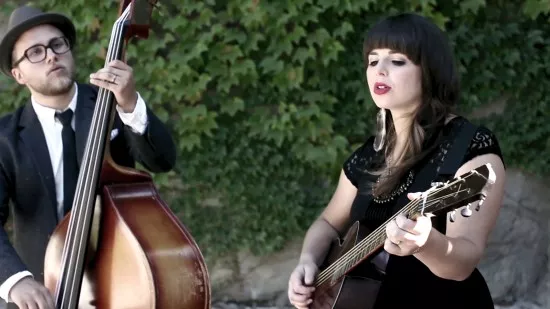 Joshua Black Wilkins
Kit Hamon and Beth Bombara
BETH BOMBARA
Couple: Beth Bombara and Kit Hamon Romance cred: "Married, engaged and committed" for nine years, Hamon says. Bombara's role in the band: vocals, guitar and keys, in addition to writing songs Hamon's role in the band: upright bass, fiddle, drums and others, in addition to arranging and producing songs
[Note: Bombara and Hamon answered our questions jointly.]
Best part about working together, worst part about working together The answers to these two questions are opposite sides of the same coin. Much of our favorite art seems to have a balance between tension and ease. We balance each other out with our skills and personalities, and of course there are moments of tension because we're very different people trying our best to be honest with each other.
 So, the worst part is when that honesty is tough to accept. It sucks because sometimes you know your partner is right, even though you don't want them to be.
 On the flip side, the best part is when that honesty pushes each of us to work harder or explore the other's idea more fully. Some of our favorite musical moments have happened as a result of pushing ideas back and forth until we reach a hard-fought compromise. People tend to see compromise as a precursor to mediocrity; we don't.
A funny thing about performing together is... 
Sometimes at shows, an audience member will approach one of us and bashfully ask about the other's relationship status or even creepily request the other's phone number. It's tempting to just give out the phone number and see what happens.
Advice to other lovebirds starting a band together Just like any situation where you're working with a significant other, the ups and downs of your romantic relationship are amplified by the working relationship (and vice versa). That shouldn't be a deterrent, just a reason to keep your ego and emotions in check. Or not.
Beth Bombara on Facebook: https://www.facebook.com/bethbombara
Continue for more stage romance.
ScottyMueller
Jerry Rabushka and Isaac Cherry of Ragged Blade Band
THE RAGGED BLADE BAND
Couple: Jerry Rabushka and Isaac Cherry Romance cred: domestic partnership, and together for six years Rabushka's role in the band: piano, vocals, trumpet Cherry's role in the band: drums and percussion
Best part about working together Rabushka: We like spending time together doing something we enjoy. I like having a feeling of someone to lean on during rehearsals and shows. I also like someone to bounce ideas off of, someone to respond with "That's great" or even "Really, how do you expect to manage that?" We support each other's endeavors in the band and out. I write the original songs we do and I arrange the others; Cherry develops the drum parts, and I like how he spends a lot of time trying to bring my tunes to life with the drums. Plus sometimes we rehearse with just the two of us, and it's a great feeling to woodshed a song and get it really tight!
Worst part about working together Rabushka: If you have a disagreement about something in the band, it can make for a rough evening, since you can't just leave the person after a rehearsal or a show. The other issue is over-talking about the band. We both are guilty! Sometimes Cherry says, "Let's stop talking about the band and just be partners!"
A funny thing about performing together is... Rabushka: Early on, just a small group of us were going to play a set in Nashville. That was pretty exciting -- i was Nashville, after all! The night before, due to some other folks cancelling, we found out we would be the only ones going. We had to tool up a show that we could do just with the two of us, so we stayed up until the wee hours to put together a set. It included drums set, buckets, hand drums and a couple keyboards, and we moved around from one instrument to the other all night. Plus on the way down, we stopped off at a Save-A-Lot, where they had a sale on T-shirts, so matching Save-A-Lot shirts became our costumes for the night.
Advice to other lovebirds starting a band together Rabushka: LISTEN to them! Don't try to make them feel a certain way about playing in the group or try to make them feel like you do. On the other side, don't belittle your partner's commitment if they are more "into it" than you are. Separate the band from the relationship. If you have a disagreement, try to ask yourself if you are mad at your partner outside of the context of the band, or if are you just mad at the musician that happens to be your partner. Also, enjoy each other because that's probably why you play music together. I don't think it's wrong to show some affection at a rehearsal, for example, as long as it's not ridiculous. Otherwise, people start to think, "I've seen them together for a year, and they never so much as touch each other." On the other side, I think it would make other people uncomfortable for a couple to have a good-sized fight, right before (or during) a gig (We don't do that!).
The Ragged Blade Band on Facebook: https://www.facebook.com/theraggedbladeband
Continue for a final Valentine from us to you.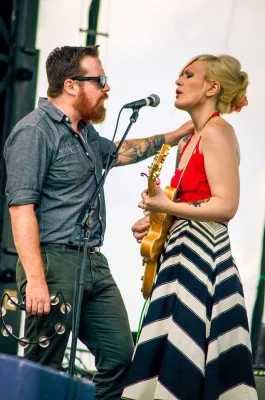 Kara Shoen
Michael and Susan Logsdon of Scarlet Tanager
SCARLET TANAGER
Couple: Susan and Michael Logsdon Romance cred: Married, and together for eight years Susan's role in the band: lead vocals, guitar Michael's role in the band: guitar, vocals, trumpet, others
Best part about working together Susan: The best part is definitely sharing all of this together; the ups and downs, the crazy amount of work, and the satisfaction that comes from doing what you love are all amazing things to share as a married couple at this time in our lives. There are also those moments on stage when we catch each other's eyes, and it feels like it's right where we are suppose to be. P.S.: It's also nice having your husband help you with interview questions, because he is just better at that kind of thing.
Worst part about working together Susan: Helping each other grow as musicians and artists requires a lot of honesty. Though we are very good at hearing the honesty and taking the advice from each other, it still can be hard.
A funny thing about performing together is... Susan: We played with Tilly and the Wall at the Firebird. I stupidly set a cup of water on what I thought was just a big wooden box on stage. Michael told me right before we started to play that I shouldn't set it there, and I said it was fine. Halfway through the set, I spilled the cup of water on said wooden box. Turns out the wooden box was Tilly and the Wall's special tap-dancing wooden box, and they delayed the show for, like, 20 minutes because they were trying to soak up the water. I felt so embarrassed and terrible. Needless to say, I received a big fat "I told you so" from Michael!
Advice to other lovebirds starting a band together Susan: Doing anything artistic is an exceptionally vulnerable thing. To do so hearing criticism from your significant other can certainly lead to hurt feelings. You need to work on finding the best way to communicate and receive criticism from each other while also not allowing it to spill over too much into your romantic lives.
Scarlet Tanager on Facebook: https://www.facebook.com/scarlettanagermusic
RFT MUSIC'S GREATEST HITS
The 15 Most Ridiculous Band Promo Photos Ever "Where Did My Dick Go?" The Gathering of the Juggalos' Best Overheard Quotations I Pissed Off Megadeth This Week, My (Former) Favorite Band The Top Ten Ways to Piss Off Your Bartender at a Music Venue
---