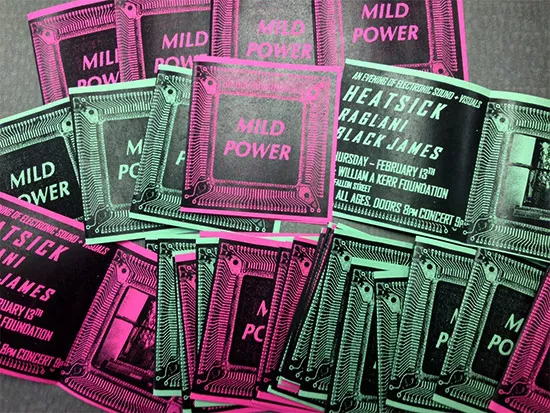 Courtesy of Jeremy Kannapell
Mild Power is a new experimental show series in St. Louis.
A mile south of the Arch, the Kerr Foundation Building (21 O'Fallon Street; 314-436-3325) sits on the Mississippi riverfront, amid an industrial graveyard of forgotten warehouses. Built in 1894 as a private bathhouse and health spa, the space found a second life in the mid-naughts with $2 million worth of LEED-Platinum certified renovations. The sustainability-based gem of a space acts as one of several unique venues for Mild Power, a new series curated by local artists Jeremy Kannapell and Kevin Harris that will showcase experimental music and intermedia art from near and far.
See also: The Best St. Louis Noise/Experimental Shows: February 2014
The first event from Mild Power -- this Thursday, February 13 -- will provide plenty of melodic, electronics-based dance music and more to get its inaugural crowd moving at the Kerr. The bill features Berlin-based artist Steve Warwick, who performs catchy, minimalist dance music under the moniker Heatsick. Local noisemakers Raglani and Black James, who each know how to electrify rooms in their own right, round out the evening's synesthetic sounds.
The first Mild Power show features Heatsick from Berlin.
For Kannapell, who coordinates programs for New Music Circle and also performs as Ghost Ice, Mild Power came about as a way to collaborate with fellow artists and musicians to execute the highest-production events possible while maintaining a do-it-yourself framework able to support everything from touring performers to commission-based projects. With the intent of activating sound and space, Mild Power will feature electronic and electro-acoustic music, film and video, free improvisation and sound art.
"It's making an emphasis on experimental and electronic forms of new avant-garde music, but it can also take on territories like Heatsick's dance music, because there's a lot of underlying experimentation buried in there," says Kannapell. "He uses very simple means to make a form of experimental music that's a little more home-brewed and at the same time a lot more catchy and visceral."
Courtesy of Jeremy Kannapell
Visual artists Chad Eivens and Kevin Harris prep for the show this Thursday by setting up giant screens for full-color video projections.
To further transform the room into a living, breathing womb of sight and sound this Thursday, Harris and fellow videographer Chad Eivens will process images of each performer through modular and analog video equipment, projecting three separate sets of synthesized, solarized full-color images onto wall-sized screens. It's a triple rainbow. What does it mean?
Continue to page two for more.
"Undoubtedly, this evening will give you much to listen to, look at and think about," says Kannapell.
Following this week's performance by Heatsick, Mild Power's next event will be presented in conjunction with the Contemporary Art Museum (3750 Washington Boulevard; 314-535-4660).
"Audible Interruptions" will take place at CAM on Thursday, March 20 from 7:30 to 9 p.m. featuring a collaborative performance by Andrew James, Nathan Cook and Kevin Harris, as well as a solo performance by Robert Beatty (of Three Legged Race and Hair Police). Beatty has also scored soundtracks to many of artist Takeshi Murata's videos. Murata's Street Views is currently on display at CAM through April 27.
For more information on this series, stay up to date by following the Mild Power Facebook page.
RFT MUSIC'S GREATEST HITS
The 15 Most Ridiculous Band Promo Photos Ever "Where Did My Dick Go?" The Gathering of the Juggalos' Best Overheard Quotations I Pissed Off Megadeth This Week, My (Former) Favorite Band The Top Ten Ways to Piss Off Your Bartender at a Music Venue
---