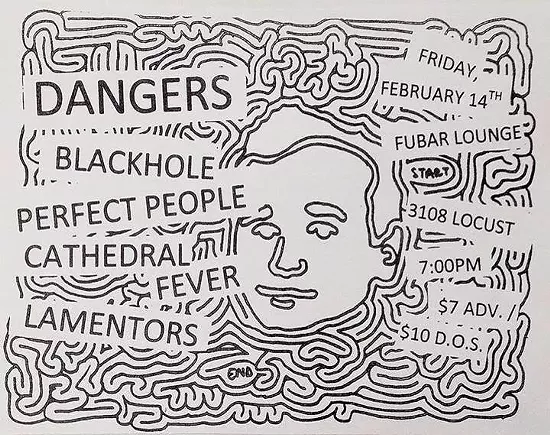 Flyer for the Dangers show February 14.
Are you sick of being responsible? Does it annoy you to have to follow rules or be pro-social? Do you like basements? Well, if you are a goofy, degenerate weirdo who doesn't quite fit in anywhere else, you might consider our city's hardcore/punk shows.Your underlying anger problems can be brought out to their fullest potential (in a positive way). These are my recommendations for great local and national bands that don't play five-minute (marathon!) songs or remind you about drink specials. General rule of thumb: If you have five bucks and can show up by 9 p.m., then it's go time in the pit. One, two, fuck you!
Dangers, Blackhole, Perfect People, Cathedral Fever, Lamentors @ Fubar February 14 8 p.m. / $10
California's Dangers is one of the catchiest, weirdest, most confrontational hardcore bands of the past ten years. While not really tradional hardcore, there's no post-whatever pretentiousness to be found either. The riffs are mean as all hell, the band's tightness is remarkable and the lyrics bite every hand that feeds everyone. Once known as "that band that got kicked off of a fest or two for pissing off FSU," the years have proven that there's way more going on here than just gossip and calling-out bullshit within the hardcore community. This band is just as intense as when it started and getting less predictable as time goes on.
Cheap Art's Desocialized LP
Cheap Art, Nos Bos, Self Help, Astral Place @ Apop Records February 16 9 p.m. / $5
Cheap Art is bringing fastcore from Cleveland to the south side Sunday night. This is Self Help's either third or fifth or whatever show, along with Astral Place's second. This is going to be a short, noisey one. If you think you have what it takes to basement slam with the best/worst this town has to offer, come act absurd for 118 minutes. Yell at the new bands to put out goddamn demos already!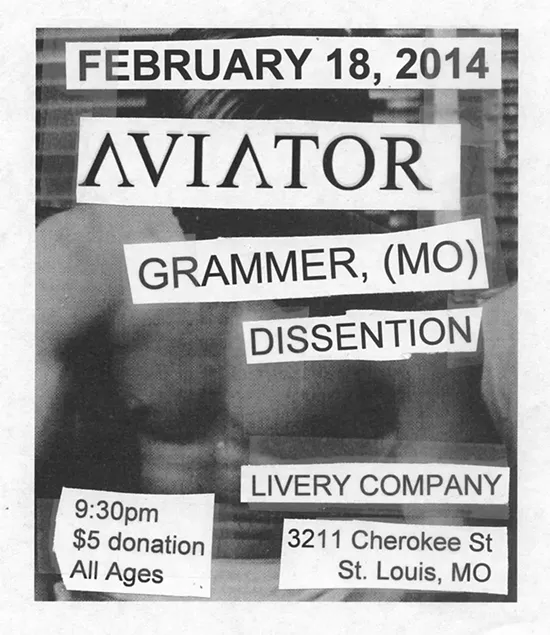 Aviator, Grammer, Dissention @ The Livery Company February 18 9 p.m. / $5
Massachusetts' Aviator plays a very deep, honest style of melodic post-hardcore in the vein of Modern Life is War or Defeater. Cut away the eBay price-hikes and fairweather fans and you have an overall intense hardcore show that brings back memories of the Lemp Arts Center shows when Adam the Devastator booking. Memory Lane aside, bring your five bones for the suggested donation and wigout on the dancefloor.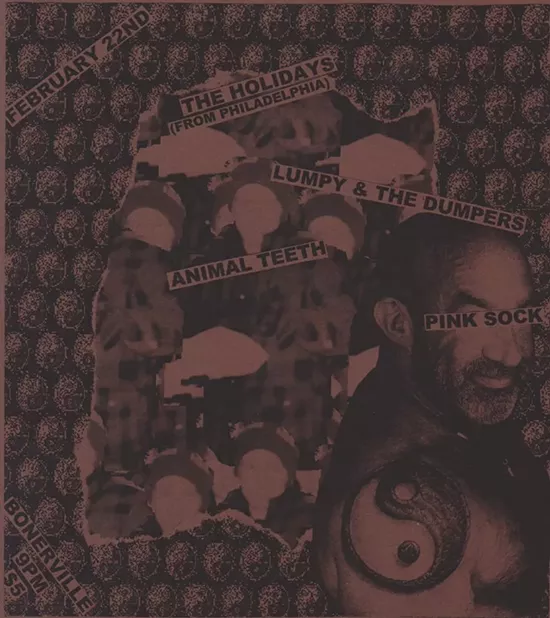 Brando's flyer featuring what looks like former WCW great Bill Goldberg...Who's next?
The Holidays, Lumpy and The Dumpers, Pink Sock, Animal Teeth @ Ask A Punk February 22 9 p,m, / $5
One of the riff-masterminds behind Philadelphia's Badside/Attitude era is coming through with a tape deck and a lot of anger. This show is being headlined by a one man band. The last person to come through with this much insanity and intensity by themselves was Globsters. This is also Lumpy's tour comeback show in between the next several times he and the Dumpers are going out of town the rest of the year. Plus, Pink Sock finally has a demo to sell you after five years of being a band.
RFT MUSIC'S GREATEST HITS
The 15 Most Ridiculous Band Promo Photos Ever "Where Did My Dick Go?" The Gathering of the Juggalos' Best Overheard Quotations I Pissed Off Megadeth This Week, My (Former) Favorite Band The Top Ten Ways to Piss Off Your Bartender at a Music Venue
---