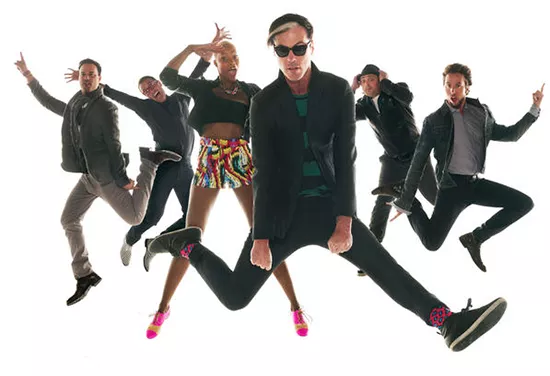 Press Photo
Fitz and the Tantrums - Monday, February 10 @ The Pageant.
This week, Fitz and the Tantrums, Eleni Mandell, Heatsick, Cheap Art and more stop into town. Plan a romantic weekend with yourself or someone else, or just go out every other night this week and stay in to watch Lifetime movies to your heart's content come Cupid's retribution on Friday. Love it or hate it, here's what's up this weekend. Stay tuned for more picks at the end of the week.
Fitz and the Tantrums Monday, February 10, 8 p.m. w/ The Unlikely Candidates @ The Pageant - $22.50-$27 By Tara Mahadevan Combine neo-soul and indie-pop you get Fitz & The Tantrums, four dudes and one sizzling front lady that came to prominence with their single "Breakin' The Chains of Love" in 2009, whose video features two of the members on a moving and rotating bed. Despite the bedtime theme, the group's music is anything but sleepy: Influenced by the likes of Motown and Stax, Fitz & The Tantrums will have you up and at 'em, shaking your groove thang -- to say the least. You won't find any guitar strumming in this band, as lead vocalist Michael Fitzgerald has been quite outspoken about his aversion to the instrument. Instead expect percussion, saxophone, keyboard, drums, flute, bass, tambourine -- basically anything but the dreaded guitar.
Eleni Mandell Tuesday, February 11, 8 p.m. w/ Vikesh Kapoor @ The Firebird - $10-$12 By Roy Kasten Sometimes one stumbles across a songwriting credit that reads "Unknown" or "Anonymous." In the case of LA-based, left-of-jazz-pop-center songwriter Eleni Mandell, the mystery lyrical donor isn't an untraceable public domain figure, but an untraceable sperm donor with whom she collaborated on her twins Rex and Della, ultimately inspiring her newest album Let's Fly a Kite. That absurd back story becomes meaningful in these luminously swinging and witty songs of single motherhood and quotidian joys, and the blissful way Mandell sings a line like "We'll go down in history for nothing at all," as if the pleasures of music-making have been born anew for her. And they have. Opener Vikesh Kapoor picks up where the late Pete Seeger left off; his songs of working class struggles ring with verities beyond the front page.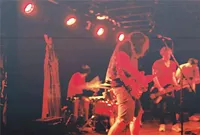 Stag Nite/Zine Night Wednesday, February 12, 9 p.m. w/ Dad. Jr, Animal Teeth, Mr. Ben, Dem Scientist, Dusty Fingers @ Livery Company - $5 By RFT Staff From RFT's Best of St. Louis 2013: "Cock rock" describes tunes played to the beat of a pelvic thrust, mostly in relation to males working through their midlife crises. The members of Dad Jr.'s crew are barely half as old as most cock-rockers, but they've taken a quick detour that might ruin their chances of being future weekend warriors. Mr. Hands, the foursome's lead guitarist, has literally slammed his flaccid penis against the six-string in lieu of shredding. The solos, a hallmark of rock & roll everywhere, are, after all, masturbatory. Dad Jr.'s tendency to trim the fat and lay things bare extends to its succinct songs. Mr. Hands rarely goes balls out, and his fretwork induces a midsummer garage-rock fever dream. Dr. Jackstraw pounds away on the set with little remorse, keeping the foursome's tunes in tow with striking fills. The whole affair chugs along fast and dirty, bringing a dense set of riffs rife with leather jackets and sunglasses.
Heatsick Thursday, February 13, 9 p.m. w/ Raglani, Black James @ Kerr Foundation - $10 By Joseph Hess Based in Berlin, Steven Warwick dons the alias of Heatsick and applies a lo-fi punk aesthetic to ethereal dance music. By working through guitar pedals and a single Casio keyboard, Heatsick manages to feel full and distinct, despite the minimalist approach. Simple beats come stacked atop one another while loops build into cacophonies of hyperactive dance. Ambient layers lie beneath the sound to provide ample tone and texture, making for songs that feel thematic. But Heatsick bucks the theatrics, trading in the frills and gimmicks of most modern electronica for an honest and deliberate sound. Heatsick's latest album, Intersex, released via PAN, sees Warwick fully delving into massive psychedelics. If Warwick's goal is to stop people from dancing and cock their heads to listen for just a minute, he may well succeed. Like Heatsick, local openers Black James and Raglani apply their own distinct approaches to electronica. While Raglani brings atmosphere and ambiance through modular synth, Black James deploys a hip-hop/noise hybrid alongside bewitching moans and howls.
St. Louis Music Festival Friday, February 14, 8 p.m. w/ Maze, Frankie Beverly, Anthony Hamilton, Joe @ Chaifetz Arena - $49-$89 By Calvin Cox The "St. Louis Music Festival" concert series returns to the Chaifetz Arena this Valentine's Day, featuring the legendary Frankie Beverly and Maze as the show's headliner. A soulful string of gold records dating back nearly four decades has earned the band a devoted following, which has in turn earned it a reputation as one of the best live acts in the game. Anthony Hamilton will be bringing his own brand of southern-fried soul to show, along with R&B singer-songwriter Joe, who made a name for himself in the late '90s with his post-new-jack-era ballads. The Human Beat Box himself, Doug E. Fresh, is scheduled to host.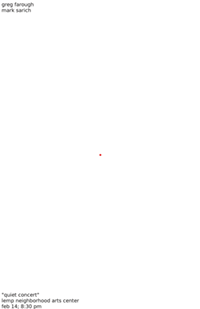 Quiet Concert Friday, February 14, 8 p.m. w/ Greg Farough, Mark Sarich @ Lemp Arts Center - $5 By Joseph Hess From "The Best St. Louis Noise/Experimental Shows: February 2014": Lemp Neighborhood Arts Center is turning twenty this year, and the Quiet Concert series is a new, exciting addition to the venue's programming. Hot off of last November's Noisefest X, the staff behind LNAC formed a bimonthly series focused on the subtlies of sound in noise music. The careful approach to low volume and space comes influenced by American composer Morton Feldman. The most common assumption about noise is that it's meant to be loud or abrasive, and LNAC's Quiet Concert seeks to eschew that notion by doing the very opposite. On Valentine's Day, test your partner who always claims how "open-minded" they are: Take them them to LNAC for a keen, intimate evening of experimental sound. Oh, and come on time. The show is called "Quiet Concert" after all -- meaning there's no admission during the performances. Greg Farough will perform a 45-minute piece entitled "Fawn." Mark Sarich will collaborate with local musicians Rush Dorcett and Grant Riew to premiere Sarich's piece "Book of Songs."
Heartbreakers Brawl Saturday, February 15, 9 p.m. w/ DinoFight! @ Ye Ole Haunt - $5 By Mabel Suen Meet SLLAW, the St. Louis Lady Arm Wrestlers, a riot grrrl-inspired organization bent on strengthening the community with performance art, philanthropy and unabashed fun. SLLAW's first large-scale competition strong-arms north city's Ye Ole Haunt for an evening of entertainment in the name of a good cause, and the half-time show couldn't be more appropriate. Local trio DinoFight! takes the stage with its punk and pop infused rock & roll, a riffed-up deliverance of solid, catchy songwriting, sassy, yelled singing and silly subject matter. Bring cash for bets, bribes and booze, but most importantly, bring $5 to get yourself in the door. Proceeds from the evening's admission price go to support Karen House, a Catholic Worker house of hospitality for homeless women and children in north St. Louis.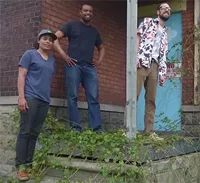 Tyvek Saturday, February 15, 8 p.m. w/ Stephen Malkmus and the Jicks @ Old Rock House - $20 By Ryan Wasoba From this archived show preview: If the White Stripes' stripped-down bar rock represents the greasy underbelly of the Motor City, then Detroit art-punks Tyvek (who are sometimes known as Tyvjk) are a rusted-ass Ford truck limping along blissfully on fumes with a flat tire. Some would call it post-punk, but Tyvek sounds almost prehistoric. Guitars pound along primitively like cavemen who just discovered distortion pedals, drums and cymbals are struck with the accuracy of a six-year-old playing darts, and vocals are half-sung with a sunglass-wearing apathy so intense that it makes Joey Ramone look excited. It all comes off like the Velvet Underground and Sonic Youth getting wasted on hobo wine and covering "I Wanna Be Your Dog" all night long.
Cheap Art Sunday, February 16, 8 p.m. w/ Nos Bos, Self Help, Astral Place @ Apop Records - $7 By Jimmy Eberle From "The Best St. Louis Punk/Hardcore Shows: February 2014": Cheap Art is bringing fastcore from Cleveland to the south side Sunday night. This is Self Help's either third or fifth or whatever show, along with Astral Place's second. This is going to be a short, noisey one. If you think you have what it takes to basement slam with the best/worst this town has to offer, come act absurd for 118 minutes. Yell at the new bands to put out goddamn demos already!
Note: Though we wish we could, we can't feature every great show happening in town in just one measly post. Look for plenty more recommendations this Friday in our weekend shows post, and peruse the St. Louis concert calendar for more ideas any time. Let everyone know what else you're looking forward to seeing this week in the comments below, and submit show info online any time to be considered for inclusion on these lists.
RFT MUSIC'S GREATEST HITS
Remembering STLPunk.com -- How to View the Site Today and Find Your Old Profile Page "Where Did My Dick Go?" The Gathering of the Juggalos' Best Overheard Quotations The Ten Best Dive Bars in St. Louis The 15 Most Ridiculous Band Promo Photos Ever
---