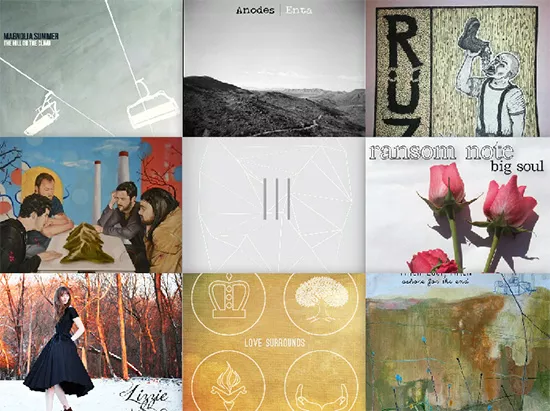 It's been awhile, but we're bringing back this monthly local releases series, created by former RFT Music editor Kiernan Maletsky. From Kiernan: "This is pretty self-explanatory, really -- here you will find every musical project released in the St. Louis area in [January 2014], listed in alphabetical order. There are links to information about the bands and places to buy these things as well as streaming previews wherever possible.
Note: We realize there are probably a few things we missed. If you know of something that came out last month, let us know in the comments and we'll amend this post."
If you'd like to have your record included in the February installment, or if you'd like to put an upcoming local release on our radar in general, e-mail us at music@riverfronttimes.com with "ATTN: St. Louis Release" in the subject line. Here goes -- enjoy!
---
Amen Lucy, Amen - Ashore for the End
Purchase via Brave New Records
---
Anodes - Enta split ten-inch
---
Armadillo - Dollar/Someone Who Cares
---
Elizabeth McQueen Meet Brothers Lazaroff - The Laziest Remix
---
Eric Hall - Live Solos 2013
---
FarFetched Collective - Prologue III
Homespun review Fill in the Blank profile on Scrub
---
Continued on the next page.
Highway Heat - Baron Von Awesome
---
Jetliner Gypsies - Wander
---
Lizzie Weber - Lizzie Weber
---
The Locash Collective - First Shots Fired! 2014 compilation
---
Love Surrounds - Self-titled EP
---
Magnolia Summer - The Hill or the Climb
Feature: Magnolia Summer Returns with The Hill or the Climb
Purchase via Undertow, iTunes, Amazon
---
Men Working in Trees - Progress
---
PaleFace Junkies - Arch Society
---
Continued on the next page.
Pink Sock - Self-Titled Demo
---
Popular Mechanics - Anti-Glacial
Homespun review Fill in the Blank profile
---
Ransom Note - Big Soul
---
Rüz - Flexi
---
Sleepy Kitty - Projection Room
Feature: Telling St. Louis' Story: Sleepy Kitty talks Projection Room
---
Thriftshoplifters - Hexatron: The Second Coming
---
Tommy Halloran's Guerilla Swing - Under the Catalpa Trees
---
Zak M. - Lips
---