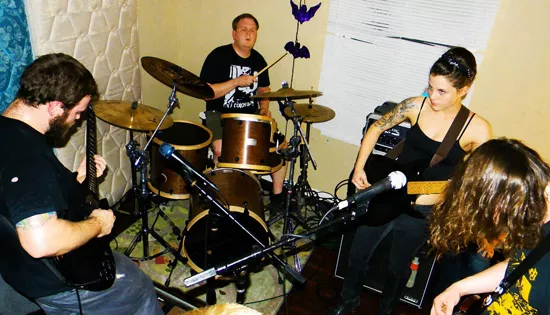 Anodes/Enta Split Record Release - Saturday, February 8 @ Livery Company
This week, liven up the dull winter season with some shiny new things: No Coast Skateboards unveils its re-location to Tower Grove with a show and local post-hardcore group Anodes releases a brand new split 10" record. For more excuses to get out of the house, check out some live music at Schlafly's Cod and Cask Festival and see Bearhug get down and dirty at the Bad Dog Bar & Grill. These recommendations and more await after the jump.
Friday (February 7):
New Politics w/ Magic Man, Sleeper Agent @ The Firebird 8 p.m. | $15-$17 Pop-punk from Denmark, with dancey tendencies. New Politics served as the opener on several dates of Pink's tour last year. (DH)
No Coast Grand Reopening Party w/ Mad Conductor, Seymour Awesome, The Haddonfields @ No Coast Skateboards 6 p.m. | $7 South city's sole skateshop makes its move from the Grove to a new Tower Grove South location and unveils it along with a new ramp next door to the future home of the KHVT Peter Mathews Memorial Skategarden. Headliners Mad Conductor bring their space rock from New Orleans to the party. (MS)
Peter Martin @ The Sheldon 8 p.m. | $35-$50 Local pianist Peter Martin, named best jazz artist in the RFT's Best of St. Louis in both 2010 and 2012 returns to the Sheldon with a program of "chamber jazz," combining jazz and classical music with an emphasis on improvisation and special guests. (MS)
Schlafly's Cod & Cask Festival w/ The Red Headed Strangers @ Schlafly Tap Room 5 p.m. | free Can't go wrong with a whole festival dedicated to tasty fish and delicious drinks, not to mention the musical talent. Note: also on Saturday, featuring Trophy Mules! (DH)
Also on Friday, consider Ruby Fray at Foam and day one of Nuclear Winter Metal Fest at the Mad Magician. Click the links for more on these shows from our critics.
Saturday (February 8):
Ultra Bide w/ Drop A Grand, The Conformists, Hell Night @ Fubar 8 p.m. | $10-$12 "Alternative art punk" group Ultra Bide, with recordings out on Alternative Tentacles, come all the way from Kyoto City, Japan for this one, a surefire spike of noisy adrenaline for any punk-lover's weekend. More on their goofy antics on the official Ultra Bide website. (MS)
Bearhug w/ Human Aftertaste, Brickwall Vultures, Kimmy & the Underwires, Brickwall Vultures @ Bad Dog Bar & Grill 10 p.m. The Supermen once again don their leathers and quit shaving, transforming into Bearhug! Expect a really gay night and a hell of a fun time. With drag queens and more! (DH)
Bully w/ Boreal Hills @ The Gramophone 9 p.m. | $8-$10 Bully hails from Nashville, Tennessee and plays an infectious style of poppy alternative rock fronted by bubblegum-sweet female vocals. Sample some feel-good tunes on Bandcamp. (MS)
Hopsin w/ DJ Hoppa, Irv Da Phenom, John Boi, Kold Kace @ Pop's Nightclub 8 p.m. | $18-$22 If he would just pop those damn white contacts out of his head, maybe more people would recognize that Hopsin can rap with the best of 'em. Oh well. Just close your eyes and pretend he doesn't look so stupid. (DH)
Randy Hamm w/ Missouri Saxophone Quartet @ Saxquest 2 p.m. | free For sax and jazz enthusiasts alike, Cherokee Street's Saxquest welcomes some leading regional musicians who fit the bill to the store for a special performance. Swing by for the double event and don't forget to check out the cool instrument museum upstairs. (MS)
For more options this evening, check out the Anodes/Enta Split Record Release at Livery Company and Bob Schneider at Off Broadway.
Sunday (February 9):
Reggie and the Full Effect w/ Dads, Pentimento @ Fubar 7 p.m. | $13.50-$16 Reggie and the Full Effect is the side project of Get Up Kids' keyboardist James Dewees. I would argue that the side project is superior to the main one, but I've never been that into the Get Up Kids. Take that for what it is worth. (DH)
Jason Isbell also plays Plush on Sunday, yet another recommended show.
Note: Though we wish we could, we can't feature every great show happening in town in just one measly post. Peruse the St. Louis concert calendar for more ideas any time. Let everyone know what else you're looking forward to seeing this weekend in the comments below, and submit show info online any time to be considered for inclusion on these lists.
RFT MUSIC'S GREATEST HITS
Remembering STLPunk.com -- How to View the Site Today and Find Your Old Profile Page "Where Did My Dick Go?" The Gathering of the Juggalos' Best Overheard Quotations The Ten Best Dive Bars in St. Louis The 15 Most Ridiculous Band Promo Photos Ever
---