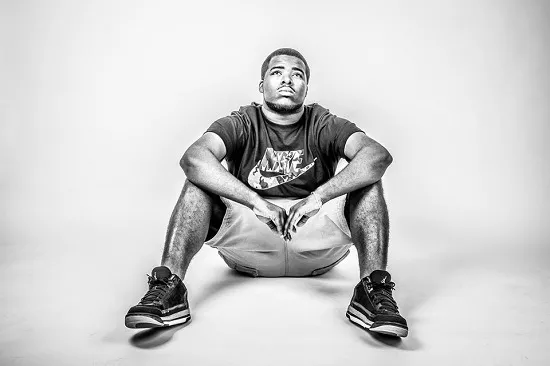 Press Photo
Riley B.
I wanted to start 2014 off by giving credit to a few St. Louis artists I have been enjoying lately. I also wanted to mention people you probably haven't heard of, because this is the duty of a real fan. I could have easily written a blog about the household names and people you already know about, but I wanted to shine some light a few brand-new artists.
You more than likely won't recognize a few of these names. In 2014 I am hoping they will start getting the credit they deserve.
See Also: The Thirteen Best St. Louis Rappers in 2013
Riley B. - Riley B. is a young MC with a sea of passion. He's often seen in freestyle ciphers ripping the mic off the top of the dome flawlessly. He's entertaining to watch because you can feel his love for hip-hop in every word that he rhymes. He's hungry, but he also has a good attitude and he'll go far if he maintains this spirit. He kind of reminds me of a St. Louis version of Joel Ortiz, but much younger and currently in a developmental phase with his talent. I can see nothing but potential inside Riley and I'm rooting for his music in 2014. He isn't afraid to battle but he can also cut impressive records. The video for his current single "2nd Wind" let's us all know that Riley B. isn't the typical St. Louis rapper. In 2014 we will witness him grow into even more of a monster.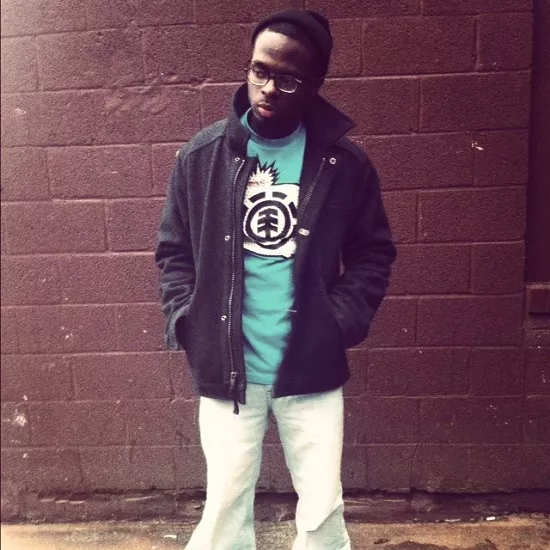 Press Photo
Chris Grindz
Chris Grindz - He went to prison in the name of self defense. He came home and hopped face-first into the hip-hop scene. He's known to enter a cipher and steal the show and he isn't afraid to rely on his skills and reputation as a guy that lived the life he's speaking about in his music. Grindz is no stranger to tragedy -- his father passed away on Christmas morning. He has an interesting story overflowing with pain and triumph, but he's also a very genuine and warm-hearted person. It's very hard to find a local tastemaker that has met him and dislikes him; you feel like you want him to win because you can't believe he constantly defies the obstacles placed in front of him. On top of that, the young man can actually rap. In 2014 I'm hoping to see him keep pushing and producing quality music while also expanding his reputation as one of the town's most valid up-and-coming MCs.
Press Photo
RT-Faq
RT-Faq - RT-Faq is easily the most slept-on member of the Doorway Crew. Nick Menn is a talented guy, but most fans don't understand that his entire crew brings it. He's dropped some of the most solid solo EPs in St. Louis music. Last year at the SXSW celebrity basketball game, he repped the St. Louis squad, crossed over Trinidad James, broke his ankles and made "Mr. All Gold Everything" fall flat on his ass. Theres no footage to support this, so it has became a tale of urban folklore, but some of the biggest names in the rap industry witnessed. His solo project Heir to the Throne documented the birth of his son. While it didn't garner the attention of Nick Menn's Goon Road it is equally entertaining, if not more, depending on your taste. Every hip-hop group has a guy that is super talented yet overlooked for some reason. In 2014 Rt-Faq will release another solo EP and we will also hear his voice alongside the likes of Rockwell Knuckles and Fresco Kane.
KD Assasin, Jah Orah, 923 - A collective of some of my favorite MCs, each member of this group has his own style and approach to the music. 923 would be the gangster. KD is the young gunner, with a wealth of talent. Jah Orah is from the west coast but brings his Project Blowed-styled conscious lifestyle raps to St. Louis in a very live and direct manner. People always complain about hip-hop straying too far away from its core sound. Well these guys are a textbook, classic hip-hop crew with no gimmicks attached. They are hoping to build their brand on the overall quality and endurance of the actual music. Their in-house producer and manager is none other than Stephen "Instrumental" King, and they have toured with the likes of Wu-Tang's Cappadonna. This is a unique group that could easily fit into nearly any hip-hop scene in the country. In 2014, as a fan of their movement, I'm hoping to catch more live shows from this collective.
Continue to page two for more.
Network - Network is a true and living East St. Louis rap group. This is trap-rap with a a fun feel to it. Its members aren't about killing and selling drugs as much as they are about having fun and enjoying yourself through the turmoils of life. They are regular guys that come from the Eastside, naturally hilarious yet energetic and rachet at the same time. If Network is on the bill you can bet it will be the life of the party. Tek the Midwest Messiah and SD the Dizzleman have one of the most entertaining stage shows in St. Louis at the moment. They are both members of Nick Menn's Doorway Crew and are sitting on an endless stash of unreleased songs. Funny story -- last year at SXSW Dizzle found himself so drunk he magically appeared on the Def Jam stage in front of thousands of people dancing and throwing T-shirts. No one from Def Jam asked him to leave because the crowd assumed he was a famous rapper or a drunken member of the Def Jam entourage. In 2014 I'm looking forward to even more ridiculously hilarious stunts and entertaining music from these two.
JBJR - A St. Louis based hip-hop producer that can cut and slice samples in a style reflective of old-school greats such as 9th Wonder and Pete Rock. JBJR is the undefeated three-time beat battle champion at Slumfest. He decided after this year's victory that he should retire and focus more on strengthening his production catalog. Most of his beats are driven by samples and soulful loops; in this regard he is a true Renaissance man. In about a year the price tag on his beats will likely rise and his notoriety as one of the leaders of the St. Louis sound will be cemented. In 2014 I am certain we will hear more music from JBJR and his beats may even make their way into the hands of a few national hip-hop acts.
M-Eazy - Having the ability to rap alone doesn't make you a star. Yet having the ability to rap while combining swagger, personality and an original sense of style does make you a true contender for the crown. M-Eazy is the right hand man to famed St. Louis rapper Saint Orleans. He is a St. Louis based MC, but he is originally from New York City. I honestly didn't listen to much of Eazy's music until I got to know him on a personal basis while touring with him and Saint O this summer. He is a natural comedian, so his music is filled with energy and slick talk. For the last couple of weeks his AVG crew has released two songs a week (one from M-Eazy and one from Saint O). This has quickly grown into a online trend followed closely by hip-hop fans such as myself. Eazy easily spills his east coast dialect over southern-based production. In 2014 I am hoping to see the rest of the city recognize his potential as a songwriter/ hitmaker.
Family Affair
Keegan Hamilton
Family Affair - Everyone loves this group. One of the most adored hip-hop groups in the history of St. Louis music Family Affair is twin brothers Rep and Q.B., whose soulful sound is filled with tales of drugs, girls and long nights of bad decisions in the name of living the rockstar lifestyle. Over the course of the last year the two have recorded three or four albums worth of unreleased material. The twins are currently sitting on a released collaboration with Curren$y's Jet Life Recording artist (and southern rap legend) Fiend. This is soulful hip-hop with a hardcore edge to it. Family Affair has a style of its own and you instantly recognize it when it touches your ears. In 2014 I am hoping this group will return to its glory days in the push to take St. Louis underground talent national.
Continue to page two for more.
Legend Camp- Fresh off the heels of their newly release LP "Camp Audio" the LC crew consisting of X-Luger and Fresh Voice are on a course to do the impossible. They have meshed the catchiness of St. Louis dance music with the grittiness of conscious hardbody hip hop. Their album's literally sound like they hand picked the best producers in the city one by one and locked them in the studio. I don't think anyone has a better beat selection process than Legend Camp and this is quickly becoming their trademark. Their live shows are action packed and full of energy. They are a staple in St. Louis hip hop. Everyone loves them and we all want to see them win. As a fan I am hoping 2014 will be the year they achieve the critical acclaim they truly deserve.I've always been a Legend Camp fan , this is my favorite St. Louis rap group.
SMS - She is likely the most unknown artist on this list, but possibly one of the most talented individuals our city has to offer the world of music. St. Louis super-producer Tech Supreme has finally found an experimental pop artist that is capable of meshing her poetic songwriting ability with his hard-hitting and ever-evolving production. I'm often harsh on newcomers but over the course of time she has made me a fan and a believer. You won't be able to find any of her music at the current moment. She has performed at Grove Fest and has toured the midwest region, breaking the ice as a performer. Her music merges the dance elements of hip-hop with the sing-along enjoyment of pop music. I wanted to be the first music critic to write about her, because once the trigger is pulled her career in St. Louis will be automatic. She has a slight bit of soulfulness that comes quite unexpected when you consider her range as a singer. In 2014 I am predicting she will have a breakout year and convert more than a few music lovers into fans of her movement.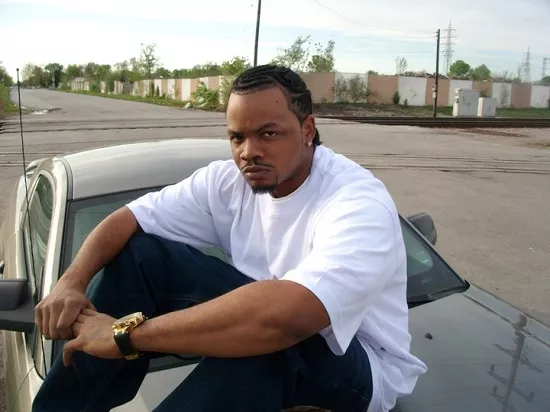 Dough Staxxx Dollaz - Dough is from East St. Louis and may very well be the first of his kind in the St. Louis rap scene. I say this because he is a character without purposefully attempting to be a character. His story is unique -- he's the nephew of one of the most well-known hip-hop managers in the town, Jay Stretch. Yet he didn't inherit his buzz overnight due to his uncle's connections -- he worked for it the old-fashioned way, and now you can hear the voice of the man commonly known as "Dollaz" occasionally getting a spin on St. Louis radio. He is in the studio at the moment with his Cele-bra-Gz crew (Mexico, J-Ruger, Batz Balboa), putting the finishing touches on his debut project. He has done it all over the course of the last year in the name of promoting his brand. Dollaz is a naturally entertaining and interesting person. In 2014 I'm hoping to see him score big with a citywide hit or maybe a high-quality rap video that will take his situation to the next level.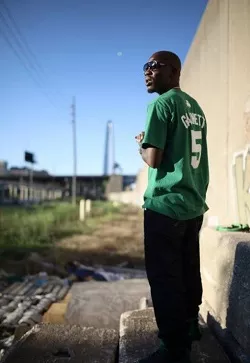 Rip the General- Controversy sells, but it eventually burns out. With that said, I believe Rip the General is more than a controversy-driven rapper. He is directly connected to the likes of Tupac's crew, the Outlawz, and has collaborated with them more than a few times. While I personally don't agree with everything he does, you have to admire his passion. The phrase "it's deeper than rap" is really applicable to his career and lifestyle choices. The numbers don't lie, and the numbers support the notion that he has a fanbase. His music is harsh and often carries an unapologetic message. People have long asked when we would give him his due credit. Last time I spoke with him he notified me that he is currently collaborating with several MCs outside of the country and in 2014 he is hoping to be viewed in a more positive light.
Continue to page two for more.
DOWNSTEREO - For some reason this group is slept on by St. Louis media, but it has a bigger fan base than most of the artists mentioned on this list. We often work together -- I needed a band for my LouFest performance and these gentlemen were the obvious choice. Together we've also played the same stage as Mobb Deep and Action Bronson. The group was basically the house band at the Delmar Lounge, and since then its reputation has grown to legendary heights. DOWNSTEREO was also the headliner this year at Bump & Hustles NYE party. The bands has worked with the best of the best in St. Louis music, including the likes of Black Spade, Lamar Harris, Alexis Tucci, Family Affair, Nato Caliph, Jai Davis, B.Money and many many more. Its annual J. Dilla tribute is basically a hip-hop holiday in the city of St. Louis. In Philly the hip-hop band of the city is the Roots. In St. Louis the hip-hop band of the city is undoubtedly DOWNSTEREO. In 2014 I believe the group is finally poised to attain the household name recognition it deserves.
Corey Black - The hustler of all hustlers. The jack of all trades. Corey Black is one of the most well-known poets in the city of St. Louis. He represented the city last year in front of the judges of the famed TV program Showtime At The Apollo. He started up a St. Louis clothing line that is currently shipping orders all over the country. Corey Black is not your typical rapper; he is also a member of the United States Marine Corps. He has performed on nearly every stage in this city, a master manipulator of branding and marketing on a indie level. The only thing missing from his arsenal at the current moment is a respectable body of music for his fans. He has done nearly everything you can do as a local entertainer, and the next phase of his progression will be rooted in the music he releases.
Press Photo
Trixie
Trixie - In this genre, women are often slept on and their contributions to the culture seem to not get respected as much as their male counterparts. Let's face it, if you're a woman, you have to work twice as hard as the men do, and in Trixie's case that's exactly what she does. On paper she has a wholesome, clean teenage image, but on wax she has the potty mouth of a sailor. She has collaborated with Nelly, Lil Saint Louis and Nick Menn. In my opinion she is one of the most talented young women we have to offer the world of entertainment. Her newest offering, Red Cup Religion, is slated to be released in 2014. Her promotional campaign for the project has been solid thus far; this LP will have more than a few head-turning moments.
Reup Von Wolfgang - A dark, tormented artist that makes beautiful music, Reup Von Wolfgang plays double-duty as a rapper and producer working with some of the biggest names you can think of. He performed at the Indy 500 last year. He has a very unique lane and doesn't really care about the public perception of his image, music or personality. He has the talent and the drive and is also affiliated with the world-renowned Raider Klan. His resume is quietly impressive -- he's no stranger to hard work and dedication. In 2014 Reup Von Wolfgang will drop his solo project and continue to build the cult following he is very capable of creating.
Honorable Mentions: Lex, J'Demul, MVP, Domino Effect, The Legion (Haiku and Stogie).
Editor: Tef Poe is an artist from St. Louis city. Through powerful imagery and complicated honesty, he has earned a reputation as one of the best rappers telling the story of St. Louis, which is about much more than one place. Poe has been featured in music publications such as XXL and Urb Magazine. His project The Hero Killer was released on January 21 and will be followed up by a full-length with DJ Burn One entitled Cheer For the Villain. Follow him on twitter @tefpoe. Get The Hero Killer here.
RFT MUSIC'S GREATEST HITS
The 15 Most Ridiculous Band Promo Photos Ever "Where Did My Dick Go?" The Gathering of the Juggalos' Best Overheard Quotations I Pissed Off Megadeth This Week, My (Former) Favorite Band The Top Ten Ways to Piss Off Your Bartender at a Music Venue
---