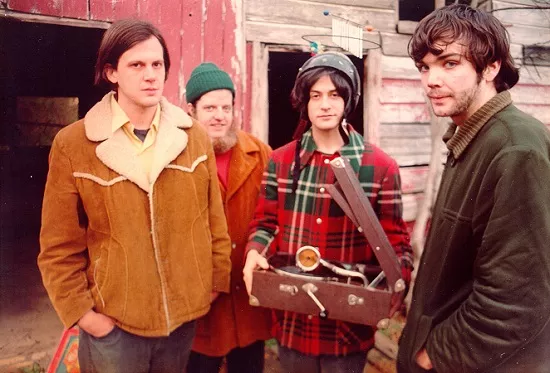 Press Photo
NMH was not allowing photography on this tour, so here is a handout photo.
Neutral Milk Hotel | Elf Power The Pageant, 2/5/14
It's been a long time since Neutral Milk Hotel's last St. Louis show. Specifically, the group last played here in 1998 at the Galaxy Bar, with Superchunk. Lead singer Jeff Mangum did play a solo show at the Sheldon Concert Hall in January of 2013; it was an excellent opportunity to reacquaint ourselves with some classic songs and their seldom-seen songwriter. In the interim, the revived Neutral Milk Hotel -- currently in the midst of a worldwide tour -- got no closer than Columbia, MO. Last night, however, Mangum and company finally returned to St. Louis, with a show that could only be described as "triumphant."
As he did at the Blue Note last October, Mangum started the show by himself, strumming the chords to "The King of Carrot Flowers, Part One." Slowly, the rest of the band filed onstage, adding color to the song before kicking in for good in the middle of "The King of Carrot Flowers, Part Two." From there it was a sprint through the small Neutral Milk Hotel catalog, featuring almost all of In The Aeroplane Over The Sea (except "Communist Daughter," which has yet to make a setlist), the more tuneful portions of On Avery Island, both sides of their first seven-inch single and the odd rarity ("Ruby Bulbs" and "Ferris Wheel on Fire").
NMH performing at the Brooklyn Academy of Music in January.
In general, this set was not terribly different from the Blue Note show. Julian Koster again jumped around like a mad elf, alternating between singing saw, Moog and banjo. Scott Spillane was the main conduit between band and crowd, singing along to every song when not leading a mini-horn section. Jeremy Barnes played drums in a loose way that suggested Keith Moon meets free jazz. At times, there were up to seven people onstage playing various instruments. In particular, Mangum seemed to be enjoying himself more. Whereas he stood stock-still at the Blue Note, often vanishing into the wings during instrumental passages, last night he jumped around like in the band's early days.
This was an immensely satisfying show, one that did not feel nostalgic or retro in the slightest. Given that the band is going to be touring these songs for the next several months, though, is it too much to hope for its members to start working in some new material?
Continue to page two for critic's notebook and the setlist.
Critic's Notebook:
- Elf Power was again the perfect opening act, playing chiming and slightly off-kilter guitar pop. Lead singer/guitarist Andrew Rieger dedicated a song to his nephews, who were there to see the show from Cape Girardeau. (I found this out because they were sitting right behind me. Never let it be said that we don't strive for scoops.)
- Unsolicited (and likely unwanted) cover song proposal: Todd Rundgren's "The Night The Carousel Burned Down."
- What better way to end the night then to be greeted by one's favorite local band? A few minutes after NMH finished their set, Middle Class Fashion started theirs in the adjoining Halo Bar. They were in fine form. Lead singer Jenn Malzone mentioned the fact that This American Life had used their song, "Stuck," to close a recent episode. "I was mad at music and just listening to podcasts," she said, "and then I heard the song. It reminded me to never doubt myself again." Smart move, Jenn.
Setlist: The King of Carrot Flowers, Part One The King of Carrot Flowers, Parts Two & Three Holland, 1945 A Baby for Pree / Glow Into You Gardenhead / Leave Me Alone Everything Is Two-Headed Boy The Fool In the Aeroplane Over the Sea Naomi Ferris Wheel on Fire Oh Comely Song Against Sex Ruby Bulbs Snow Song, Part One Encore: Ghost Untitled Two-Headed Boy, Part Two Engine
RFT MUSIC'S GREATEST HITS
The 15 Most Ridiculous Band Promo Photos Ever "Where Did My Dick Go?" The Gathering of the Juggalos' Best Overheard Quotations I Pissed Off Megadeth This Week, My (Former) Favorite Band The Top Ten Ways to Piss Off Your Bartender at a Music Venue
---