Ron Baker
Roky Erickson performing at Austin Music Awards in 2008.
Saturday's show at the Firebird -- the venue's psych-rock-heavy, five-year anniversary -- was a not unlike consuming a handful of hallucinatory drugs for the first time: the anticipation/anxiety of waiting, wondering when the magic is going to start, the ecstatic release, the moronic "What happened?" blur of loud noises and inebriated friends and a droning comedown of a night simply dripping with the joy and mayhem of rock & roll. The crowd's diversity spoke to the ability of good music has to bring the strangest groups of weirdos together (70-year-old farmers mixed with 40-something drunk punks and seemingly anyone who has purchased a Tom Petty hat and/or bolo tie in the past 5 years). It really was a hell of a party.
Golden Animals opened up the festivities. The band consists of two women with Tumblr model looks on drums and keyboard, with a man best described as "App store Bob Reed" (Bob Dylan/Lou Reed combo) on vocals and guitar. The white backdrop against the layer of hipster pretentiousness conjured thoughts such as "This makes me wanna update an iPhone." The group is from Brooklyn and was kind of boring. The issue might have been that they were making everyone wait longer to see a true legend, Roky Erickson, in the flesh. I mean, the set wasn't horrible, just kind of bland.
Roky was on next, and the tension and excitement built up in the room was suddenly smashed as he broke into "It's a Cold Night For Alligators." His voice sounding exactly like it did on record -- 30 to 40 years ago -- Erickson looked both confused and excited while belting out psychedelic/psychotic jams for the next hour. The set mainly consisted of songs by his '60s group, 13th Floor Elevators, which wasn't expected but still fantastic. Upon reflection it makes sense, considering the Black Angels' fanbase and their predilection for drugs and staring at screen savers involving outer space.
Looking at this 66-year old man and hearing "John Law," "Two-headed Dog" and "You're Gonna Miss Me" in person was remarkable, and worth the money by itself. It was endearing and entertaining to see Erickson as he struggled to remember parts of his various songs and guitar parts -- some written nearly 50 years ago. between songs he piped up with a "Thank you!" (his only stage banter for the night) and put his hands up in the air, bringing an eruption of screams and applause. Roky seemed like the preacher of a cult, or the parade leader of a group of people who just took a lot of acid. The set was fun, even if it would've been nice to hear more songs from The Evil One.
Continue to page two for more.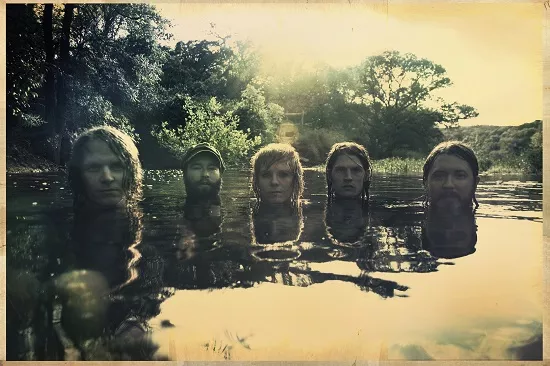 Press Photo
The Black Angels
The Black Angels closed the evening out after setting up an array of instruments and projections. The people in the Firebird seemed to be all at various levels of chemical intake, showcased by behavior ranging from barely swaying back and forth to rigid, pulsing head banging. The lightshow/Windows Media Player visualizations behind the band created a real "let's all take a journey/have a seizure" type of atmosphere. The band played a solid hour of droning, noise-filled doom-rock. It captivated about three-forths of the audience, with some elder statesmen leaving the building after Roky's set. The group sounded decent and put on a good show -- a few people who'd been to their last few shows in St. Louis said it wasn't nearly as energetic or intense as at previous stops, which is hard to imagine to say the least.
Notebook Dump:
Roky just walked by me and some friends from like a foot away. I'm glad they didn't hear me squeal. I want to hear "If You Have Ghosts" so bad, damn. I've never seen this many retirees at a show. Roky is giving a "Hell Yeah Smile" every time there's a guitar solo, like he's never heard it before. Black Angels' light show is going to make my brain explode. Snackpack says to include that Jeremy Baker is a dick.
RFT MUSIC'S GREATEST HITS
The 15 Most Ridiculous Band Promo Photos Ever "Where Did My Dick Go?" The Gathering of the Juggalos' Best Overheard Quotations I Pissed Off Megadeth This Week, My (Former) Favorite Band The Top Ten Ways to Piss Off Your Bartender at a Music Venue
---