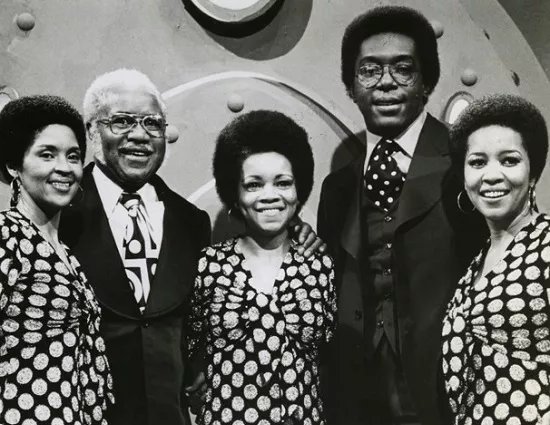 Publicity Photo
The Staple Singers with Soul Train host Don Cornelius in 1974.
I'll Take You There: Mavis Staples, the Staple Singers, and the March Up Freedom's Highway is both a music biography and a lively slice of American history. Pops Staples, the group's patriarch, grew up in turn-of-the-20th-century Mississippi, with a grandfather who had been a slave and a father who was a sharecropper. As a child, he was influenced by seeing Delta blues legends such as Charley Patton and Howlin' Wolf. As a young man, he moved to Chicago and started a group with son Pervis and daughters Yvonne, Cleotha and Mavis. With a sound that Duke Ellington called "gospel in a blues key," the Staple Singers were successful from their first single, 1956's "Uncloudy Day," all the way through the 1970s. Theirs is a story of triumph and tragedy, of striving and overcoming, with appearances from Sam Cooke, Aretha Franklin, Mahaila Jackson, Bob Dylan, Martin Luther King, Mick Jagger and Keith Richards, Steve Cropper, Bobby Womack and Prince.
I'll Take You There author Greg Kot is speaking at St. Louis County Library's Headquarters branch tonight, February 3, at 7:00 p.m. (Details here.) Kot took some time to talk to us about how and why he wrote the book.
Mike Appelstein: How did you come to write this book?
Greg Kot: I thought there was a huge gap in our understanding of this group and its influence, what it's done not only for music in the last century but the culture around it. I also thought it was a great story. Through the window of this group, you've got a mini-history of the African-American experience of the past 100 years. Mavis Staples' great-grandfather was a slave in Mississippi, and her grandfather was a sharecropper. You put it all together and there's a legacy up there with any musical group.
It's amazing to read about Pops Staples' early days growing up on a Mississippi plantation.
I hope people will have that impression after they read the book. Every time I've told the story in short form like this, they're kind of startled. There was a lot more there than people realized. This is truly a one-of-a-kind family, and they're just not making people like this anymore. They're fading from our view as we speak. It's time to get their stories now.
Did you approach Mavis? Did she approach you?
I wanted to do this book for ten years, when she reinvented her solo career. There was some question about whether she even wanted to do music anymore once Pops died. But once she made up her mind to continue on -- because there's work that needed to be done and music to be written and sung in her father's tradition -- she put out a really good record. But the time wasn't right. Mavis kept at it, and suddenly the exposure she's had has been the equal of her entire career, except for maybe the Stax days. People know her again. Her performances are magnetizing, and the interest in her has rekindled, but it wasn't there in 2004. I wasn't going to do it unless I got the family's full cooperation. That was critical, because I didn't want to have to rely on past interviews. It took Mavis three months to get back to me. It took some convincing on my part.
You had access to Pops Staples' unpublished memoir as part of your research. How did you find out that it existed?
As I was piecing together these little stories and tracing threads, I found an interview Mavis gave in the late 1990s, where she made the comment that Pops was working on a memoir. When I called Mavis, at first she didn't remember. The next day she called back and said, "You know, I think I do remember that he wrote something. And I think a friend of ours helped him write it." I told her she had to find it, and she said, "I don't know if I can. I don't even know where it is." A week later she called and said it was in (sister) Cleotha's apartment. Cleo was under 24-hour care for Alzheimer's disease by that point, and her day care provider arranged for me to receive it. Lo and behold, here's this 200-page document, typewritten and nicely packaged. That was one of the happiest days of my life. The most daunting aspect of this book was telling the early story. There was enough to get me started on their public life, but very little documentation about Pops' life in Mississippi. But in his memoir, half of it is dedicated to his life in Mississippi. That informed the first half of my book, because I was able to take the leads -- names, places, significant events -- and follow those trails.
One of the richest parts of the book was the description of the music played at Dockery Farms. Howlin' Wolf was there, Charley Patton was there. Was there a circuit of plantations or small towns where these bluesmen would go?
Yes. It was the early version of the chitlin circuit. There were a lot of little parties. On Dockery Farms, they'd pick one of the houses where they'd have the party that night. There would be a still working, a gambling room, a dancing room, a room where some of the women were cooking up the dinner, and there would be entertainment. One of the reason Pops looked up to Charley Patton was not only that he was a great singer and guitarist, but he was also able to come and go as he pleased. He didn't have to work the fields; he could make more than enough money playing these parties. Pops really saw it as his way out.
And yet when he moved to Chicago he spent a lot of time working in the factories. The music didn't pick up again for awhile.
He didn't even bring a guitar with him to Chicago. He just showed up here, basically. The idea was that he needed a better job and to take care of his family. He already had two kids, and he and (his wife) Oceola quickly had two more. He knew that in the South there wouldn't be much of a future. Between the two of them, they were working sixteen to twenty hours a day to keep the kids fed, and even then were barely keeping it together. They moved virtually every year from apartment to apartment, but it was always a struggle. At the same time, Pops never regretted it. Every sense I got is that they were making more money then they ever could down South, and at least were making some progress. You would be continually in debt to the Man; you're totally spinning your wheels in the Mississippi mud.
Continue to page two for more of our interview.
How did Pops get that guitar sound, the tremolo sound? He was doing it before Bo Diddley.
That was just a style that he picked up. When he brought the tremolo into the equation, everyone talked about what a stunning development that was. He didn't play like a traditional electric guitarist; he created more of an atmosphere, as opposed to playing chords. The B.B. King style was: Sing a line, respond with the guitar. With Pops, it was this atmospheric, droning, eerie style. And that was revolutionary. The effect dovetailed nicely with the voices, being a very stately, slightly mournful sound that seemed to be coming from a deep, dark past. It wasn't this uptempo, hand-clapping, "Let's go to meet Jesus, it's going to be a beautiful day" kind of sound.
The early recordings are kind of trancelike.
It does sound very progressive, not dated at all. That resonated with the audience. They became stars right away. It was Mavis that really turned them into a potent live act. Not only her ability to sing, but bringing that across to the audience. They would feel her sincerity and passion, her willingness to take the message to the audience. They were probably the single biggest gospel group in the early 1960s.
It was interesting to read how competitive the gospel circuit was at the time.
It was cutthroat. The singers were tough on each other. Mahalia Jackson didn't like competition; she didn't like anyone threatening her status as the Queen of Gospel. She never felt that way with Mavis; she was young enough that she didn't see her as a threat. Mahalia was more than willing to help them out. It was a tough, tough circuit. That's one of the reasons Pops was so willing early on to branch out. He knew that the Staple Singers weren't these big gospel singers, but that they were doing something different and worthwhile. He was willing to experiment a little bit. From the beginning, Pops was bringing this tremoloed blues guitar underneath the gospel harmonies that he learned in Mississippi with his family. Their later step into folk music was a matter of the content being something they could sing with sincerity and passion. They were the first group outside the folk movement to cover Bob Dylan's songs.
And, of course, there's the revelation that Dylan and Mavis had a fling.
Mavis actually talked to me about that ten years ago. I don't think the story was ever fleshed out before, so it was good to get to the chronology of what actually happened. To this day, I definitely feel that Dylan still has something going on for Mavis. You listen to the way he performs when he's in Mavis' company, and he's a different guy, a lot looser and giddier. Someone who's still a little head over heels.
It's interesting that in the early days they were so willing go to to Mississippi, go to places other groups wouldn't go, and risk serious harm. Were they ever scared doing that?
It meant a lot to Southerners, especially black Southerners, that they would perform at the height of the civil rights era. They were literally putting their life at risk playing some of these towns. Not so much the towns themselves, but the drives between the towns. But they were determined, because they knew their audience was there, and I don't think they felt scared. Pops was sort of fearless. He came from that area, and his children spent their summers there because he couldn't afford shoes for all of them. He just thought it was his territory, too. There were moments that they did feel they got away with something, but the people who saw them never forgot.
The group seems to lose steam quickly in the 1970s after the Wattstax festival and "Let's Do It Again." To what to you attribute that?
The trends changed, obviously. The disco era came in. I don't think disco was all that bad, but a lot of acts tried to conform to it, trying to make disco records for fear of being irrelevant. Well, guess what: You are irrelevant anyway since you made bad records. Secondly, Pops stopped writing. During the Stax era, when Al Bell took over, Al started bringing songs to them. He had the cream-of-crop of the songwriting elite writing for them. But Pops had been very involved in how the songs were put together, and he stopped doing that. He dried up as a creative force. That was a tough combination to overcome. They made a bunch of bad records, and Mavis pretty much says so now. It effectively ended their career. For ten years, they were not on the map musically. It took Prince calling Mavis to get them back on track.
At one point in the 1970s, Mavis was reduced to looking for local radio DJ gigs or commercial voiceovers. Did they make money off their recordings or publishing?
They started to, but those Stax bankruptcy proceedings really put a crimp in things for a long time. The royalty checks weren't flowing anymore. That started to open once the bankruptcy got cleared. I know that they got significant money starting with the series of box sets that came out on Stax in the early 1990s. Ever since, it's been pretty good. Even though they didn't get a writing credit on "I'll Take You There," which is still sort of a sin, they saw quite a bit of recording royalties come in after the song was used in a commercial. So things did turn around in the 1990s, but there was a long time when they were in limbo.
What are Pervis and Yvonne doing now?
Pervis is effectively retired. He had a heart attack about two years ago. He's living in the old house of his parents in Dalton, IL. It's a nice house and he's living a comfortable life, kind of the bachelor life. He's got a ton of kids and grandkids. Pervis definitely had a way with the ladies, even after he left the group. Yvonne lived in the apartment building next door to Mavis and still does. The sisters have been very close for a long time. Yvonne is still Mavis' closest friend in a lot of ways, very much an advisor. And she sings onstage and travels with Mavis wherever she goes.
---