Billy Joel is returning to St. Louis on Friday, April 11, at the Scottrade Center downtown, bringing his history with the Gateway City full circle.
LiveNation and Scottrade Center officials announced the news just moments ago during an special event in Scottrade's "Bud Light Zone." Officials shared that in 1994, Joel performed the first concert in Scottrade, then called Kiel Center. "St. Louis is still a huge Billy Joel town," officials said.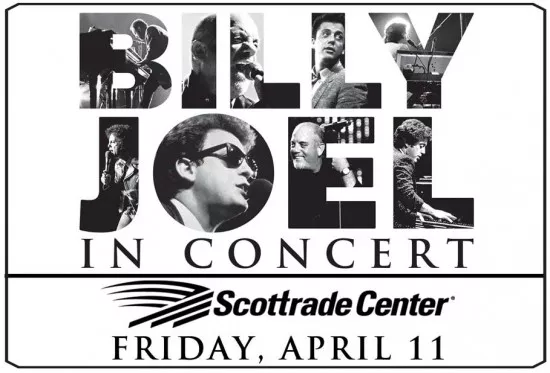 Tickets are $52.50, $92.50 and $122.50 and go on sale Saturday, February 8, at 10 a.m. You can purchase them from Live Nation, Ticketmaster, through the Ford Box Office at Scottrade Center or by calling 800-745-3000.
"Piano Man" themed cookies were provided at the announcement.
Joel joins a number of high-profile acts booked for Scottrade Center this year, including Miley Cyrus, Cher and Katy Perry.
Facts about Joel, provided by Scottrade and LiveNation officials:
Released his first hit song in 1973
Has had 33 top-40 hits
Was inducted into the Songwriters Hall of Fame in 1992
Has had 150 million albums sold worldwide
Was inducted into the Rock and Roll Hall of Fame in 1999
Received the Kennedy Center honors this year
Continue to page two for the setlist from Joel's recent concert at Madison Square Garden, earlier this week.
"Miami 2017 (Seen the Lights Go Out on Broadway)" "Pressure" "Summer, Highland Falls" "The Longest Time" "Blonde Over Blue" "Everybody Loves You Now" "All for Leyna" "Movin' Out (Anthony's Song) " "Where's the Orchestra? " "Allentown" "Big Man on Mulberry Street" "New York State of Mind" "Zanzibar" "The Entertainer" "She's Always a Woman" "Don't Ask Me Why" "The River of Dreams" "Scenes From an Italian Restaurant" "Layla (Piano Coda)" "Piano Man" "Big Shot" "It's Still Rock and Roll to Me" "You May Be Right" "Only the Good Die Young"
RFT MUSIC'S GREATEST HITS
The 15 Most Ridiculous Band Promo Photos Ever "Where Did My Dick Go?" The Gathering of the Juggalos' Best Overheard Quotations I Pissed Off Megadeth This Week, My (Former) Favorite Band The Top Ten Ways to Piss Off Your Bartender at a Music Venue
---