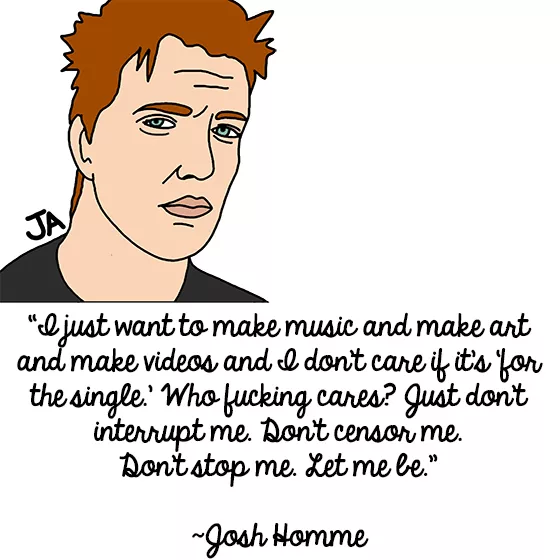 Queens of the Stoneage frontman Josh Homme is so badass, he "died" and came back to life in 2010 (after surgery complications). Mortality ain't got nothin' on this rocker! Homme never has difficulty speaking his mind, either. Who could forget this memorable dis he gave Jay-Z during a radio interview with CBC Radio 2's Strombo Show last fall:
"[Jay-Z]... gave us some Champagne and wanted us to take a photo with it. And I thought: That's not a gift; that is a marketing tool. So I destroyed it. Because I thought it was rude overall. And you shouldn't frisk my guys, you should fuck off."
Ouch. Here are more badass gems from the mouth of Homme.
Illustrated quotation above via spin.com.
See also: An Illustrated Guide of Noel and Liam Gallagher Talking Shit About One Another
--via drownedinsound.com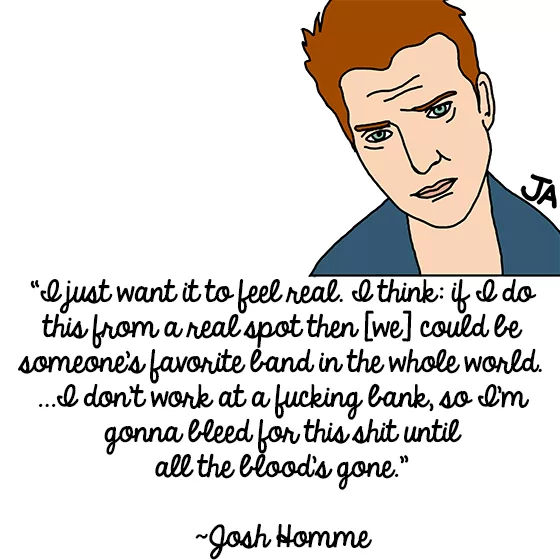 --via spin.com
--via jambase.com
--via spin.com
RFT MUSIC'S GREATEST HITS
The 15 Most Ridiculous Band Promo Photos Ever "Where Did My Dick Go?" The Gathering of the Juggalos' Best Overheard Quotations I Pissed Off Megadeth This Week, My (Former) Favorite Band The Top Ten Ways to Piss Off Your Bartender at a Music Venue
---