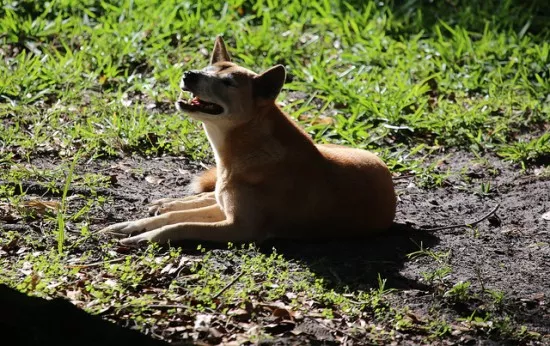 cuatrok77 | Flickr
The New Guinea singing dog ain't got nuthin' on St. Louis bands.
St. Louis music really makes us roar. With their catchy lyrics, fierce hooks and fills, and boundary-pushing experiments, local acts definitely know how to claw at our hearts. It makes sense, then, that so many area bands and solo artists are showing their wild sides with beastly monikers. Below, check out six St. Louis acts that use a variety of critters as their spirit animal muses.
BLUEFISH
To listen to Bluefish's music, you probably wouldn't guess that its band members are still in college. The warm indie-rock foursome displays such confidence and composition acumen that it's easy to peg it as an industry veteran. Bluefish has the weight of Coldplay, the yearning of Death Cab for Cutie and the catchiness of Kings of Leon, and for a young band to draw such comparisons after just three years on the scene likely means good things for the future. Forget fish; Bluefish is delectable caviar.
https://www.facebook.com/BluefishSTL
LIONS EAT GRASS
How in the hell should we classify Lions Eat Grass? The closest we've come is "offbeat noise-polka-jazz-punk stuff," but like with all good things, your mileage may vary. However you label the group, there's no question that Lions Eat Grass has mastered its domain of quirk. Scattered drum snaps and demented-circus accordion are punctuated by surprise bursts of yelling and headspinning lyrics, and the result leaves us feeling a bit unhinged, a bit creative and a bit famished for gazelle meat.
https://www.facebook.com/LionsEatGrass
FIRE DOG
Have you ever heard a band that makes you want to somehow relax under the summer sun but also twirl nonstop at the same exact time? For us, Fire Dog barks up that tree. With its sunny grooves and and trippy reverbs, the longtime trio is a modern version of '60s jam bands, but with shorter songs. This ain't your mama's Grateful Dead outfit, though; while it's got a few far-out psychedelic elements, Fire Dog also channels some Better Than Ezra and other post-'90s influences to brighten up the jams. Fire Dog definitely has bite, but the group gives you the happies instead of the rabies.
https://www.facebook.com/pages/FIRE-DOG/48983620777
Continue for three more local acts that make us howl with pleasure.
GOOD LUCK AT THE HOG SLAUGHTER
Though the band's name should be labeled "NSFV" ("not safe for vegetarians"), Good Luck at the Hog Slaughter crafts tunes that everyone can consume. The band members identify their music as punk -- and that certainly fits -- but that doesn't quite encompass the full appeal. In addition to pulling out quite a bit of Fugazi-influenced sounds, GLATHS also layers in dreamy melodies, strong lyrics and almost-orchestral movements. Pulling hard edges and progressive rock through their meat grinder, Good Luck at the Hog Slaughter processes tasty audio bacon that makes even this twenty-year vegetarian salivate.
https://www.facebook.com/GoodLuckAtTheHogSlaughter
TROTTING BEAR
Bears usually aren't known for being gentle, but the musical ones apparently are the exception. Andy Berkhout and company breathe loving sighs all over our ears, giving us the cozy, quiet feeling of snuggling in an oceanside hut with the object of our affection. Trotting Bear has mastered a hazy, atmospheric style of song that emphasizes mood instead of in-your-face instrumentation, and the results are warm and well-crafted vignettes of emotion. Pillow soft, Trotting Bear's tunes are as trusted and familiar as a favorite stuffed animal.
https://www.facebook.com/trottingbear
ADULT FUR
Sometimes it's not about the animals themselves, but about what surrounds them. Ryan McNeely, a.k.a. Adult Fur, wraps projects in a unique skin of synth and boops that renders them unmistakably his. Cryptic, cosmic and experimental, he forces the worlds of rock, hip-hop and electronica to fuse together into a space-age sonic explosion. McNeely is a longtime beat craftsman for many St. Louis acts, but his Adult Fur work is fashionable enough to merit its own "best dressed" award.
RFT MUSIC'S GREATEST HITS
The 15 Most Ridiculous Band Promo Photos Ever "Where Did My Dick Go?" The Gathering of the Juggalos' Best Overheard Quotations I Pissed Off Megadeth This Week, My (Former) Favorite Band The Top Ten Ways to Piss Off Your Bartender at a Music Venue
---