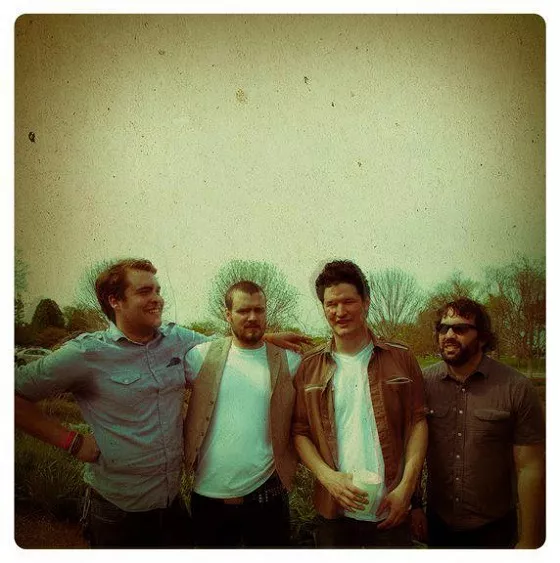 Annie Martineau
O'Neal, on the left, with Pretty Little Empire.
One of St. Louis' best multi-instrumentalists has left St. Louis, as well as two of its best bands. Multi-instrumentalist Evan O'Neal is off to California in order to pursue his teaching certificate at CSU Fullerton.
In keeping, he has amicably departed both Pretty Little Empire and Bo & the Locomotive. O'Neal tells RFT Music that he would like to tour with either band during his summer break, but he understands the need for permanent replacements. Although he wasn't an original member of either group, O'Neal played a big part in shaping both acts' sounds with accomplished songwriting, drumming, guitar and keyboard work.
Before leaving, O'Neal tracked all his parts for Bo & the Locomotive's recently completed full-length album, It's All Down Here From Here, which will be released soon. This will be O'Neal's first full-length recording with the hypnotic indie quartet, even though he has played with them since 2011.
O'Neal's impact is lasting; band leader Bo Bulawsky says that reverting to the group's pre-O'Neal trio format is not an option. "It really helped solidify everything musically, bringing Evan in a couple years back," Bulawsky says. "As I've said before, we write songs and Evan makes them better." Bulawsky hopes to eventually lure O'Neal back to the group, but is looking for a fourth member in the meantime to play keyboard and guitar parts. O'Neal adds that Bo and the Locomotive has made it clear that even if they find a new full-time fourth member, he is still welcome to come back and swell the group to a two-guitar, keys, bass and drums quintet.
O'Neal played even longer for Pretty Little Empire, serving mainly as the alt-country/indie-rock outfit's drummer in his four-year tenure. He joined the group in time to play on its second and third albums, Reasons and Rooms and Pretty Little Empire. Although he was most often seen behind the drum kit for PLE, O'Neal sometimes took center stage play one of the handful of songs he wrote for the band (he also would switch instruments with lead guitarist William Godfred on "Good Morning Early Riser"). Pretty Little Empire is remaining active by employing David Beeman as its interim drummer while it searches for a permanent replacement. Beeman recorded and produced the group's most recent album at his Native Sound studio, and was last seen drumming on St. Louis stages for Beth Bombara.
We wish O'Neal, as well as the bands he leaves behind, all the best in their future endeavors.
RFT MUSIC'S GREATEST HITS
The 15 Most Ridiculous Band Promo Photos Ever "Where Did My Dick Go?" The Gathering of the Juggalos' Best Overheard Quotations I Pissed Off Megadeth This Week, My (Former) Favorite Band The Top Ten Ways to Piss Off Your Bartender at a Music Venue
---