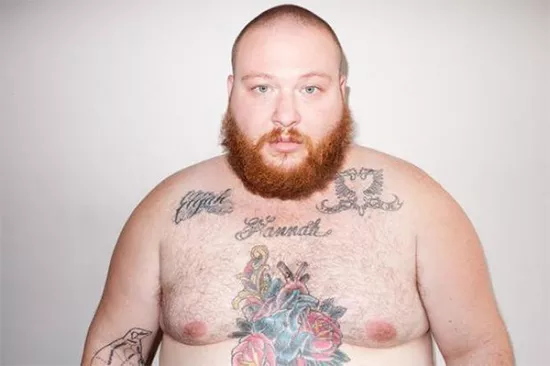 Press Photo
Action Bronson - Sunday, January 26 @ Pop's Nightclub
The week ahead features visits from touring artists including Action Bronson, Califone and the Copyrights. In addition, Hearding Cats Collective puts on its next experimental show and Lunch Beat takes over the Pulitzer. Check out some previews of these shows and more after the jump.
Soulard Blues Band Monday, January 20, 9 p.m. @ Broadway Oyster Bar - free By RFT Staff The Soulard Blues Band has gigged around town for more than twenty-five years. Most notably, its weekly residency at Broadway Oyster Bar perfectly accompanies the Southern-themed vibe complete with booze and Cajun food. Bassist and sole remaining founder Art Dwyer, a blues aficionado on local community radio station KDHX, holds down the band with his casual plucked lines. The rest of the rhythm section follows suit, allowing room for solos to float between rounds of drinks and a comfortable swing.
Teach Me Equals Tuesday, January 21, 8 p.m. w/ Elk Driver @ Foam - free By Mabel Suen Teach Me Equals come from Sarasota, Florida and stop in St. Louis during a tour that precedes the release of its debut album. The duo plays dark pop characterized by brooding vocals, drum machines and scraping layered strings a la guitar, violin and cello. Local musician Josh Meyer opens under the pseudonym Elk Driver.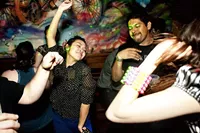 Lunch Beat #8 Wednesday, January 22, 12 p.m. w/ DJ Boogieman @ Pulitzer Foundation - free By Mabel Suen From this 2013 preview: Dancing: It's not just for weekends or home alone in your underwear anymore! Now, St. Louisans can feel unashamed to let their freak flags fly during the daytime with Lunch Beat, a new, free hump-day lunchtime dance party. "Lunch Beat is an event that started in Sweden and has spread across the world, finally landing in St. Louis," says Andrew Warshauer, a.k.a. DJ Boogieman. "It's got a simple premise: Have a drug-free, alcohol-free, free dance party at lunch time." This edition of Lunch Beat features a bento box from local company MOFU Soy.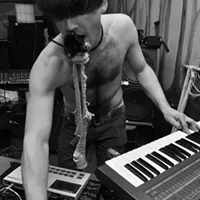 Lazy Magnet Thursday, January 23, 9 p.m. w/ Noise Nomads, Ghost Ice, Tether, Dungeon Broads @ Apop Records - $7 By Joseph Hess Jeremy Harris is a purveyor of sound who travels often, gabbing the gospel of noise through subversive pop, snarling punk and other genre-mixed jams. Since settling in Chapel Hill, North Carolina, Harris has narrowed the focus to Lazy Magnet -- his mostly-solo endeavor with nearly two decades of history. With deep roots in the east coast noise scene, Lazy Magnet manages to feel accessible, thereby working as a great starting point for those seeking new, experimental music. Lazy Magnet feels best in a venue like Apop Records, where the art and surrounding walls perfectly match the tone and mood of the sounds within. Lazy Magnet leads the traveling troupe of Noise Nomads, Tether and Dungeon Broads to offer a wild range for fans of electronic music. St. Louis' own Ghost Ice opens the show with imitable, creeping ambiance.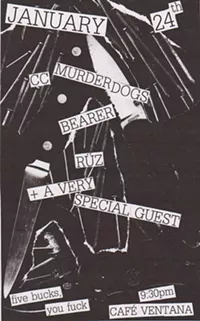 CC Murder Dogs Friday, January 24, 9 p.m. w/ Bearer, Ruz @ Cafe Ventana - $6 From "The Best St. Louis Punk/Hardcore Shows: January 2014": CC Murder Dogs make it fast and psychotic, combined with Bearer's whole funeral-in-the-'90s atmosphere, and the slop the locals bring will most likely not come out of your clothes. Get it out of your system and do something stupid, or just bring money and do the folded-arms glancefloor showdown. Touring isn't getting cheaper.
Hearding Cats Collective presents: Hear What You Don't See Friday, January 24, 7:30 p.m. w/ Rich O'Donnell, Doc Mabuse @ Regional Arts Commission - $10-$15 By Joseph Hess From "The Best St. Louis Noise/Experimental Shows: January 2014": The last time Rich O'Donnell and Doc Mabuse invited us to a show, it involved stripping down to our skivvies and jumping into the pool at Webster University. Like Aqurld Waves, their underwater concert in 2013, O'Donnell and Mabuse seek to alter the senses as part of the performance. With HEAR WHAT YOU DON'T SEE, the audience will be treated to short pieces of experimental music in a pitch-black environment. The idea here is that without sight, the audience will focus on how the brain discerns sound without visual context. O'Connell and Mabuse will explore this darkness with music, using percussion, synthesizer and guitar. Regional Arts Commission provides a safe environment for the piece, and it's open to all ages.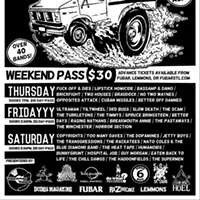 The Copyrights Saturday, January 25, 6 p.m. w/ w/ Too Many Daves, The Dopamines, The Humanoids, Jetty Boys, Eaten Back to Life, Bunnygrunt, The Onions, Nato Coles & the Blue Diamond Band, Heat Tapes, Chill Dawgs, Opposites Attack, Hospital Job, The Transgressions @ Fubar - $15-$30 By Jimmy Eberle From "The Best St. Louis Punk/Hardcore Shows: January 2014": Daren and Nighthawk have pulled through once again to bring some of the best touring bands that exist to St. Louis. You might have seen these particular groups at various chug/puke-a-thons at Lemmons or Fubar throughout the past year. This is going to be as ridiculous as those, but multiplied by a thousand exponentials. Don't like a nonsensical math joke? You can punch people like myself in the face about it during this venerable local fest. If nothing else, you'll definitely be able to spill beer while talking to people about their jackets and favorites episodes of MST3K.
Railroad Earth Saturday, January 25, 8 p.m. w/ Have Gun Will Travel @ The Pageant - $22.50-$27 By Roy Kasten From this 2010 preview: In case you're new to this planet, quasi-bluegrass, fully bearded jam bands are where it's at — if your destination is a festival where "Shady Grove" gets picked out for the 19,000th time. Railroad Earth has ridden the summer party circuit for all that it's worth (and then some), but the New Jersey acoustic rockers possess timeless-sounding material — a claim that only a handful of their competitors can make. On its album, Amen Corner, the band matches the taut harmonies of peers such as the Old Crow Medicine Show. Its horn-punched basement honky-tonk and mandolin- and fiddle-driven Americana parables, however, nearly live up to influences such as the Band. Railroad Earth will probably play "Shady Grove" if you demand it, but its own original songs are what you'll want to hear the band jamming through the early summer dusk.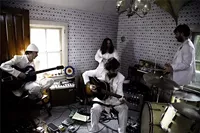 Califone Sunday, January 26, 8 p.m w/ William Tyler @ Off Broadway - $13-$18 By Roy Kasten Named for a boxy, metal phonograph found in every elementary school from Bangor to Santa Barbara and quickly becoming the needle-dropper of choice of every hipster with a 78, Califone is a loose, Chicago-based confederation of experimental musicians led by Tim Rutili of the post-blues undergrounders Red Red Meat. Sometimes loopy as Sparklehorse, sometimes folk-gothic as Palace, the group generally makes its strongest statements via evocative instrumentals and yet, for all his laconism, its Rutelli's songs and droll delivery on last year's surprisingly accessible Stitches that shine most. Opener William Tyler isn't interested in becoming the next Hendrix, let alone Kottke, but he's a formidable and adventurous guitarist more than meriting a prompt arrival.
Action Bronson Sunday, January 26, 7 p.m. w/ Party Supplies @ Pop's Nightclub - $20-$24 By Tara Mahadevan From New York City comes Action Bronson, the supreme MC gourmand, master at pairing lyrics about culinary cuisine with classic east coast hip-hop. Though many note a lyrical and tonal resemblance to the Wu-Tang Clan's Ghostface Killah, the comparisons stop there — Bronson's long, gingery, chinstrap beard serves as a tell-tale sign of his Jewish Queens heritage. Before entering hip-hop, Bronson was a well-respected gourmet chef, and is probably the only man in the world who has ever rapped while making a remoulade.
Note: Though we wish we could, we can't feature every great show happening in town in just one measly post. Look for plenty more recommendations this Friday in our weekend shows post, and peruse the St. Louis concert calendar for more ideas any time. Let everyone know what else you're looking forward to seeing this week in the comments below, and submit show info online any time to be considered for inclusion on these lists.
RFT MUSIC'S GREATEST HITS
Remembering STLPunk.com -- How to View the Site Today and Find Your Old Profile Page "Where Did My Dick Go?" The Gathering of the Juggalos' Best Overheard Quotations The Ten Best Dive Bars in St. Louis The 15 Most Ridiculous Band Promo Photos Ever
---