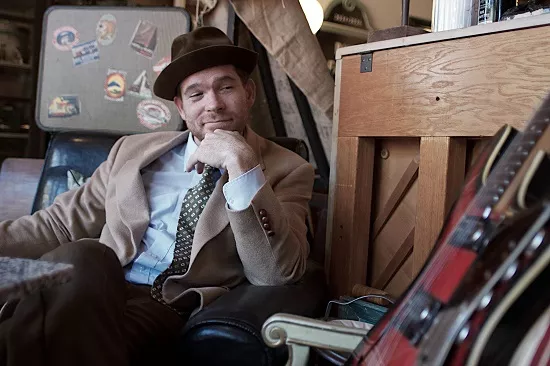 Tommy Halloran's Guerrilla Swing Under the Catalpa Trees www.facebook.com/GuerrillaSwing
On 2010's Moan & Shout, singer and guitarist Tommy Halloran took a break from his weekly rounds of restaurant gigs and open-mic-night hostings to commit some of his songs to tape. The record owed a debt to acoustic blues music alongside the more prominent feel of 1930s-style guitar jazz.
In the intervening years Halloran has assembled a rotating cast of musicians that plays under the name "Guerrilla Swing," a title that gives a clear enough idea of where the music is headed. But the swing is suitably gentle enough -- none of that mid-'90s revivalism here -- and the guerrilla tactics are pretty covert. The band's take on the standard "God Bless the Child" plays it straight; the drummer's insistent shuffle pushes it harder than the Billie Holiday version that has long since passed into the canon.
Tommy Halloran's Guerrilla Swing performing at Blank Space as part of the Lo-Fi Cherokee project.
Halloran's honeyed growl and skilled guitar work is enough to fill up a room, but he's joined here by bassist Mark Wallace, drummer Kaleb Kirby and saxophonist Kristian Baarsvik for a seductively smooth and mellow program, though one that's not without its curveballs. "A Drunk Waltz" lurches in step, oom-pah-pah style, thanks to some wheezing accordion, while Halloran does his best Rain Dogs-era Tom Waits. It's one of several places where having a versatile band amplifies the various tones of jazz, rock and folk in Halloran's work.
"Caffeine!" is a straight-ahead ska number, with Baarsvik's alto saxophone adding a sharp, percolating solo. "Gardenias for Rita" weaves in a bit of Latin jazz, and the uptempo instrumental "Ferdinand & the Matador" gives Baarsvik a chance to do double-time on both sax and flute. That double tracking -- and David Beeman's unfussy production via Native Sound -- gives the album a spacious feel that accommodates the modern conveniences of a studio while still sounding timeless.
It's a pleasant program overall, and it shows Halloran as an apt stylist with a crack band, but the disc earns its keep with its final song, the title track "Under the Catalpa Trees." It's sensuous mood music from a player who can pull a portrait out of a few coy lines and deft delivery.
Want your CD to be considered for a review in this space? Send music c/o Riverfront Times, Attn: Homespun, 6358 Delmar Boulevard, Suite 200, St. Louis, Missouri, 63130. Email music@riverfronttimes.com for more information.
RFT MUSIC'S GREATEST HITS
The 15 Most Ridiculous Band Promo Photos Ever "Where Did My Dick Go?" The Gathering of the Juggalos' Best Overheard Quotations I Pissed Off Megadeth This Week, My (Former) Favorite Band The Top Ten Ways to Piss Off Your Bartender at a Music Venue
---