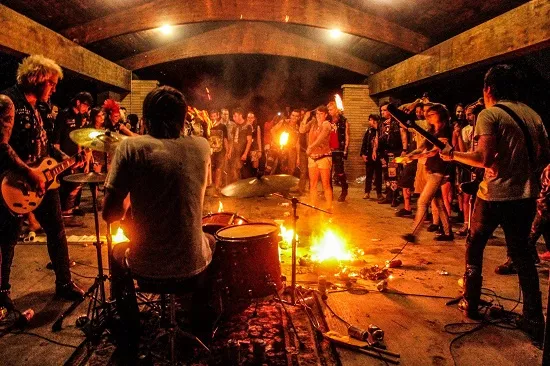 Press Photo
Neutron Rats
Are you sick of being responsible? Does it annoy you to have to follow rules or be pro-social? Do you like basements? Well, if you are a goofy, degenerate weirdo who doesn't quite fit in anywhere else, you might consider our city's hardcore/punk shows.Your underlying anger problems can be brought out to their fullest potential (in a positive way). These are my recommendations for great local and national bands that don't play five-minute (marathon!) songs or remind you about drink specials. General rule of thumb: If you have five bucks and can show up by 9 pm., then it's go time in the pit. One, two, fuck you!
Neutron Rats, Pink Sock, Totally Gay Cop, Bath House Boys @ The Livery January 13 9 p.m. / $5
Neutron Rats is stopping by on this fine Monday night to help the local punx kick the year into gear. Gus Theodorow of Bath House Boys was quoted as saying, "Uhhh...I don't know. I'm just playing for the endless beers." Watch him get straight-edge revenged by Totally Gay Cop's SSD -"Glue" cover. All the locals have at least one member that's in the other bands -- witness the truly incestuous spectacle, while making snow angels in the brain matter lying on the floor. Also, it's Pink Sock's tape release show, so there's that.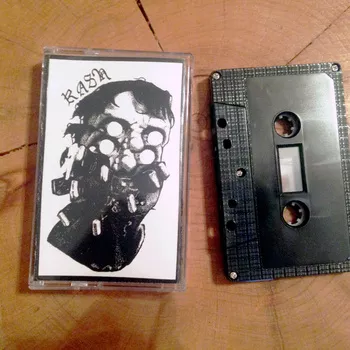 Rash's demo atop what looks to be a chopping block.
Rash, Burn/Ward, Violations @ Blank Space January 19 9 p.m. / $5
This week-capper is going to be a tournament of pissed off American hardcore. Rash is coming down from Chicago to make your brain suck bricks. Virginia's Burn/Ward is for all the scatter-brained powerviolence fans in the area. This seems like it might be a great time to show how much better you've gotten at shoving your friends into trashcans and throwing them down the stairs. Or, if you think all that distortion is gonna rip a hole in your brain's ozone layer, you can go upstairs, grab a book off the shelf and be a dork.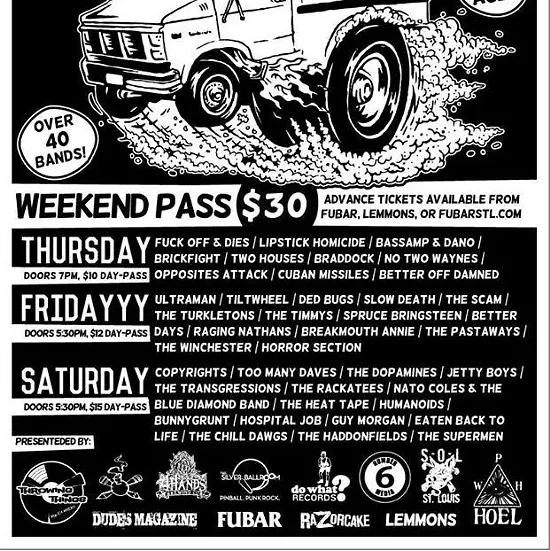 Too Many Daves, Tiltwheel, the Copyrights, the Humanoids and a ton of other contemporary pop and/or regular punk bands @ Fubar January 23 to 25 6 p.m. / $30 for 3 days
Daren and Nighthawk have pulled through once again to bring some of the best touring bands that exist to St. Louis. You might have seen these particular groups at various chug/puke-a-thons at Lemmons or Fubar throughout the past year. This is going to be as ridiculous as those, but multiplied by a thousand exponentials. Don't like a nonsensical math joke? You can punch people like myself in the face about it during this venerable local fest. If nothing else, you'll definitely be able to spill beer while talking to people about their jackets and favorites episodes of MST3K.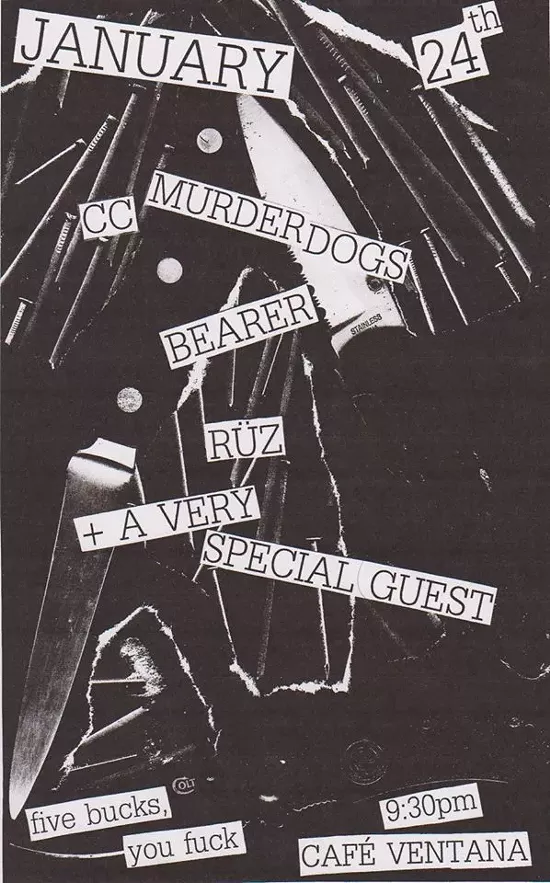 Nails were scanned to make this
CC Murder Dogs, Bearer, Ruz @ Cafe Ventana January 24 10 p.m. $5
CC Murder Dogs make it fast and psychotic, combined with Bearer's whole funeral-in-the-'90s atmosphere, and the slop the locals bring will most likely not come out of your clothes. Get it out of your system and do something stupid, or just bring money and do the folded-arms glancefloor showdown. Touring isn't getting cheaper.
RFT MUSIC'S GREATEST HITS
The 15 Most Ridiculous Band Promo Photos Ever "Where Did My Dick Go?" The Gathering of the Juggalos' Best Overheard Quotations I Pissed Off Megadeth This Week, My (Former) Favorite Band The Top Ten Ways to Piss Off Your Bartender at a Music Venue
---