Wussy - Saturday, January 18 @ Plush
This week, plenty of touring acts stop into town including Broncho, Charlie Wilson, Wussy and Man Man. Sleepy Kitty also releases its album at Off Broadway, and there's plenty more where that came from for the weekend. Keep reading for this week's show recommendations, and stay tuned 'til the end of the week for even more.
See also: Bands, Promoters and Music Fans: Here's How to Make Sure We Cover What Matters To You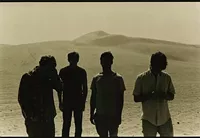 Broncho Monday, January 13, 8 p.m. w/ Maximum Effort, Hoonbag Moonswag @ Melt - $5 By Bob McMahon It's almost unfair how Broncho makes instantly memorable music out of rock's most tired chord progressions. One of the scrappy garage-punk quartet's best songs, "I Don't Really Want to Be Social," mostly revolves around a two-chord riff. Broncho sells these simple foundations in a couple ways. First, the group plays them through cutting stop-start rhythms anchored by Nathan Price's economically creative drumming. Broncho then layers on snappy guitar leads and catchy vocal hooks that are often bolstered by charming shout-along choruses. Filter it all through dirty guitar and drum tones that strike the ideal balance between grit and clarity, and you have skuzzy pop perfection.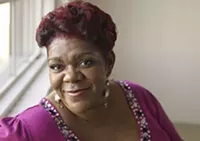 Kim Massie Tuesday, January 14, 10 p.m. @ Beale on Broadway - $7 By RFT Staff Although the word "diva" is so overused it's almost a useless descriptor, Kim Massie is one vocalist who deserves the honor. With its brash, gospel-influenced strains of vibrato, Massie's voice can be as big and broad as Aretha Franklin's, but it contains just enough Etta James-ian blues to undercut this strength with sorrow. When Massie sings the standard "At Last," you can close your eyes and imagine her voice as a vocal preacher, laying down the lyrics like audible commandments, just as easily as you can imagine the sound slinking down a smoky stage moonlit by a lonely spotlight. Massie is always -- and effortlessly somehow -- magical, spiritual and glowing.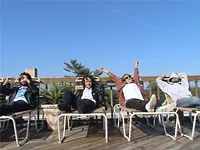 Jack of Heart Wednesday, January 15, 9 p.m. w/ Little Big Bangs, Wild Hex, Shitstorm @ Plush - $5 By Mabel Suen Jack of Heart hails from the south of France and brings its tongue-in-cheek, '50s-style psych rock to St. Louis during a month-long trek across the states. Garagey sounds, simple lyrics spoken through thick accents and even the occasional barks make up its danceable pop tunes studded with distorted guitars. Local openers Little Big Bangs, Wild Hex and Shitstorm play the perfect counterparts to Jack of Heart's raw approach to rock and roll. The latter are still fairly new to scene while Little Big Bangs have a history of energetic sets to live up to. Come early and stay for the whole show.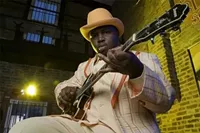 Marquise Knox Thursday, January 16, 6 p.m. @ Blues City Deli - free By RFT Staff Though the renewed interest in pre-WWII blues among some younger St. Louis musicians has produced some interesting music over the last couple of years, many blues purists still see singer-guitarist Marquise Knox as the most likely candidate to push the music forward in the future. Immersed in the sounds of Mississippi, St. Louis and Chicago blues since his birth just 21 years ago, Knox was mentored as a teenager by, among others, the legendary Henry Townsend, who knew Robert Johnson and recorded in every decade from the 1920s to the 2000s. Heralded as a potential star since before he was old enough to have a driver's license, Knox now is showing every sign of being able to deliver on that promise. His most recent recording, Here I Am, shows real progress in his singing, playing and songwriting, and Knox has been logging serious mileage playing club dates and festivals in both the U.S. and Europe. In a town filled with veteran blues musicians -- many of whom might plausibly be candidates for this award -- Knox's youth may have helped him get noticed initially, but his real talent and continued growth have helped keep him deservedly in the spotlight.
Sleepy Kitty Record Release Friday, January 17, 8 p.m. w/ Bailiff, Bug Chaser, Armadillo @ Off Broadway - $8-$11 By Michael Dauphin From the 2013 RFT Music Awards: Not enough can be said about how much Paige Brubeck and Evan Sult (collectively, Sleepy Kitty) bring to the St. Louis music-and-arts scene. As if the duo's beautiful handprinted concert posters and overall enthusiasm for St. Louis culture weren't enough, we get music too! What starts as a standard, stripped-down pop song often gets deconstructed and reconstructed though layers of reverb, loops and shifting beats. Brubeck and Sult have a knack for collaging different elements of indie, pop and rock in a manner that tip a hat to the past while forging ahead down a creative path that's entirely their own.
Bottoms Up Blues Gang Friday, January 17, 9 p.m. @ Shanti - free By Ryan Wasoba From the 2013 RFT Music Awards: You don't have to sew a patch onto your leather jacket or undergo rigorous hazing to join the Bottoms Up Blues Gang. Simply live in St. Louis, play an instrument, and speak pre-war blues like a second language; you will be riding alongside ganglords Kari Liston and Jeremy Segel-Moss in no time. The band's open-door policy and revolving-door membership works because a plethora of like-minded local musicians (including expert harmonica-slinger Adam Andrews) are beyond comfortable riffing on the duo's songbook. The Gang's tunes could pass as age-worn classics, especially when coming from the pipes of Kari Liston, a charismatic frontwoman with the voice of an angel, expelled from heaven for debauchery.
Charlie Wilson Saturday, January 18, 8 p.m. @ The Fox Theatre - $39-$100 By Christian Schaeffer Younger listeners can thank people like Snoop Dogg and Kanye West for bringing a little soul sophistication into their lives through the voice of Charlie Wilson. Wilson's appearances on tracks like Yeezus standout "Bound 2" proffer undeniable hip-hop cred, but soul fans know Wilson as the voice of the Gap Band. After bouts of addiction and homelessness, the one known simply as "Uncle Charlie" is a perennial Grammy nominee in the R&B and Gospel fields, and his show this week will no doubt be a celebration of the singer's many lives on the charts.
Wussy Saturday, January 18, 9 p.m. w/ Karate Bikini @ Plush - $8/$10 By Jaime Lees Modern indie rock is packaged and sold as a sort of lifestyle choice or personality statement. But the members of Wussy aren't so-called hipsters exploring a grand artistic vision, nor are they a group of hotties or cool kids full of rebellion and questionable fashion choices. These are grown-ups who let the music speak for itself. The Cincinnati band combines all of the best elements of indie rock into one cohesive sound, writing songs so good, so perfectly formed, that you'll swear you've heard before, even on first listen. It's this rare kind of quality songwriting -- combined with an exuberant live show -- that has earned Wussy loads of respect from critics and sincere love from fans.
Man Man Sunday, January 19, 7 p.m. w/ Xenia Rubinos @ Off Broadway - $15-$18 By Mabel Suen Since 2003, Philadelphia's Man Man has ripped and rollicked its way across stages. Its current instrumentation features everything from a clavinet and sousaphone to marimba and melodica. In addition to these supplemental instruments, the band often utilizes noisemakers like pots and pans and fireworks. While its sounds veer around the tag of experimetal rock, Man Man's sound focuses on the piano playing and growl-like singing of lead singer Honus Honus. The compositional outset is nothing short of impressive, if not at least interesting.
Note: Though we wish we could, we can't feature every great show happening in town in just one measly post. Look for plenty more recommendations this Friday in our weekend shows post, and peruse the St. Louis concert calendar for more ideas any time. Let everyone know what else you're looking forward to seeing this week in the comments below, and submit show info online any time to be considered for inclusion on these lists.
RFT MUSIC'S GREATEST HITS
Remembering STLPunk.com -- How to View the Site Today and Find Your Old Profile Page "Where Did My Dick Go?" The Gathering of the Juggalos' Best Overheard Quotations The Ten Best Dive Bars in St. Louis The 15 Most Ridiculous Band Promo Photos Ever
---