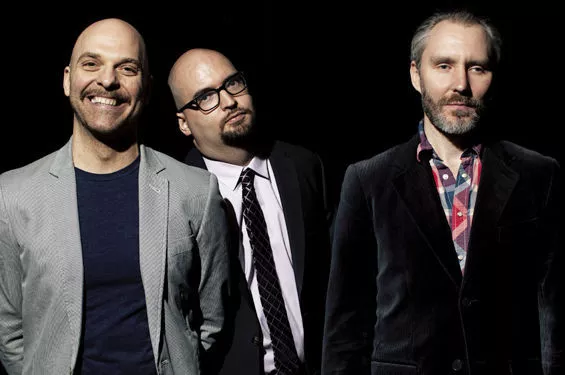 Cameron Wittig
The Bad Plus wraps up its tail of holiday season shows at Jazz at the Bistro this weekend. For more on these punk princes of jazz, check out a feature from last year.
Guess what? RFT Music has a fever, and the only prescription is more concerts. OK, but seriously, I'm in bed in between a series of psychedelic fever dreams and just OD'ed on some flu meds, so we'll keep this short. I want to be well enough in time to make it to some of these shows, after all. See what's in store after the jump.
See also: Bands, Promoters and Music Fans: Here's How to Make Sure We Cover What Matters To You
Friday (January 10):
††† (Crosses) w/ Dawn Golden @ Pop's Nightclub 8 p.m. $15-$18 Crosses is the side project of Chino Moreno, of the Deftones. If you like that band, it is reasonable to think that you will like this one. (DH)
Dave Stone Jazz Trio @ Mangia Italiano 11 p.m. | free For a low-key Friday night, St. Louisans can always depend on Dave Stone's expert sax playing during this weekly gig. (MS)
David Garrett w/ Martynas @ The Fox Theatre 8 p.m. | $30-$100 Garrett is a German pop and crossover violinist and recording artist -- this is not your average concert. Step out of the box a little! (DH)
Michael Stafford w/ Ancient Youth, Lions Eat Grass, Babe Maggots @ Cafe Ventana 10 p.m. | donations Michael Stafford hails from Oklahoma City and plays solo Rhodes piano. Catch some streaming tunes of his here and learn about one of the local openers, Lions Eat Grass, in an archived Fill in the Blank feature. (MS)
Fabolous @ the Coliseum 8 p.m. | $25 Brooklyn's Fabolous has been hip-hopping since his debut release, 2001's Ghetto Fabolous, and bumping elbows with the likes of Lil Wayne, Psha T and Joe Budden ever since. (DH)
Highway Heat CD Release @ The Gramophone 9 p.m. | $10-$13 A little bit of heat sounds nice after all of that damned snow, eh? Pick up the local group's latest CD while you are warming your frostbitten hands. (DH)
Check out some more recommendations for Friday night from out weekly Out Every Night round-up: the Bad Plus, Motel Mirrors, and Bassamp and Dano with comedian Marty DeRosa.
Saturday (January 11):
The Rum Drum Rambers @ Blues City Deli 1 p.m. | free The good ol' Rum Drum Ramblers and one of the Blues City Deli's hoagies. What more could you ask for? (MS)
Dr. Dan the Pancake Man's Book Release: Gorgozord Vol. 1 w/ The Future Transhumans, the Psychedelic Psychonauts @ Star Clipper 2 p.m. | free Dr. Dan, whose artfully crafted pancakes went viral only months ago sadly experience some financial woes recently. Support his latest endeavors and catch a couple of fun live music sets, too. (MS)
Hemmingbirds w/ Humdrum, CaveofswordS @ The Demo 9 p.m. | $8-$11 Indie pop/rock tour-de-force the Hemmingbirds of Chicago brings some jangly tunes to the Lou. Check out this show for much merriment. Streaming tunes available here. (MS)
Matt Pryor w/ Phineas Gage Band @ Off Broadway 8 p.m. | $12 Somehow between working on new material for the Get Up Kids and the New Amsterdams, Matt Pryor found the time to start a solo project. The latter of the two bands was recently jettisoned, though. Probably for the best anyway. (DH)
Also on Saturday, catch Zero Boys at Fubar and Mac Lethal at 2720. And check out this week's music feature to learn more about Chicago,'s Cheer-Accident, playing at the Schlafly Tap Room.
For yet another option this weekend, check out Jake Leech with Wax Fruit, Neatly Knotted and Nevada Greene at Blank Space on Sunday.
Note: Though we wish we could, we can't feature every great show happening in town in just one measly post. Peruse the St. Louis concert calendar for more ideas any time. Let everyone know what else you're looking forward to seeing this weekend in the comments below, and submit show info online any time to be considered for inclusion on these lists.
RFT MUSIC'S GREATEST HITS
Remembering STLPunk.com -- How to View the Site Today and Find Your Old Profile Page "Where Did My Dick Go?" The Gathering of the Juggalos' Best Overheard Quotations The Ten Best Dive Bars in St. Louis The 15 Most Ridiculous Band Promo Photos Ever
---