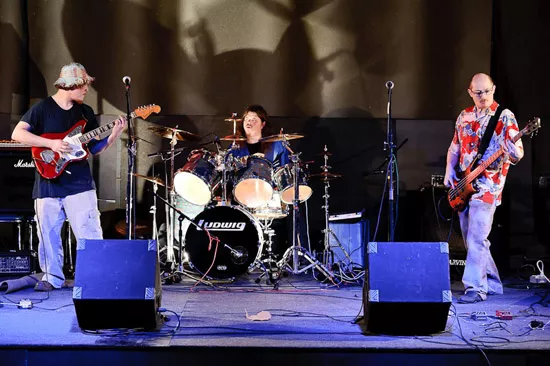 Peter Wochniak
Pet Rock: The Musical.
In this weekly column, RFT Music gets to know local creatives, musicians and their missions. Get a slice of the local scene, complete with a snippet of sound and info about upcoming releases and shows. Stick around to see what St. Louis artists have to say whenever they Fill in in the Blank.
Pet Rock: The Musical formed in 2008 on the basis of spacey jam-band music. Rather than draw from the Dead or Phish, Pet Rock takes risks by incorporating noise and techno genres. The power trio sounds explosive, with heavy psych-rock riffs and solid, in-the-pocket beats.
While guitarist John Parker and bassist Justin Pitonak started playing together more than ten years ago, Pet Rock started in 2008 when the two jammed with drummer Donnie Olaghlin. After taking a two-year hiatus starting in 2011, the band recently returned with a string of several shows and a new album.
The Meating, Pet Rock's trippy debut, was released last month through its Bandcamp page. A physical version lurks out there in wild, but is in cassette form only. The lo-fi recording sounds all too appropriate on tape, and it invokes the feeling of a long-lost demo from some "too-obscure" psych band from the late '60s.
The band explores inspiration from Zappa, Captain Beefheart and the Boredoms with an almost schizophrenic take on each song. Not content in sitting with other space-rock and jam bands, Pet Rock often plays mixed bills with noise and punk groups alike. Parker and Pitonak's musical multiple-personality disorder is made more evident in 32 Pc. Vintage Party Set -- Pet Rock's stoner-metal alter ego.
Founding members John Parker and Justin Pitonak met with us to "Fill in the Blank" on their favorite shows and the best parts of St. Louis music. Click through to sample Pet Rock's sound and learn a little more about the guys behind the group.
What I like most about St. Louis is...
Justin Pitonak: diversity. Cheesy but true. St. Louis is weird, and I love that.
John Parker: You can be super weird here and still find a crowd. I've always been able to find a venue owner that takes risks. I think that can make a band better.
I've learned the most from...
Pitonak: Blowing it. Being on your own in anything really changes your perspective. Whether being booed or having quit too soon -- blowing it has been a great tutor.
Some of my favorite local bands are...
Pitonak: Wow, too many to list. If you're in the local scene and participate, I love you.
Parker: Demon Lover, Little Big Bangs, Zoned Out, Skarekrau Radio and BP [Beauty Pageant].
The most memorable show I've ever played...
Pitonak: My first band played a packed nu-metal show at the Hi-Pointe. Our singer got shocked by an exposed wire and fell onstage, a guy took his pants off and the cops got called. We almost had a riot.
With Pet Rock, a show at Cranky Yellow. I mean, we had girls with Hula Hoops in the basement of Cranky Yellow. That can't be planned.
Parker: Between the three of us, there are a lot of shows. Opening for Melt-Banana has probably been my high point so far. That or the Pet Rock comeback show.
The best post-show food in St. Louis is...
Pitonak: As a vegetarian that's hard, but I'd still say Courtesy Diner.
Parker: Snack-food wrappers. Loads of MSG in FUNYUNS.
The St. Louis music scene could use...
Pitonak: For everyone who is part of the scene to go to at least one other band's show a week. I'm not there, but I'm working on it. Calling all genres: We need you!
Parker: More venues outside the city. I'd like to see this upswing the scene is having spread into other parts of the town.
Follow Pet Rock: The Musical through its Facebook or Bandcamp page.
Do you know a project or band that should be considered for this series? Drop a line to fillintheblank@riverfronttimes.com.
Previously from our Fill in the Blank series: - The Glass Cavalry - The Blu Skies - Animal Teeth - Popular Mechanics - Brotherfather - Bad Dates - Beauty Pageant - Pillow Talk - The Tennis Lesson - The Funs - Brothers Lazaroff - Quaere Verum - MME - Sarah Bollinger - Little Big Bangs - Everything Went Black - Lions Eat Grass - Kevin Harris - Laika - Heavy Horse - Barely Free Partial Prisoners - The Defeated County - Lizzie Weber - Kenshiro's - B.E.L.L.A. - Superfun Yeah Yeah Rocketship - Humdrum - The Blind Eyes
---