Loop-dwellers have a different skill-set than regular visitors to other parts of the city. Their brains are wired differently now, with random thoughts and tidbits of information that could only come from too much time spent on the bustling stretch between the Church of Scientology and the Pageant.
How do we know? Well, RFT Headquarters is nestled on Delmar as well; right in the thick of it. We are living it, baby. Here are twenty signs you spend too much time in the Loop (like us).
1. You have a mental map of the flute busker's location, and plan your route to lunch accordingly.
2. The mere sight of a crosswalk gives you symptoms of PTSD -- memories of near-misses and close calls still keep you up at night.
Crosswalk etiquette in the Loop dictates that this man will soon be flattened by that car, which will neither stop, slow down or even recognize what those lines in the road mean.
3. Drunky McToots (the guy who mouth-rapes that trumpet in fifteen-second bursts) has stopped "playing" for you when you walk by.
4. If you need a cop, you know to go to Smoothie King.
5. Having learned a painful lesson once, you no longer step on the stars after rain or snow.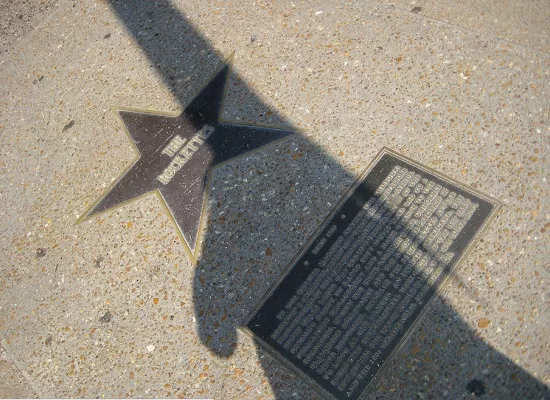 Seriously, what did they make these things out of? Motor oil and banana peels?
6. Speaking of the stars, you spend too much time thinking about John Goodman's illustrious film career -- and his brief but explosive role on Treme -- because you walk past his every day.
7. Oh, and also you reflexively tell the "You know what Susan Blow invented?" joke to tourists who stop at her star.
8. You've purposely foiled the Wash U kids' "Explore the Loop" scavenger hunt, because fuck those little shits; I'm only making minimum wage.
9. You dread the spring, 'cause you know the clipboard-toting do-gooders will want your help saving the planet.
Dave Crosby
I don't care that ten seconds of my time would save the entirety of planet Earth. It is lunchtime, I am hungry, and you are an obstacle that is keeping me that way.
10. You have the day circled on your calendar that the gingko trees start dropping their vomit-scented stinkballs.
11. You give people directions such as "It's up near Brennan's" or "You know where the Dairy Queen was?"
12. You know all the right and wrong answers on the "personality test."
Probably shaken off a fair number of those pesky body-thetans, too. Xenu is pleased,
13. You remember where Vintage Vinyl's annex used to be, and what it used to sell.
14. You're pleasantly surprised by how clean the seats in the new Tivoli are.
15. You reminisce about the Wabash Triangle.
16. You know what the "HSB" in HSB Tobacconist stands for.
17. You're still carrying a torch for Smith Hardware.
18. You know exactly how many steps it takes to get from Chuck Berry to Uranus.
"Chuck Berry" and "Uranus" in the same sentence is begging for so many jokes that my head just exploded.
19. You still look for George Nieman in the mornings.
20. The beggars don't bother asking you for money anymore -- they have figured out from experience that you're either too broke or just stingy.
RFT MUSIC'S GREATEST HITS
The 15 Most Ridiculous Band Promo Photos Ever "Where Did My Dick Go?" The Gathering of the Juggalos' Best Overheard Quotations I Pissed Off Megadeth This Week, My (Former) Favorite Band The Top Ten Ways to Piss Off Your Bartender at a Music Venue
---