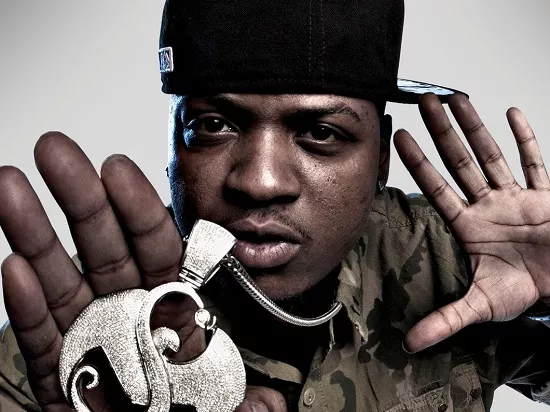 Press Photo
Stevie Stone
Think semi-local/semi-national -- that's what St. Louis has in store for this month's rap shows. Instead of taking the stage at large venues like the Pageant, most will perform in cozy spaces, like the Grove's new venue the Mad Magician and St. Louis's famed Pop's. With throwback acts like Twista and viral acts like Mac Lethal, January has it all covered; from old to new school hip-hop.
Stevie Stone with TBA at The Mad Magician January 9 8 p.m. / $12-$15
Stevie Stone was born in Columbia, MO, but takes pride in calling St. Louis home. Signed to Tech N9ne's label, Strange Music, Stevie's cadence is very similar to Tech's style of chopper rap, marked by a fast-paced and rapid lyrical delivery. Currently on his 2 Birds 1 Stone Tour, Stevie isn't afraid to tell you that he's bringing the flames to the rap game.
Mac Lethal with Brett Gretzky, Seymore Awesome and HenTron at 2720 Cherokee January 11 8 p.m. / $12-$15
Mac Lethal has been around for years, but found widespread fame in 2011 with a viral video of him flipping pancakes while spitting his own verses to Chris Brown's "Look At Me Now." Unlike most viral acts, Mac is actually good, his delivery remarkably quick -- you really have to give him a few good listens to catch all the wit and insults. He's also the mastermind behind "Texts from Bennett". If you know about that, then you know all you need to know.
Arrive early to catch a few local acts -- hip hop groups Brett Gretzky and Seymore Awesome, and electronic duo HenTron.
Nipsey Hussle with Erk Tha Jerk, Tef Poe, MARKOE, Step Or Get Left and Allen Gates at Pop's Nightclub January 18 7 p.m. / $20-$27
Nipsey Hussle is all LA, his latest mixtape dedicated to the boulevard where he grew up, Crenshaw. He's a voice of the people of South LA, with influences including N.W.A., Ice Cube, Snoop Dogg and Dr. Dre -- you know Nipsey is definitely delivering some of that sweet, classic West coast rap. His tour acts as a precursor to his first studio album Victory Lap, which is slated to drop in 2014.
Twista with TBA at The Mad Magician January 26 7 p.m. / $20-$25
Everyone knows that early 2000 jam "Overnight Celebrity" featuring Kanye. How could you not? And after a brief hiatus, Twista is back at it, his ninth studio album The Dark Horse set to drop in 2014. Apparently R. Kelly assists Twista in the first single off the new album, which might (admittedly) be a little questionable. Here's to hoping Twista plays more of those throwbacks, in that chopper style just like Tech N9ne's.
RFT MUSIC'S GREATEST HITS
The 15 Most Ridiculous Band Promo Photos Ever "Where Did My Dick Go?" The Gathering of the Juggalos' Best Overheard Quotations I Pissed Off Megadeth This Week, My (Former) Favorite Band The Top Ten Ways to Piss Off Your Bartender at a Music Venue
---