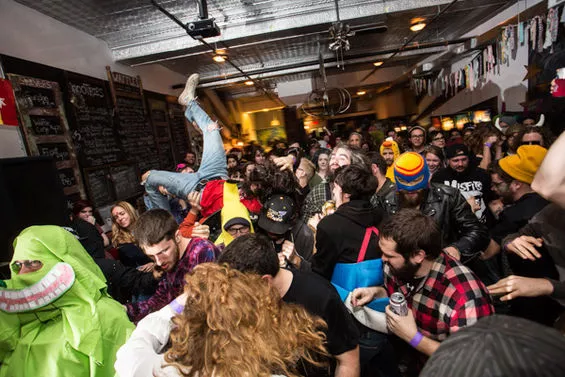 We can't guarantee that your show will be this crazy, but it doesn't mean we won't try.
Calling all St. Louis music people: Send us your show and music news tips! As our intrepid RFT Music editor Daniel Hill once said in a similar post, we here at RFT Music have a commitment to keeping our concert calendar as current as possible so we can best provide comprehensive coverage of noteworthy happenings around town. With the new year here, we'd like to build upon our scope to better serve the St. Louis music community. We want to know what events, releases and local music news you're excited about so we can share it with everyone else.
Musicians, promoters, publicists, avid fans and the like: Keep reading to find out how to best make us aware of goings-on and to learn how to have these events featured online and in print in the most prominent way possible.
Our concert calendar lives here, and the information compiled within acts as our staff's general guide to what's going on. To get your show on this list, which also generates our weekly print listing, simply submit an event using this form -- just be sure to check the option that says "music" under the "event type." Submit early, and submit often.
Alternatively, to e-mail events directly, drop a line to [email protected]. This method might be ideal as a time-saver for submitting multiple shows at once, such as an entire month's concert calendar. If you choose to use this method, please be sure to include the mandatory information required for each listing: name of the artist(s), venue, date of event, showtime, price, and an appropriate genre tag (e.g.: rock, blues, punk, folk, etc.).
Feel free to contact us at this address with anything else -- say, for instance, if you're an artist or promoter with a new album, music video or shindig you'd like to tell the town about, or even if you're a music fan who'd like to see any of the above covered more extensively. Do you know of a great local music-maker that just doesn't seem to get enough attention? We want to meet them! We welcome and appreciate any and all suggestions.
We keep these all in mind for all of the following regularly published items: both short and long-form print previews and features; online previews, reviews and profiles; and weekly blog-based concert guides and lists.
In general, rely on seeing an Out Every Night post every Monday that compiles our critics' picks and outlines an event for each night of the week; a show announcement post every Wednesday that lists recently added shows in our system; and a Weekend Best Bets list every Friday that supplements Out Every Night, outlining additional weekend offerings.
Typically, when choosing the shows that populate the above posts, we emphasize touring acts as well as special local events that are of interest to St. Louis music lovers, but this is by no means a hard-and-fast rule. When submitting tips, please feel encouraged to include an explanation of why it should be of particular interest and know that we will be reading that and taking your thoughts into consideration.
So please -- do stay in touch, won't you? As always, thank you for allowing us and helping us to serve St. Louis music. Please feel free to contact me, your RFT Music clubs editor, directly at [email protected] any time.