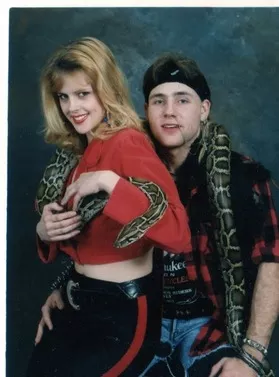 Courtesy of the author
My parents, three years before I was born.
Yes, those are my parents in that picture.
Their pet snake, Phallys, is no longer around, and thankfully my Dad has ceased wearing a chain linking a nose ring to his ear. (Click the photo to enlarge it.)
But, now 43, he remains a wild man, especially when it comes to music.
For almost my whole life he's been rocking out in nerdy fashion and trying to push his tastes on me. The results have often been disastrous.
Like the time he got into dubstep. Or the time our trip to Coachella together sent him to the hospital.
But let's backtrack for a second...
Did I mention that my Dad's name is Aragorn? Yes, that's his legal birth name. Yes, it comes from Lord of the Rings. And yes, he's proud of his Tolkien heritage. He even has the memorabilia sword collection to prove it.
Aragorn Hansard

Growing up, I thought everyone's dad blasted Mushroomhead, played with toy light sabers and scheduled Dungeons and Dragons for the weekend. I remember sitting in his car as a little girl, playing air-bagpipes to KoЯn's "Shoots and Ladders" and headbanging my little blonde pigtails to "One Step Closer" by Linkin Park. (I learned to censor my tiny voice when Chester Bennington screamed "Shut up when I'm talking to you!") I didn't know any better than to rock out to nu-metal. He was also into Oingo Boingo, "Weird Al" Yankovic and LARPing.

At thirteen, all I was interested in was men twice my age who wore eyeliner and figuring out how to spend my Hot Topic gift cards. My parents split when I was young, and they competed over who could take me to the best shows. My mom took me to Green Day, My Chemical Romance and Metallica. She was winning at this point. But then my dad busted out the big guns when he bought us tickets to my first festival: Projekt Revolution.
Aragorn Hansard
Casual day at the office.

It was an emo pre-teen paradise, featuring my favorite bands: Taking Back Sunday, HIM, Madina Lake, most importantly My Chemical Romance. Everywhere I looked were guys in girl pants, tattoos and lip rings. It was kind of awkward being there with my dad, but I was so excited I felt like I was going to burst. And I did, into tears, when My Chemical Romance walked onstage. (Blue eyeshadow and eyeliner ran down my cheeks.)

Too busy screaming at Gerard Way that I loved him more than anything in the universe, I didn't notice my dad was filming me the entire time, a video he then showed to all of his coworkers.

By the time Coachella 2010 came around, I begged my mom to let me go alone. But I was only sixteen, so Dad had to come. I made him promise not to record me, and he packed the car with plenty of Chex Mix and Mountain Dew. Aragorn and I set off for Indio.

Continue to page two for more.

Unfortunately, on the morning of day two, a man came to our campsite to tell me Dad had been run over by a vehicle and been taken to the hospital. When I finally got there, the nurse told me he'd been knocked over by a golf cart while waiting in line for a breakfast burrito. He had tread marks on his back. Still, when I saw him he seemed most pissed that he never got that burrito.

He was told to take it easy for the rest of the day. Instead, he decided to go mosh at Devo and come back at 4 a.m. with blood running down his nose and wrists. Needless to say, I was allowed to go to Coachella alone the next year.
Aragorn Hansard
My dad (wearing his "Gorn" T-shirt!) with Fieldy, KoЯn's bassist.

In recent years, I have been forced to endure The Path of Totality, the album KoЯn did with Skrillex in 2011. Dad tried many times to get me to see the performers live, but I refused. (Only when he had me captive, one time in backed-up 405 traffic, could he get me to endure the album -- over and over.) As you can imagine, watching my dad get into dubstep was a painful process.

As an adult, I've come to embrace his peculiar taste; a few years ago I even got him a shirt bearing his nickname, Gorn, stylized after his favorite band -- KoЯn, of course. This was a surprisingly easy thing to have made at one of those mall stands. And he wears it absolutely all the time.

You have to love my dad's enthusiasm. I might never approach his level of nerdom, but he still has hope. Recently, we went to catch the Mythbusters: Behind the Myths tour, and we both shouted memorized lines at a meet-and-greet showing of the Evil Dead films.

He may never get me into prog rock, but who knows: Maybe I'll take him up on his next invitation to zombie apocalypse paintball.

RFT MUSIC'S GREATEST HITS

The 15 Most Ridiculous Band Promo Photos Ever "Where Did My Dick Go?" The Gathering of the Juggalos' Best Overheard Quotations I Pissed Off Megadeth This Week, My (Former) Favorite Band The Top Ten Ways to Piss Off Your Bartender at a Music Venue
---