Mabel Suen
Times Beach is Ben Osborne, Mark Plant and Travis Dettmann.
In this weekly column, RFT Music gets to know local creatives, musicians and their missions. Get a slice of the local scene, complete with a snippet of sound and info about upcoming releases and shows. Stick around to see what St. Louis artists have to say whenever they Fill in in the Blank.
Only two words are deemed vital in describing the band Times Beach: "raw pop." Raw Pop is the name of the trio's new album, an eight-song jammer released digitally and on cassette. This Saturday, December 28, the tape drops at Melt, where the group will play its chorus-drenched tunes while opening for Perfect Pussy from New York.
See also: Lumpy & the Dumpers' New Music Video for "Sex Pit" is the Most Awesome Thing
The group's collective efforts in a number of area punk bands both past and present lends to its jagged, relentless approach to pop music. While inherently pop from the core structure and songwriting, Times Beach's sound billows outward with wall-of-sound guitar amplified by chorus effects, catchy resonant bass-lines and tight, upbeat drumming. Guitarist/singer Mark Plant sings anxious words wrapped up in a blanket of warm fuzz.
Plant, who also performs in Chicago-based punk group Broken Prayer, relates the overall layered textures to shoegaze, which he says he listens to a lot of, but his music isn't necessarily the long-winded type to curl up with and fall asleep to. For a more accurate assessment, take the moody, melodic persistence of the genre, spike it with a heavy dose of steroids a la Minutemen and the Black Tambourines, and serve it up shaken.
Times Beach, named after the historical ghost town just outside of Eureka, comes from the brainchild of Plant and longtime friend and bandmate Travis Dettmann (drums) following the break-up of their project the Masculine Journey. The two combined forces with friend and fellow City Museum co-worker Ben Osborne (bass), who wields a degree in jazz performance as well as a long resume in hardcore including current projects Lumpy & the Dumpers and Overdoser.
Going forward, Plant says he hopes to incorporate more electronic elements into his music to lend more variation. Times Beach released its first demo in March 2013, with art by Stuart Shadwell. Its new set of songs, also self-recorded, comes mixed and mastered by St. Louis ex-pat Mario Viele. Check Raw Pop out below.
We invited Times Beach to fill in the blanks ahead of its cassette release this weekend. See what they had to say after the jump.
Times Beach playing cover songs on Halloween.
What we like most about St. Louis is... how weird everyone is, especially in the music scene. You go other places and everyone is in their own little groups and cliques. Here, everyone is very individual. The creative people are using their insane minds to make new things, and rehashed bands and art are made fun of. Also, everyone heckles and criticizes each other pretty openly and that rules.
We make music because... when a group of people listen to a song it can make them feel much more connected to each other. Music fills in the blanks where words can't describe feeling.
We've learned the most from... playing lots of shows in lots of different places with lots of different people.
The St. Louis music scene could use... A place to have shows that is all ages, allows alcohol and won't get shut down by the cops. Or at least just somewhere to have smaller shows without a sound guy or high prices. Music is always the afterthought at places in this town, something to do while you drink.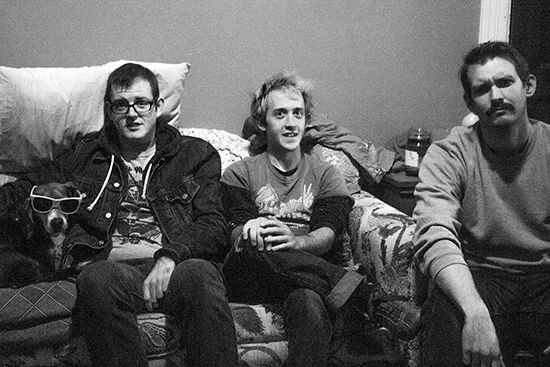 The best post-show food in St. Louis is... Pizza or pancakes. Maurizio's if you want to pizza around downtown or Uncle Bill's and Courtesy Diner on the southside if you are a pancake. We're mostly vegetarians and this town mostly sucks for food.
Our first bands were... Travis and Mark were in Suburban Smash in high school and that evolved into Masculine Journey. Ben was in Twin Piles in high school, and that was around 2003 to 2004, so it was pretty insensitive and punk.
Five current artists worth listening to are... Condominium is maybe the most creative punk band that exists right now plus it's all intense. Technicolor Teeth does really cool psychedelic pop sort of similar to us in theory but definitely way different in practice. Trauma Harness from St. Louis just put out the best Halloween tape ever made but they have a pretty varied set even though they are kind of pigeonholed as a gothy band. Makthaverskan is a reverb-y punk band from Sweden that just put out a great record that many people have probably not heard because the records are hard to get in America. Kurt Rosenwinkel is a jazz guitarist that Ben likes a lot and looks up to, but note that Mark thinks jazz is stupid so there's an added bit of tension to our band.
Times Beach w/ Perfect Pussy, The Funs, Self Help @ Melt 9 p.m. | $5
Follow Times Beach on Facebook and Bandcamp.
Do you know a project or band that should be considered for this series? Drop a line to fillintheblank@riverfronttimes.com.
Previously from our Fill in the Blank series: - The Glass Cavalry - The Blu Skies - Animal Teeth - Popular Mechanics - Brotherfather - Bad Dates - Beauty Pageant - Pillow Talk - The Tennis Lesson - The Funs - Brothers Lazaroff - Quaere Verum - MME - Sarah Bollinger - Little Big Bangs - Everything Went Black - Lions Eat Grass - Kevin Harris - Laika - Heavy Horse - Barely Free Partial Prisoners - The Defeated County - Lizzie Weber - Kenshiro's - B.E.L.L.A. - Superfun Yeah Yeah Rocketship - Humdrum - The Blind Eyes
---